Cheteshwar Pujara surpassed Chandu Borde and now has 1605 runs in the season
Only three players before Karun Nair had missed out on a next Test match after scoring a triple hundred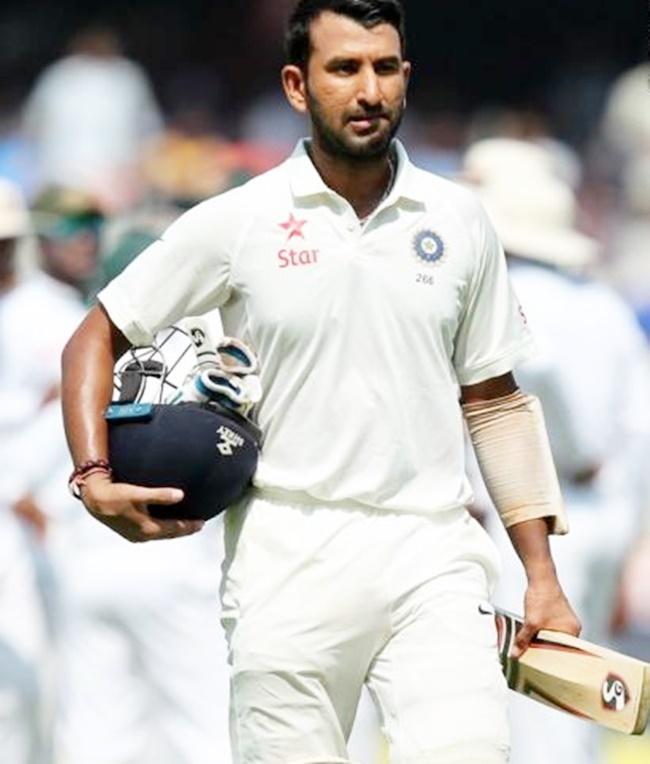 IMAGE: Cheteshwar Pujara may manage a smile despite missing out on a Test hundred. Photograph: BCCI
It must have been a day of mixed feelings for Cheteshwar Pujara and Karun Nair.
Both created records albeit of different kinds.
While Pujara may manage a smile despite missing out on a Test hundred, Karun would just wonder what more could he have done apart from scoring a triple ton to miss out on a Test match.
Pujara, on Thursday, eclipsed Chandu Borde's five decades old national record of most runs by an Indian in a single season. Borde had scored 1604 runs in the 1964-65 season that included runs in Tests as well as first-class matches.
As Pujara reached his personal score of 83, he surpassed Borde by a run and now has 1605 runs in the season. With 4 more Tests to go, Pujara may close in on 2000 runs by an Indian batsman in a single season.
Interestingly, the third highest aggregate of runs by an Indian batsman in a single season stands in Pujara's name. He had scored 1585 runs during the 2012-13 season.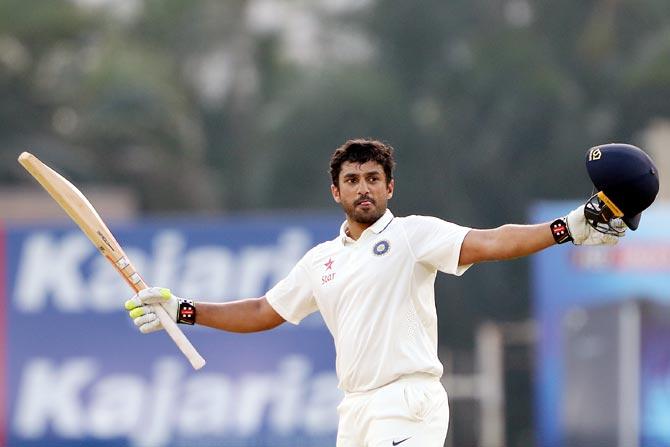 IMAGE: Karun Nair celebrates his century during the Chennai Test. Photograph: BCCI
Not many fit players have been dropped from the playing XI after scoring a triple hundred in his previous Test match and unintentionally Karun will have to bear the ignominy of losing out on a Test match as the team management feels that Ajinkya Rahane's consistent contribution over two years can't be overlooked.
Only three players before Karun had missed out on a next Test match after scoring a triple hundred.
Andy Sandham was 40 years old during the timeless Test against West Indies in Jamaica way back in 1925. Sandham was playing his 14th Test and scored 325. The match ended on the ninth day as England team then known as MCC had a ship to catch!
Sandham subsequently got injured and never really recovered and his Test career came to an end.
The other two, who missed out on the next Test after a triple ton, are Sir Len Hutton and Inzamam ul Haq but in both cases, the players in question were not fully fit.
Hutton scored 364 against Australia at Oval in an Ashes Test in August and played the next Test against South Africa in December that year.
Inzamam scored his career best 329 against New Zealand at Lahore in May 2002 and played his next Test match against Zimbabwe at Harare in November 2002.