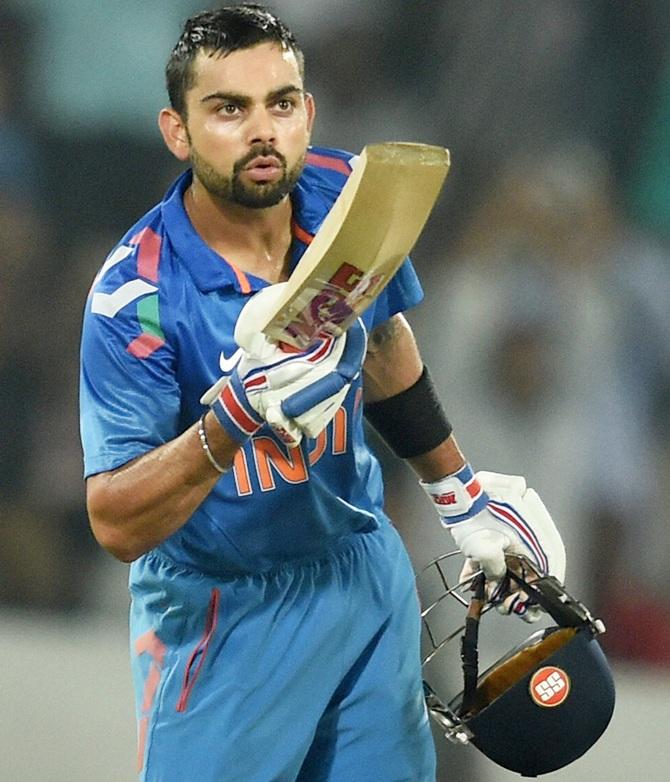 Virat Kohli of India celebrates. Photograph: PTI
India retained the No 1 spot in the latest Reliance ODI team rankings, while Virat Kohli maintained the No 2 position, with skipper Mahendra Singh Dhoni static in seventh place in the batting chart.
Kohli is in second place in batting rankings with 862 points, behind South Africa's A B de Villiers (888), and ahead of another Protea, Hashim Amla (845).
India captain Dhoni remains constant at seventh with 738 points.
Bhuvneshwar is best-placed Indian in bowling chart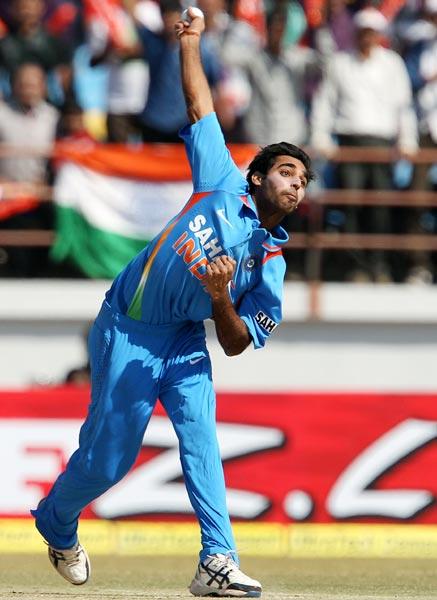 Bhuvneshwar Kumar. Photograph: BCCI
Seamer Bhuvneshwar Kumar is the best-placed Indian at eighth with 641 points in the bowling chart, topped by suspended Pakistan off-spinner Saeed Ajmal.
Another suspended spinner, West Indian Sunil Narine, is at No 2 followed South Africa pace spearhead Dale Steyn.
No Indian features among the top three all-rounders in world cricket at the moment.
Dominant Australia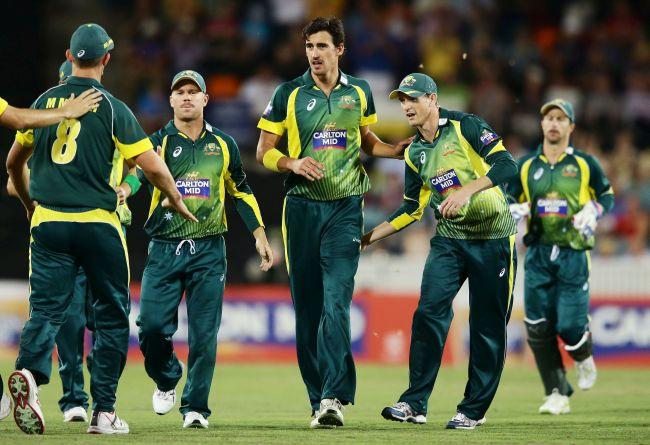 Mitchell Starc, centre, of Australia celebrates with team mates after taking the wicket of Dale Steyn of South Africa. Photograph: Matt King/Getty Images
Meanwhile, following Wednesday's third ODI, in Canberra, in which Australia defeated South Africa by 73 runs, George Bailey's charges leapfrogged into second place on the ICC ODI Team Rankings and are just two points adrift of leaders and 2011 World Cup champions India, who have 117 points.
If Australia win the two remaining ODIs, they will move into first place on 117 points, edging out India by one-fifth of a ratings point.
A Proteas victory on Friday and then on Sunday would see South Africa return to second place, a point adrift of India and Australia drop to third.
Meanwhile, in the team rankings, Bangladesh and Zimbabwe have the opportunity to gain vital rankings points as they go head to head in five One-Day Internationals starting in Chittagong on Friday.
Ninth-placed Bangladesh currently hold an 11-point lead over Elton Chigumbura's charges, and can further increase their lead while also reducing the gap with New Zealand and West Indies, who are level on 96 points.
A 5-0 series win for Bangladesh would open up a 22- point gap over Zimbabwe, while a 4-1 scoreline would lead to a lead of 17 points. A 3-2 series win would see the hosts retain a nine-point advantage.
Zimbabwe will be eyeing a move up the rankings, as a 5-0 series win would see them leapfrog Bangladesh into ninth position, six points clear. In the event of a 4-1 series win, the two sides would be level on 63 points, with the host holding a fractional advantage.
ODI Team Rankings (as on 19 November, ahead of Bangladesh-Zimbabwe series, following third ODI between Australia-South Africa):
1 India - 117 points
2 Australia -115
3 South Africa - 114
4 Sri Lanka - 108
5 England - 107
6 Pakistan - 98
7 New Zealand - 96
8 West Indies - 96
9 Bangladesh - 69
10 Zimbabwe - 58
11 Afghanistan - 42
12 Ireland - 33
Reliance ICC ODI Player Rankings (as on 19 November, ahead of Bangladesh-Zimbabwe series, following third ODI between Australia-South Africa):
Batsmen
1 AB de Villiers (SA) 888 points
2 Virat Kohli (Ind) 862
3 Hashim Amla (SA) 845
4 George Bailey (Aus) 798
5 Shikhar Dhawan (Ind) 777
6 K. Sangakkara (SL) 776
7 MS Dhoni (Ind) 738
8 T. Dilshan (SL) 731
9 Quinton de Kock (SA)
10 Angelo Mathews (SL)
Bowling
1 Saeed Ajmal (Pak) 770
2 Sunil Narine (WI)
3 Dale Steyn (SA)
4 James Anderson (Eng)
5 M. Johnson (Aus) 687
6 M. Hafeez (Pak) 647
7 Morne Morkel (SA) 642
8 B. Kumar (Ind) 641
9 Steven Finn (Eng) 640
10 Ravindra Jadeja (Ind)
All-rounders
1 A. Mathews (SL) 420
2 M. Hafeez (Pak) 411
3 Shakib Al Hasan (Ban) 361