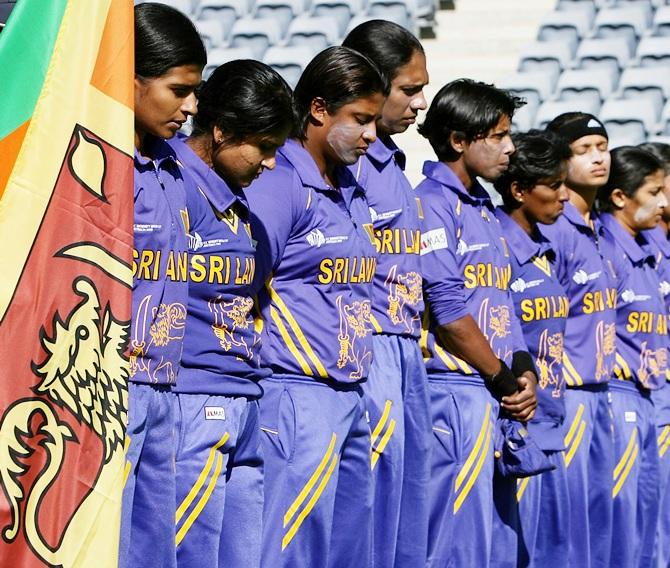 (Picture for representational purpose only) The Sri Lankan team. Photograph: Mark Nolan/Getty Images
Sri Lanka's sports minister, Mahindananda Aluthgamage, has asked the country's cricket board (SLC) to appoint a committee, led by a retired female judge, to probe allegations that officials in the women's cricket administration demanded sexual bribes to give places in the national team.
The sex scandal has rocked Sri Lankan cricket after recent media reports claimed that women cricketers allegedly complained of demands from certain selectors to be 'satisfied' if they wanted a spot in the team.
Aluthgamage has ordered Sri Lanka Cricket secretary Nishantha Ranatunga to appoint a committee and conduct an immediate investigation into the allegations.
He said the allegations are derogatory and damaging the international image of the country, in addition to the damage it causes to the well being of women's cricket in Sri Lanka.
After the matter was reported by local media, SLC had appointed its own investigation inquiry into the allegations.
Last week, SLC said a four-member committee has been appointed to review media reports of the Sri Lanka women's cricket team management and national selectors allegedly soliciting sexual bribes from players in order to be picked for their national side.
"Review will be based on the local media reports, since there have been no complaints, thus far," SLC CEO Ashley de Silva had been quoted as saying.
An emergency meeting was called on October 27 to direct attention on the media reports.
"There is no such thing called 'an inquiry' in connection with this matter. What we do here is a review on the reports, since this is a serious allegation," Silva had said.