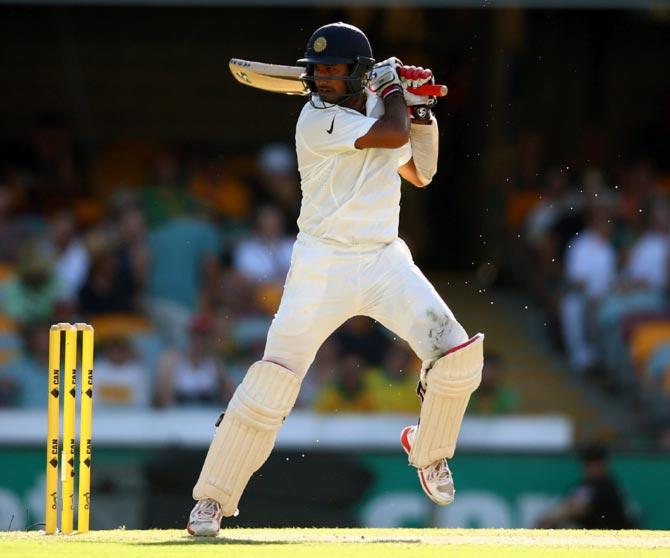 India batsman Cheteshwar Pujara. Photograph: Cameron Spencer/Getty Images
India 'A' captain Cheteshwar Pujara asserted that there are no technical flaws in his game and his stint with English county side Yorkshire has made him mentally stronger to cope with the demands of modern day cricket.

Pujara lost his place in the playing eleven in the Indian Test side after a below-par showing in the England and Australia Test series.

The right-hander, who will lead India 'A' in the unofficial Test series against Australia 'A', is confident that his run drought will end soon.

"Having played in Yorkshire is definitely going to help me because of the conditions are challenging," Pujara said on Tuesday, on the eve of the four-day match.

"Technically you need to be correct and concentration level has to be up to the mark to score runs over there. There is not a major change I have done in my technique. It is more about mental preparation and correcting few things which will help me in my batting. It was just a phase that I have not scored many runs," the youngster added.

"Overall, if you see my career, I have scored runs with the same technique. There is nothing wrong with my technique and I just need to stick to what I know. I will be working hard on my game and hopefully I will get some success."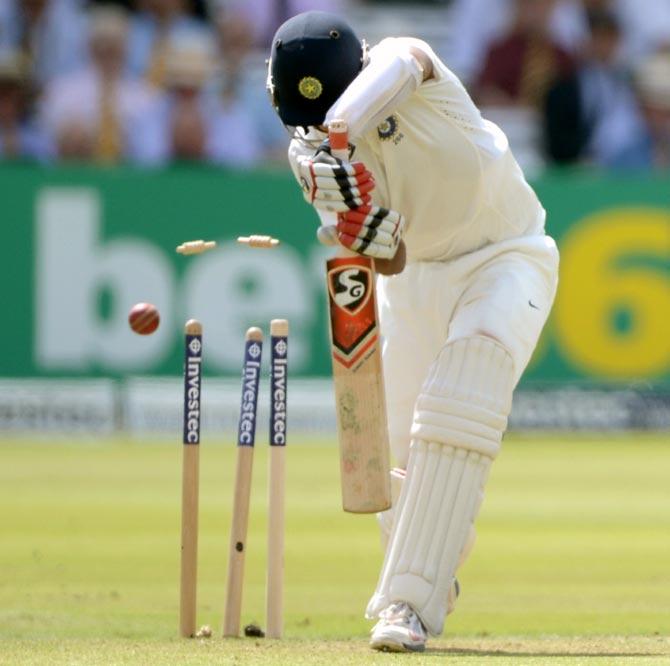 India batsman Cheteshwar Pujara is bowled by Ben Stokes during the second Test against England at Lord's in 2014. Photograph: Gareth Copley/Getty Images
Pujara is confident that he will be able to score along with the additional responsibility of leading the team.

"I want to enjoy my cricket wherever I play. I want to score runs and help the team succeed. Here, I have added responsibility leading the team and guiding the players. I have been batting well in the nets and I hope I will be able to score some runs in the game."

Asked if he feels pressure to make a comeback to the India's playing eleven, Pujara said, "As a cricketer whether I am in playing eleven or not, I have got to improve. That is what I look to do. To be in playing eleven is not in my hands. What I am going to do is to improve my game. Ultimately, I will get my opportunities. I just need to be patient and keep working on my game."

Pujara said presence of legendary Rahul Dravid as the coach is having a positive influence on the players of the India 'A' team.

"All the players are excited under Rahul's coaching. He has been guiding all the players, both seniors and youngsters. He had lot of success in his career and so he knows all the aspects of the game starting from physical and mental skills. He is one of the best mentors I have worked with. All the players are enjoying in Rahul's company and coaching."

"Overall, if you talk about the team, we have been having very good environment. Rahul as a coach is making sure that every player is comfortable and he is open for any conversation.

"The atmosphere in the dressing room and practice areas is really relaxed. Such good environment allows players to succeed. It gives them best opportunity and the freedom to play the way they want."