- 'The ICC Test rankings rightly reflect the impressive performance Virat Kohli and his boys have displayed since the overseas tour of Sri Lanka, where they registered a series victory after 22 years.'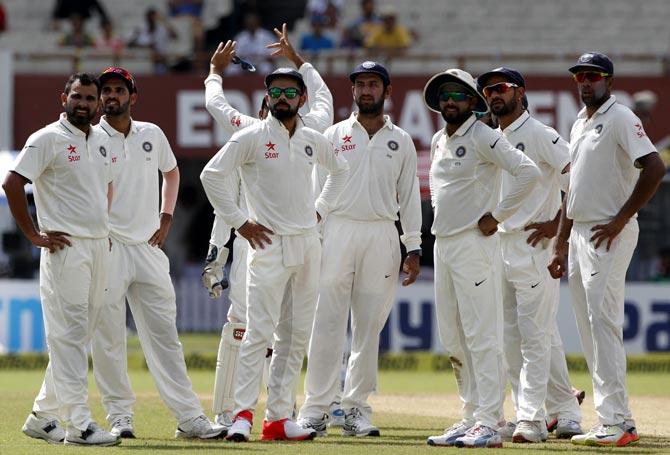 IMAGE: India's players wait for the third umpire's decision during the second Test against New Zealand in Kolkata. Photograph: BCCI
The Board of Control for Cricket in India on Monday congratulated the Indian cricket team for reclaiming the No. 1 spot in the International Cricket Council's Test rankings, saying it reflects the side's performance overseas beginning with the historic series win in Sri Lanka.

India reclaimed the numero uno status following their comprehensive 178-run win in the second Test against New Zealand in Kolkata, which also saw the hosts take an unassailable 2-0 lead in the three-match series.

BCCI president Anurag Thakur hopes the top ranking will be a big boost for the upcoming series against England, Bangladesh and Australia.

"I congratulate the Team India for their dominant show in Test cricket, which is the pinnacle of sport. The ICC Test rankings rightly reflect the impressive performance Virat Kohli and his boys have displayed since the overseas tour of Sri Lanka, where they registered a series victory after 22 years. The bumper home season will allow the Indian fans to savour top-class action as India are set to host England, Bangladesh and Australia."

BCCI secretary Ajay Shirke claimed Test cricket is always the priority for India and it was pleasing to see Virat Kohli and his boys climb to the top position in the rankings in the longer format.

"The Board has always put Test cricket on the top of the priority list and nothing is more pleasing than to see Team India take the No.1 spot in the ICC Test rankings. India have set high standards on and off the field and this is a result of the hard work of all concerned."

A washout in the fourth Test at Port of Spain against the West Indies during India's last Test series had cost Virat Kohli's men the top spot by just one point. It denied them the opportunity to defend their No.1 ranking, acquired from Australia earlier.

The result of the final Test meant India won the series against the West Indies 2-0 - finishing on 110 points -- one behind Pakistan and two ahead of third-ranked Australia.

With yet another powerful show, India are now firmly on top of the table and set to consolidate their position further. After their win in the second Test, India have 113 rating points and a win in the third Test will add two more, taking their tally to 115. The third and final Test to be played in Indore from October 8-12.

There will be no immediate change in India's reign at the top even if Pakistan and Australia win their respective bilateral Test series against the West Indies and South Africa respectively.