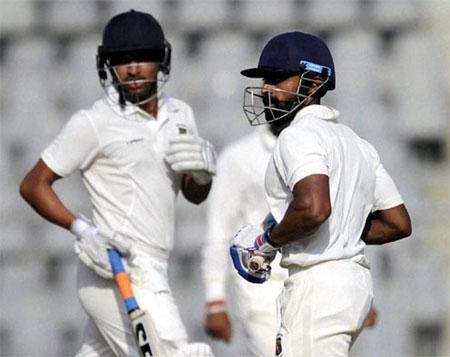 Maharashtra's Swapnil Gugale and Ankit Bawane set a new record in the Ranji Trophy championship against Delhi, by adding 594 runs for the third wicket without being separated.
This is now the highest partnership for any wicket in Ranji Trophy and second highest for any wicket in all first-class cricket.
The 624-run partnership between Kumar Sangakkara and Mahela Jayawardene against South Africa in a Test at Colombo SSC in 2006 remains the highest ever.
In fact, the duo was not aware of the world record.
The previous highest partnership in the Ranji Trophy was 577 between Vijay Hazare and Gul Mohammad for the fourth wicket for Baroda against Holkar in 1946-47.
Gugale's innings is now the third highest for any captain in Ranji Trophy.
Gugale and Bawne provided only the 11th instance in first-class cricket when two batsmen scored 250 or more runs in the same innings. Four of these instances have come in Ranji Trophy.
Maharashtra's total of 635 for two declared is the fourth highest in first-class cricket where only two wickets fell.
Rajneesh Gupta gives us a list of noteworthy statistics from first-class and Ranji Trophy
Highest partnerships in first-class cricket
| | | | | | |
| --- | --- | --- | --- | --- | --- |
| Runs | Wkt | Batsmen | Teams | Venue | Season |
| 624 | 3 | KC Sangakkara (287) & DPMD Jayawardene (374) | Sri Lanka v South Africa | Colombo SSC | 2006 |
| 594* | 3 | SM Gugale (351*) & AR Bawne (258*) | Maharashtra v Delhi | Mumbai WS | 2016-17 |
| 580 | 2 | Rafatullah Mohmand (302*) & Aamer Sajjad (289) | WAPDA v SSGC | Sheikhupura | 2009-10 |
| 577 | 4 | VS Hazare (288) & Gul Mohammad (319) | Baroda v Holkar | Baroda | 1946-47 |
| 576 | 2 | ST Jayasuriya (340) & RS Mahanama (225) | Sri Lanka v India | Colombo RPS | 1997-98 |
| 574* | 4 | CL Walcott (314*) & FMM Worrell (255*) | Barbados v Trinidad | Port-of-Spain | 1945-46 |
| 561 | 1 | Waheed Mirza (324) & Mansoor Akhtar (224*) | Karachi Whites v Quetta | Karachi | 1976-77 |
| 555 | 1 | P Holmes (224*) & H Sutcliffe (313) | Yorkshire v Essex | Leyton | 1932 |
| 554 | 1 | JT Brown (300) & J Tunnicliffe (243) | Yorkshire v Derbyshire | Chesterfield | 1898 |
| 539 | 3 | SD Jogiyani (282) & RA Jadeja (303*) | Saurashtra v Gujarat | Surat | 2012-13 |
| 523 | 3 | MA Carberry (300*) & ND McKenzie (237) | Hampshire v Yorkshire | Southampton | 2011 |
| 520* | 5 | CA Pujara (302*) & RA Jadeja (232*) | Saurashtra v Orissa | Rajkot | 2008-09 |
| 503 | 1 | RGL Carters (209) & AJ Finch (288*) | Cricket Australia XI v New Zealanders | Sydney | 2015-16 |
| 502* | 4 | FMM Worrell (308*) & JDC Goddard (218*) | Barbados v Trinidad | Bridgetown | 1943-44 |
| 501 | 3 | AN Petersen (286) & AG Prince (261) | Lancashire v Glamorgan | Colwyn Bay | 2015 |
Highest partnerships in Ranji Trophy
| | | | | | |
| --- | --- | --- | --- | --- | --- |
| Runs | Wkt | Batsmen | Teams | Venue | Season |
| 594* | 3 | SM Gugale (351*) & AR Bawne (258*) | Maharashtra v Delhi | Mumbai WS | 2016-17 |
| 577 | 4 | VS Hazare (288) & Gul Mohammad (319) | Baroda v Holkar | Baroda | 1946-47 |
| 539 | 3 | SD Jogiyani (282) & RA Jadeja (303*) | Saurashtra v Gujarat | Surat | 2012-13 |
| 520* | 5 | CA Pujara (302*) & RA Jadeja (232*) | Saurashtra v Orissa | Rajkot | 2008-09 |
| 475 | 2 | Zahir Alam (257) & LS Rajput (239) | Assam v Tripura | Guwahati | 1991-92 |
| 464 | 1 | R Sehgal (216) & R Lamba (312) | Delhi v Himachal Pradesh | Delhi | 1994-95 |
| 462 | 1 | M Vijay (243) & A Mukund (300*) | Tamil Nadu v Maharashtra | Nasik | 2008-09 |
| 460 | 7 | Bhupinder Singh Jr (297) & P Dharmani (202*) | Punjab v Delhi | Delhi | 1994-95 |
| 459 | 1 | W Jaffer (314*) & SK Kulkarni (239) | Mumbai v Saurashtra | Rajkot | 1996-97 |
| 455 | 2 | KV Bhandarkar (205) & BB Nimbalkar (443*) | Maharashtra v Kathiawar | Poona | 1948-49 |
| 451* | 1 | S Desai (218*) & RMH Binny (211*) | Karnataka v Kerala | Chickmagalur | 1977-78 |
| 436 | 4 | S Abbas Ali (251) & PK Dwevedi (189) | Madhya Pradesh v Railways | Indore | 1997-98 |
| 436 | 3 | SS Das (253) & SS Raul (210) | Orissa v Bengal | Baripada | 2001-02 |
| 421 | 1 | SM Gavaskar (340) & GA Parkar (156) | Bombay v Bengal | Bombay | 1981-82 |
| 417 | 6 | WP Saha (178*) & LR Shukla (250) | Bengal v Assam | Kolkata | 2010-11 |
| 410 | 4 | M Balan Pandit (262*) & G Abraham (198) | Kerala v Andhra | Palakkad | 1959-60 |
| 406* | 3 | RS Gavaskar (212*) & SJ Kalyani (200*) | Bengal v Tripura | Agartala | 1999-00 |
| 405 | 1 | CPS Chauhan (207) & MS Gupte (200) | Maharashtra v Vidarbha | Poona | 1972-73 |
| 405 | 3 | AD Jadeja (256) & A Kaypee (200) | Haryana v Services | Faridabad | 1991-92 |
Highest partnership for each wicket in Ranji Trophy
| | | | | | |
| --- | --- | --- | --- | --- | --- |
| Wkt | Runs | Batsmen | Teams | Venue | Season |
| 1 | 464 | R Sehgal (216) & R Lamba (312) | Delhi v Himachal Pradesh | Delhi | 1994-95 |
| 2 | 475 | Zahir Alam (257) & LS Rajput (239) | Assam v Tripura | Guwahati | 1991-92 |
| 3 | 594* | SM Gugale (351*) & AR Bawne (258*) | Maharashtra v Delhi | Mumbai WS | 2016-17 |
| 4 | 577 | VS Hazare (288) & Gul Mohammad (319) | Baroda v Holkar | Baroda | 1946-47 |
| 5 | 520* | CA Pujara (302*) & RA Jadeja (232*) | Saurashtra v Orissa | Rajkot | 2008-09 |
| 6 | 417 | WP Saha (178*) & LR Shukla (250) | Bengal v Assam | Kolkata | 2010-11 |
| 7 | 460 | Bhupinder Singh Jr (297) & P Dharmani (202*) | Punjab v Delhi | Delhi | 1994-95 |
| 8 | 392 | A Mishra (202*) & J Yadav (211) | Haryana v Karnataka | Hubli | 2012-13 |
| 9 | 249* | AS Srivastava (204*) & K Seth (125*) | Madhya Pradesh v Vidarbha | Indore | 2000-01 |
| 10 | 233 | AK Sharma (259*) & Maninder Singh (78) | Delhi v Bombay | Bombay | 1991-92 |
| | | | | | |
Highest scores by captains in Ranji Trophy
| | | | | | |
| --- | --- | --- | --- | --- | --- |
| Score | Name | Team | Against | Venue | Season |
| 377 | SV Manjrekar | Bombay | Hyderabad | Bombay | 1990-91 |
| 359* | VM Merchant | Bombay | Maharashtra | Bombay BS | 1943-44 |
| 351* | SM Gugale | Maharashtra | Delhi | Mumbai WS | 2016-17 |
| 340 | SM Gavaskar | Bombay | Bengal | Bombay WS | 1981-82 |
| 312 | R Lamba | Delhi | Himachal Pradesh | Delhi | 1994-95 |
| 312 | Sunny Singh | Haryana | Madhya Pradesh | Indore | 2009-10 |
| 301 | W Jaffer | Mumbai | Saurashtra | Chennai | 2008-09 |
| 290 | HH Kanitkar | Maharashtra | Bihar | Jamadoba | 2002-03 |
| 287 | Arun Lal | Bengal | Rajasthan | Calcutta | 1986-87 |
| 284 | DB Vengsarkar | Bombay | Madhya Pradesh | Bombay WS | 1991-92 |
| 278 | VM Merchant | Bombay | Holkar | Bombay BS | 1944-45 |
Highest scores by captains in first-class cricket
| | | | | | |
| --- | --- | --- | --- | --- | --- |
| Score | Name | Team | Against | Venue | Season |
| 429 | WH Ponsford | Victoria | Tasmania | Melbourne | 1922-23 |
| 428 | Aftab Baloch | Sind | Baluchistan | Karachi | 1973-74 |
| 424 | AC MacLaren | Lancashire | Somerset | Taunton | 1895 |
| 400* | BC Lara | West Indies | England | St John's | 2003-04 |
| 377 | SV Manjrekar | Bombay | Hyderabad | Bombay WS | 1990-91 |
| 374 | DPMD Jayawardene | Sri Lanka | South Africa | Colombo SSC | 2006 |
| 369 | DG Bradman | South Australia | Tasmania | Adelaide | 1935-36 |
| 359* | VM Merchant | Bombay | Maharashtra | Bombay BS | 1943-44 |
| 357 | DG Bradman | South Australia | Victoria | Melbourne | 1935-36 |
| 340* | SHT Kandamby | Sinhalese Sports Club | Tamil Union Cricket & Athletic Club | Colombo PSS | 2012-13 |
| 340 | SM Gavaskar | Bombay | Bengal | Bombay | 1981-82 |
| 334* | MA Taylor | Australia | Pakistan | Peshawar | 1998-99 |
| 333 | GA Gooch | England | India | Lord's | 1990 |
| 331* | MEK Hussey | Northamptonshire | Somerset | Taunton | 2003 |
| 329* | MJ Clarke | Australia | India | Sydney | 2011-12 |
| 324* | DM Jones | Victoria | South Australia | Melbourne | 1994-95 |
| 321 | WL Murdoch | New South Wales | Victoria | Sydney | 1881-82 |
| 318* | WG Grace | Gloucestershire | Yorkshire | Cheltenham | 1876 |
| 316 | RH Moore | Hampshire | Warwickshire | Bournemouth | 1937 |
| 315* | AF Kippax | New South Wales | Queensland | Sydney | 1927-28 |
| 315* | GA Hick | Worcestershire | Durham | Worcester | 2002 |
| 315 | JL Langer | Somerset | Middlesex | Taunton | 2007 |
| 313* | SS Agarwal | Oxford University | Cambridge University | Cambridge | 2013 |
| 313 | Younis Khan | Pakistan | Sri Lanka | Karachi | 2008-09 |
| 312* | JM Brearley | MCC Under-25 | North Zone (P) | Peshawar | 1966-67 |
| 312 | R Lamba | Delhi | Himachal Pradesh | Delhi | 1994-95 |
| 312 | Sunny Singh | Haryana | Madhya Pradesh | Indore | 2009-10 |
| 311 | RB Simpson | Australia | England | Manchester | 1964 |
| 311 | GC Smith | Somerset | Leicestershire | Taunton | 2005 |
| 310* | MEK Hussey | Northamptonshire | Gloucestershire | Bristol | 2002 |
| 308 | Imran Farhat | Lahore Ravi | Peshawar | Lahore | 2012-13 |
| 307* | TN Lazard | Boland | Western Province | Worcester | 1993-94 |
| 306* | DW Hookes | South Australia | Tasmania | Adelaide | 1986-87 |
| 306* | CA Pujara | India A | West Indies A | Hubli | 2013-14 |
| 306 | SM Katich | New South Wales | Queensland | Sydney | 2007-08 |
| 305* | FR Foster | Warwickshire | Worcestershire | Dudley | 1914 |
| 303* | NV Knight | Warwickshire | Middlesex | Lord's | 2004 |
| 302 | WR Hammond | Gloucestershire | Glamorgan | Newport | 1939 |
| 302 | BB McCullum | New Zealand | India | Wellington | 2013-14 |
| 301* | DS Lehmann | South Australia | Western Australia | Adelaide | 2005-06 |
| 301 | WG Grace | Gloucestershire | Sussex | Bristol | 1896 |
| 301 | W Jaffer | Mumbai | Saurashtra | Chennai | 2008-09 |
| 300* | ML Love | Queensland | Victoria | Melbourne | 2003-04 |
| 300* | Imran Farhat | Habib Bank Limited | Pakistan Television | Lahore | 2013-14 |
| 300 | R Subba Row | Northamptonshire | Surrey | The Oval | 1958 |
| 300 | Ramiz Raja | Allied Bank Limited | Habib Bank Limited | Lahore | 1994-95 |
Two batsmen scoring 250+ in the same innings in first-class cricket
| | | | | |
| --- | --- | --- | --- | --- |
| Batsman1 | Batsman2 | Teams | Venue | Season |
| WH Ponsford (352) | J Ryder (295) | Victoria v New South Wales | Melbourne | 1926-27 |
| GA Headley (344*) | CC Passailaigue (261*) | Jamaica v Lord Tennyson's XI | Kingston | 1931-32 |
| CL Walcott (314*) | FMM Worrell (255*) | Barbados v Trinidad | Port-of-Spain | 1945-46 |
| Gul Mohammad (319) | VS Hazare (288) | Baroda v Holkar | Baroda | 1946-47 |
| CC Hunte (260) | GS Sobers (365*) | West Indies v Pakistan | Kingston | 1957-58 |
| WV Raman (313) | A Kripal Singh (302*) | Tamil Nadu v Goa | Panjim | 1988-89 |
| KC Sangakkara (287) | DPMD Jayawardene (374) | Sri Lanka v South Africa | Colombo SSC | 2006 |
| Rafatullah Mohmand (302*) | Aamer Sajjad (289) | WAPDA v SSGC | Sheikhupura | 2009-10 |
| RA Jadeja (303*) | SD Jogiyani (282) | Saurashtra v Gujarat | Surat | 2012-13 |
| AN Petersen (286) | AG Prince (261) | Lancashire v Glamorgan | Colwyn Bay | 2015 |
| SM Gugale (351*) | AR Bawne (258*) | Maharashtra v Delhi | Mumbai WS | 2016-17 |
Highest totals losing two or fewer wickets in first-class cricket
| | | | | |
| --- | --- | --- | --- | --- |
| Score | Team | Against | Venue | Season |
| 682-2d | West Indians | Leicestershire | Leicester | 1950 |
| 671-2 | WAPDA | SSGC | Sheikhupura | 2009-10 |
| 637-2d | South Africa | England | The Oval | 2012 |
| 635-2d | Maharashtra | Delhi | Mumbai WS | 2016-17 |
| 627-2d | Gloucestershire | Oxford University | Oxford | 1930 |
| 584-2d | Sinhalese Sports Club | Badureliya Sports Club | Maggona | 2015-16 |
| 581-2d | Trinidad | Jamaica | Port-of-Spain | 1949-50 |
| 561-1d | Karachi Whites | Quetta | Karachi | 1976-77 |
| 560-2d | Maharashtra | Vidarbha | Poona | 1972-73 |
| 555-1d | Yorkshire | Essex | Leyton | 1932 |
| 554-2d | Western Province | Griqualand West | Cape Town | 2003-04 |