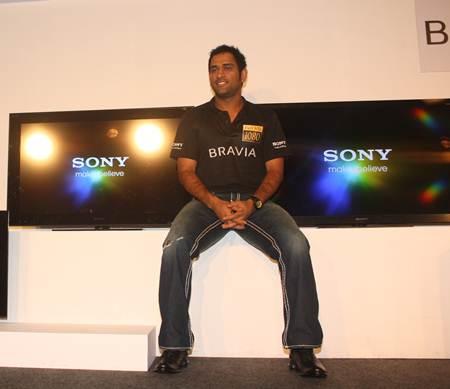 Mahendra Singh Dhoni hasn't received any summons from a local court in Andhra Pradesh that he is accused of ignoring, his lawyer, Rajneesh Chopra, said on Friday, insisting that the non-bailable warrant issued against the captain of India's limited-overs' teams is "erroneous".
Dhoni has been asked to appear before a court in Anantpur town of Andhra Pradesh on February 25, in a case filed against him for allegedly "denigrating" a Hindu god by posing as Lord Vishnu on the cover page of a magazine.
"Mahendra Singh Dhoni has utmost respect for the judiciary but the fact of the matter is that he has personally never received any summons with respect to the present case; therefore the order appears to be erroneous," Chopra said in a statement issued by Rhiti Sports, the company that manages Dhoni.
"Even as such, proceedings in a similar matter pending before the Hon'ble District Court of Bengaluru, Karnataka, has already been stayed by the Hon'ble Supreme Court of India. In this matter, accordingly we will approach the courts and seek appropriate directions thereto," he added.
The complaint, filed by local activists, had alleged that Dhoni was seen on the cover of a business magazine as Lord Vishnu, holding several things, including a shoe in his hand.
Last September, the Supreme Court stayed the criminal proceedings against Dhoni and also issued notice to social activist Jayakumar Hiremath, who had filed the case against the cricketer.
The case against Dhoni relates to a picture showing him as Lord Vishnu, holding a shoe among other products he endorses. The picture appeared on the cover of Business Today magazine in April 2013.
Dhoni had earlier approached the apex court seeking quashing of a criminal case against him in the Karnataka high court for allegedly outraging religious sentiments for his portrayal of Lord Vishnu on the magazine cover.
The Karnataka high court refused to quash the case, prompting Dhoni to file an appeal in the apex court.
Dhoni is currently in Australia to play five One-day Internationals and three T20Is against the hosts from January 12 to 31.
Image: Mahendra Singh Dhoni
Photograph: Hitesh Harisinghani/Rediff.com