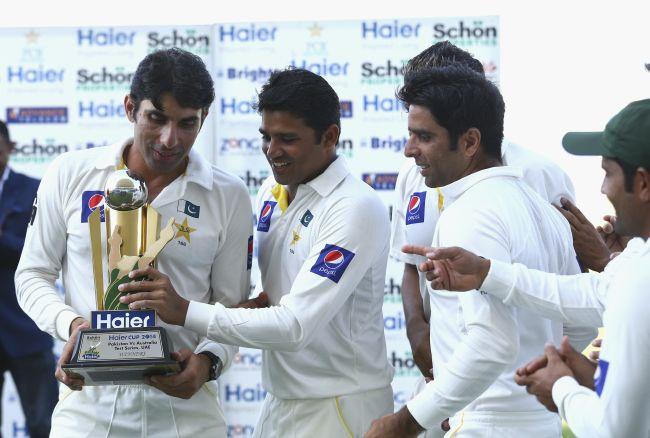 Misbah-ul Haq celebrates with the trophy after Pakistan beat Australia in the second Test and won the series 2-0. Photograph: Ryan Pierse/Getty Images
Pakistan skipper Misbah-ul Haq rates the 2-0 series triumph over Australia as his country's "best ever" considering his team was without three key bowlers.
Ace spinner Saeed Ajmal and frontline pacers Junaid Khan and Wahab Riaz were all missing as Pakistan inflicted a 356-run defeat on Australia -- their biggest win in Test cricket -- in Abu Dhabi.
That gave Pakistan their first series win over Australia in 20 years, prompting Misbah to rate it the "best ever", slightly ahead of Pakistan's 3-0 rout of then world number one England, also in the United Arab Emirates in 2012.
"It's really tough to rank both series, but considering the fact that we had far better bowling combination for England and this time despite having an inexperienced bowling line up nobody could have thought we can turn it around and beat Australia, so this, you can understand, it is a big achievement," said Misbah.
Babar, Shah shared 26 wickets between them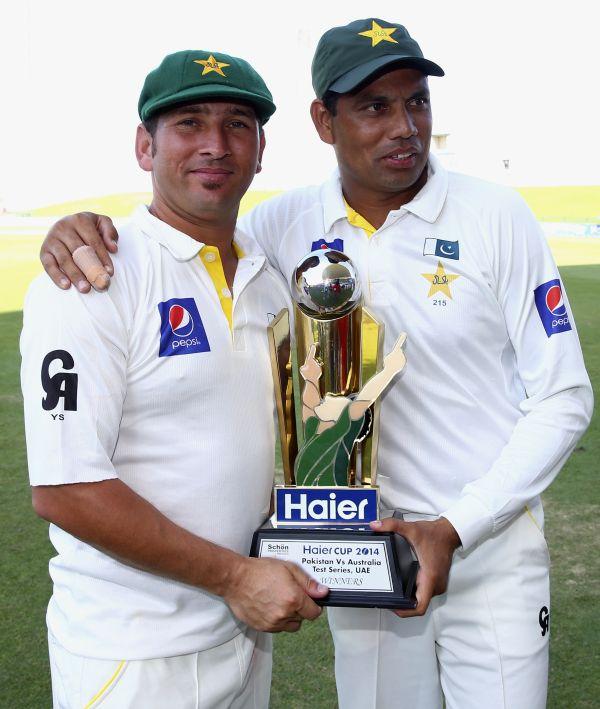 Pakistan's Yasir Shah and Zulfiqar Babar celebrate with the trophy. Photograph: Ryan Pierse/Getty Images
Ajmal was suspended because of an illegal bowling action while Riaz and Junaid were injured.
Spinners Zulfiqar Babar, who had played two Tests before the series, and leg-spinner Yasir Shah, who made debut in the first Test, shared 26 wickets between them.
The win also put Misbah equal with Pakistan's most successful Test captains Imran Khan and Javed Miandad with 14 wins.
Misbah credited the turnaround, after losing the preceding One-day series against Australia 3-0, to team effort.
"I think we got the belief (to win); that's why we delivered and everyone performed. The way we played as a batting unit you could say there was belief and this could be the reason we performed the way we did," said Misbah, declared man-of-the-match for his fiery 56-ball hundred, which followed his 101 in the first innings.
Younis Khan named man-of-the-series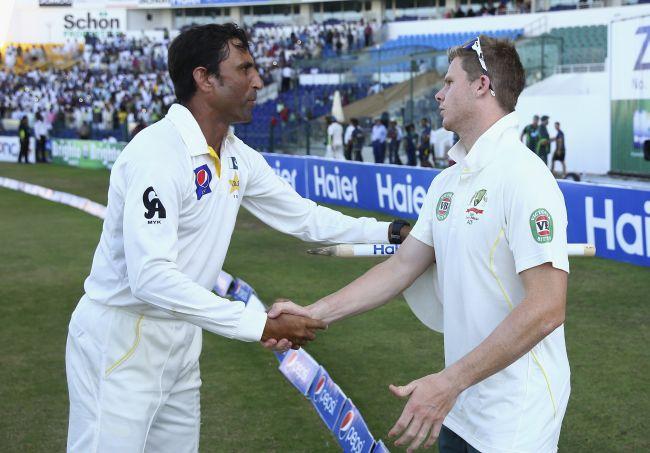 Younis Khan of Pakistan and Steve Smith of Australia shake hands after the second Test. Photograph: Ryan Persie/Getty Images
Misbah equalled the record for the fastest Test century held by West Indian Vivian Richards and set a new record for the fastest half-century off just 21 balls.
Younis Khan was declared man-of-the-series for his 468 runs, which included a century in each innings in the first Test, which Pakistan won by 221 runs in Dubai, and 213 in the second match.
Misbah said it had looked a difficult proposition without their frontline bowlers.
"Obviously, it looked difficult without Ajmal, (Abdur) Rehman, Riaz and Junaid but everybody performed well and it was remarkable."
The win over Australia also lifted Pakistan to third in Test rankings from sixth before the series.
"It's really good to be up there in the rankings and that could really give you great confidence. I think the good thing about that is we are going to play another series against New Zealand. If we can really continue playing like this will further help us in our campaign in the World Cup," said Misbah.
Pakistan next play New Zealand in a three-match series, with the first Test starting in Abu Dhabi on Sunday.