Ryan Harris says there is no panic in the Australian camp before the series-deciding third Test against South Africa, starting in Cape Town on Saturday.
Australia lost the second Test by 231 runs on Sunday after failing to cope with the Proteas' pace attack that took nine wickets in a session with prodigious reverse-swing.
Harris says Australia's 281-run win in the series opener proved there is little to choose between the sides.
"We are not panicking, we did not play well enough on the day (in Port Elizabeth), but the week before that we were well on top," the Australia fast bowler told reporters on Thursday.
"We have had a good break, we did nothing for two days before starting training for the third Test and the boys are excited. If you have trouble getting up for a Test match for your country against the number one team in the world then you should be playing at home."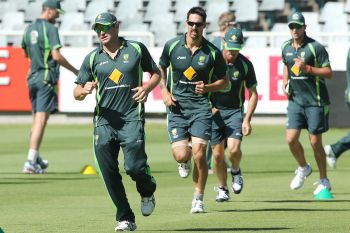 Australia's preparations in the last two days have been centred around playing against reverse swing, with bowlers intentionally roughing up the ball in the nets to get extravagant movement.
"We were cheating today, scraping the ball on the concrete, but it was practice for the batsmen and for us bowlers actually," Harris said. "If you can hit those in the nets then can hit it in the game."
Harris admitted David Warner had been wrong to suggest South Africa wicketkeeper AB de Villiers had used his gloves to tamper with the ball in the second Test, comments which on Thursday cost the opening batsman 15 percent of his match fee.
"Davie's comments were wrong, but it has been dealt with by the leadership group. For me the manner in which South Africa handled the ball was better.
"He (De Villiers) is doing something with his gloves, but it is obviously legal - if he was doing anything illegal he would have been charged.
"You have got to do all sorts of stuff to rough one side up, everybody does it around the world. That is not illegal, otherwise it would be stopped."
Shane Warne's appearance at Australia training on Thursday has also given the squad a lift, Harris says.
"Shane Warne is really here as a consultant for the Twenty20 squad. But it is a massive bonus we have him here for this last Test. Just talking to him about cricket has been great with all those experiences he has had."
Image: Members of Australia's train ahead of the Test
Photograph: Morne de Klerk/Getty Images