Australian spin legend Shane Warne considers Indian captain Virat Kohli the best batsmen in world cricket currently.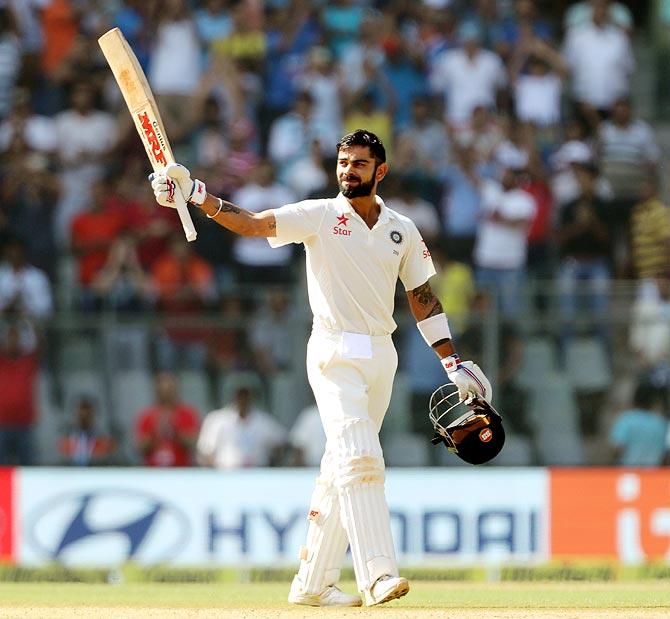 IMAGE: Virat Kohli celebrates scoring a century. Photograph: BCCI
Legendary leg-spinner Shane Warne called for radical tweaking of rules to bring more balance in the game, including change in cricket balls, scrapping of fielding restrictions in one-day matches and restricting to number of bowlers to four in T20 games.
Warne said he also considers the current Indian captain Virat Kohli the best among current batsmen.
"No Joe Root and no AB de Villiers. It's only Virat Kohli who makes me take notice," said Warne, who is in Pune as part of the Australian commentary team for the ongoing India-Australia Test series.
Warned rued that all the changes that have happened till now have either been with the bat or the field, but the ball has remained untouched.
"The ball we bowl with is still the same as it was 100 years ago. Size and seam, and while bats became bigger and heavier, boundaries brought closer and fielding restrictions introduced but the ball is still the same as it was," Warne said at the inaugural sports literature themed festival SporTale.
"Why has ball not changed over the years? The ball manufacturers should do something with the ball. Maybe put some swing into the ball," he said.
Warne said the grounds should be made big and boundaries must become long. And, most importantly, ODI cricket should do away with fielding restrictions.
"Leave it to the bowling side captain to decide where to put his fielders. Let him have all the nine fielders on the boundary. Rules should not restrict who stands where," said Warne, who retired from international cricket in 2007 with haul of 708 wickets in Tests and 293 in ODIs.
Regarding T20 cricket, he said, "In a T20 game, there should be just four bowlers bowling four overs each. We should have better quality bowlers rather than part timers bowling absolute rubbish."
Warne offered a word of caution to the home side, saying even if the Australians were considered underdogs given the results India recorded at home in the recent past, the team from Down Under would not be a walkover.
"I don't agree with what some of the pundits of the game have made forecast. The series will be a lot more tighter than what many think. Australia has some amazing players and you just wait and see as the series progresses," said Warne.
"Australia's mindset in this series is to attack. We are going to take it to India. It will be interesting to see what they do even as India definitely are favourites."
Warne was also pretty hooked up about how Ravichandran Ashwin and Steven Smith rivalry would take shape during this four-match Test series.
"Smith is going to be his captain in the upcoming Indian Premier League so we have to see how he approaches this Test series, because I seriously believe that IPL has broken down the barriers, which used to be there maybe 10 years ago."
Always a proponent of Test cricket, Warne called on the International Cricket Council to market the longest format properly.
"If we don't market Test cricket properly it is not going to be there because the Rock-an-roll cricket, the T20 cricket, will take over in some years."