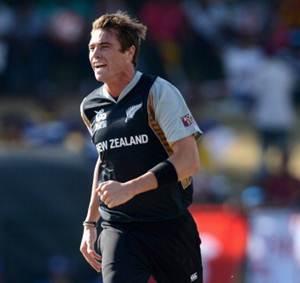 Colin Munro and Anton Devcich hit half-centuries, and Tim Southee grabbed three wickets, as New Zealand ended their Bangladesh tour with a 15-run victory in the Twenty20 match in Dhaka on Wednesday.
Munro returned unbeaten on 73 off 39 balls after debutant Devcich had smashed 59 off 31 balls to lift the Black Caps to 204-5, their second-highest total in Twenty20 cricket, behind the 214-6 against Australia in 2010.
The tourists, beaten in all three One-day internationals after a drawn two-Test series, restricted Bangladesh to 189-9 in front of some 35,000 disappointed home fans at the Sher-e-Bangla National stadium.
Set a target of more than 10 runs an over, Bangladesh made a shaky start, losing three wickets in the first two overs for 19 runs.
Southee, who finished with three for 38 dismissed openers Shamsur Rahman and Ziaur Rahman in the first over before Mitchell McClenaghan removed Mominul Haque in the second.
Skipper Mushfiqur Rahim and Nasir Hossain retrieved the situation, but their dismissals in successive overs sent Bangladesh reeling.
Mushfiqur fell to Corey Anderson after making 50 off 29 balls, his maiden Twenty20 half-century, which contained seven fours and a six.
Nathan McCullum took a brilliant return catch in the next over to oust Nasir for 28 off 20 balls.
Munro, a 26-year old left-hander, hit three fours and five sixes for the Black Caps, as he built on the 10 boundaries and a six hit by Devcich.
Bangladesh were left to rue shoddy catching after debutant Al-Amin Hossain dropped Devcich, who was then on six, in Mashrafe Mortaza's first over.
Al-Amin made amends by grabbing two wickets in the final over to finish with 2-31 in his four overs.
New Zealand now travel to Sri Lanka for three one-dayers and two Twenty20 internationals, starting on November 10.
Scorecard
New Zealand:
A Devcich c Shamsur b Razzak 59
H Rutherford c Nasir b Sohag 17
R Taylor c Naeem b Ziaur 28
C Munro not out 73
C Anderson b Al-Amin 18
L Ronchi c & b Al-Amin 0
N McCullum not out 0
Extras: (lb2, w7) 9
Total: (for five wickets, 20 overs) 204
Fall of wickets: 1-73, 2-83, 3-176, 4-200, 5-200.
Bowling: Mashrafe 4-0-46-0, Sohag 3-0-30-1, Al-Amin 4-0-31-2, Nasir 1-0-16-0, Mahmudullah 4-0-34-0, Razzak 2-0-19-1, Ziaur 2-0-26-1.
Bangladesh:
Shamsur Rahman c McClenaghan b Southee 4
Ziaur Rahman b Southee 6
Mominul Haque c Mills b McClenaghan 9
Mushfiqur Rahi'm c Taylor b Anderson 50
Naeem Islam c Southee b Mills 18
Nasir Hossain c & b McCullum 28
Mohammad Mahmudullah c Taylor b Anderson 34
Sohag Gazi run out 24
Mashrafe Mortaza not out 7
Abdur Razzak b Southee 0
Al-Amin Hossain not out 5
Extras: (lb3, w1) 4
Total: (nine wickets; 20 overs) 189
Fall of wickets: 1-4, 2-11, 3-19, 4-62, 5-116, 6-120, 7-177, 8-177, 9-183.
Bowling: Southee 4-0-38-3, McClenaghan 3-0-45-1, Mills 4-0-32-1, McCullum 2-0-18-1, Devcich 3-0-32-0, Anderson 4-0-21-2.
Image: Tim Southee
Photograph: Gareth Copley/Getty Images