Sri Lanka captain Kumar Sangakkara on Saturday defended his move during the unsavoury collision incident involving New Zealand's Nathan McCullum in Friday's tri-series match, saying it was the all-rounder who first obstructed his way.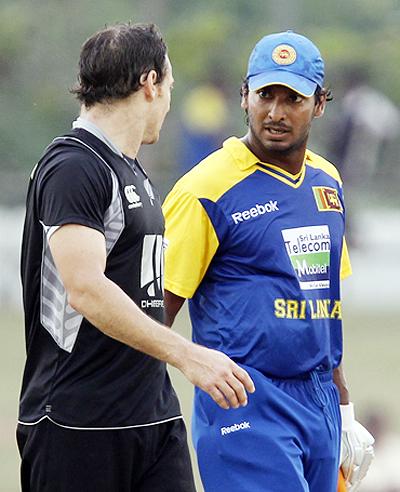 "When I was finishing the first run, the bowler has to be behind the wicket or aside, especially a spinner. When I ran for the first run, I knew there was two runs. That's my duty. On my last two steps, for some reason, McCullum came out of the crease and was obstructing my way," Sangakkara said.
"I don't know whether it was done purposefully, I didn't have anything to do. When on the crease, there was some contact. When that happened, my head also had turned the other way. He took offence with that and complained to the umpire.
"On that incident, the three Sri Lankan umpires - Tyron Wijewardene, Ranmore Martinez and Gamini Dissanayake - told the match referee that I was wrong, not McCullum. But the match referee saw all visuals and decided that I was not at fault," Sangakkara said at the pre-match press conference.
The ICC earlier gave a clean chit to Sangakkara, saying the Sri Lanka captain was found not guilty of breaching its Code of Conduct.
"Depends on how the chargesheet was made. In a situation like that, it should be either both players or the video footage should be looked at. The bowler moves in the line of a batsman and the batsman has no way to avoid contact, if he does, he can be run out," the Sri Lankan skipper said.
"Sometimes, bowlers may tend to do it to deny the batsmen being comfortable and going for the second. That's bit of a speculation. The match referee after viewing the footage, didn't find anything wrong," he said.
"The way it happened, I had no way of avoiding the collision. I tried my best to make sure that the bat was away. I would have done an injury had I gone straight into him. I managed to avoid that, even at the last moment, he was moving to my way. The match referee saw what happened," he added.
On Sunday's must-win match against India, Sangakkara said the home team would eye an early removal of swashbuckling India opener Virender Sehwag.
"Viru's wicket is very importnat. We view each wicket as important. That's the easiest way to take wickets. But Viru is adjusting to the challenges sides are putting to him, lets set him some more challenges and see how he comes through," he said.
Sangakkara said they were ready to put up an all-out effort to win Sunday's match and enter the final.
"It's a must-win. We are on six points, New Zealand on seven because of the bonus point system. So If we beat India then we are in the final. There are lots of permutations how we can think of at the end of the day. But we have to go and win first," he said.
"Whether we are in a do or die situation or not, we try to win every game we play. We put lot of effort to win. The key is to enjoy the game. The result will take care of itself as long as you win," he added.
However, Sangakkara made it clear that he was not much pleased with the schedule of the tournament as they have to play matches without enough rest.
"It is lucky that it rained (on Thursday). Otherwise it means that we had only one day in between two games. Every side has had two six day breaks. We are yet to get our first break. So that is the way it goes. That is the way the tournament has been organised and there is no room for complain," he said.
"But our job is to play cricket. Whether the situation is tough or not, whether we are in a tough situation or not, we will still play try to do the job," he added.
Sangakkara also praised middle-order batsman Chamara Silva, who made a fine 41 during Friday's washed-out match.
"Chamara is one of the experienced players we have in the middle order. He was in Bangaldesh for the tri-series, which we won. He fractured his thumb and out of the side, we are looking forward to him being solid in the side and playing in that position," he said.
"Going forward for the World Cup, two guys we need to make it to the side is Jeevan Mendis and Dinesh Chandimal, I think if we have those two guys, our batting line up is solid.
"Guys like (Tillakaratne) Dilshan, Upul (Tharanga), myself, Mahela (Jayawardene), Dinesh Chandimal, Jeevan Mendis, Chamara Silva and Chamara Kapugedara, Angelo - that's the
batting line up we can have. That's what we should be working up to," he added.
Sangakkara also praised Angelo Mathews.
"Angi is crucial to us. He again has been astonishing. From the first day I saw him, even before he was in the national side, he showed lot of hunger. He made a few hundreds there and after coming home in the domestic tournament. In the first match he played he got a 170 and then in the next match he got a double hundred," he added.