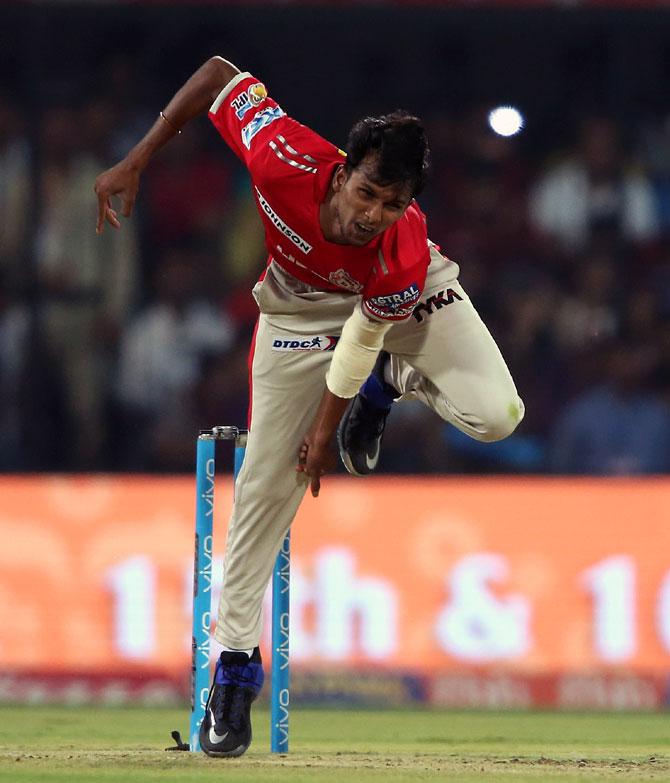 IMAGE: Thangarasu Natarajan says he is learning from foreign players' approach to the game. Photograph: BCCI
Thangarasu Natarajan had to sort out his bowling action and overcome self-doubts to land a lucrative IPL deal and the left-arm paceman is now enjoying his maiden season with Kings XI Punjab.
From picking up a new language to understanding the different approaches of the game, Natarajan is learning from his experiences in the Indian Premier League.
"Initially, I felt a little pressure as it was first season at this level. After the first match, I felt normal. The team members ensured that I was relaxed," Natarajan told PTI.
The 25-year-old Tamil Nadu pace-man bagged a Rs 3 crore IPL contract with Kings XI Punjab after an impressive domestic season.
For Natarajan, it was a struggle to realise his cricket dreams as his father worked as a labourer in a textile unit and mother ran a roadside stall selling fried chicken.
When he joined his IPL team, communication with fellow players was an issue initially. "It improved in course of time. I can understand English though I am not fluent in the language to respond," Natarajan said.
"I'm trying to learn Hindi now."
Stating that the Kings XI dressing room was a relaxed and friendly one, he said it helped him and the others give their best on the field.
Asked what skills he has learnt since joining the IPL team, the left-arm paceman said, "I am doing what I know best. I need to give my best now, I can learn new things as I gain experience."
Asked if there was any change in the manner in which he prepared for matches, Natarajan said, "Not really. However, the foreign players have a different approach to games and I have been taking note of that."
Natarajan came to the fore during the inaugural TNPL last year. His ability to deliver yorkers for Dindigul Dragons in the slog overs evoked comparisons with Bangladesh bowler Mustafizur Rehman.
However, ask him and Natarajan downplays such talk, saying: "There is a long way to go."
Natarajan said flamboyant Australian allrounder Glenn Maxwell was a receptive captain and motivated him a lot. "He asks me to stick to my strengths and is prepared to give fields I seek."
He also finds Maxwell the toughest to bowl to, after having done so to some of the best in the business.
Natarajan is also delighted to be part of the team mentored by Virender Sehwag. "Sehwag sir is a great motivator. He advised me to focus on my strengths."
Hailing from Chinnappampatti, Natarajan was playing tennis ball cricket in 2011 before moving to Chennai to play lower division cricket. He impressed with his pace and variations and moved up the ladder.
Four years later, in 2015, Natarajan made his Ranji Trophy debut against Bengal at the EdenGardens in Kolkata. His action came under scrutiny and the whole world seem to have come crashing.
However, the young man wasn't disheartened and under the watchful eyes of Sunil Subramanian, D Vasu and others, underwent the correction process.
The long way back saw him shine in Chennai's competitive league and subsequently the TNPL. He also performed well for Tamil Nadu in the Ranji Trophy and the Syed Mushtaq Ali Trophy South Zone T20, which put him in line to earn a call-up during the IPL auction.
He seems to be enjoying being part of IPL and Kings XI and interestingly, the team has won each time he has been in the playing eleven.
Natarajan is a huge fan of retired Australian paceman Mitchell Johnson, now part of the Mumbai Indians. He managed to meet his idol and click a picture with him and also received a few bowling tips from the Australian.