'I hope the new dispensation continues the good work done by the BCCI. Hope the Board doesn't lose more face globally.'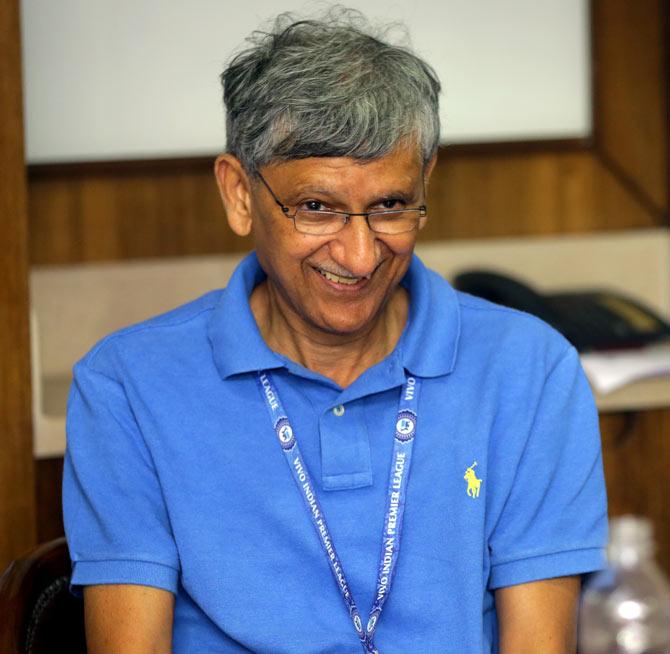 IMAGE: Board of Control for Cricket in India Secretary Ajay Shirke. Photograph: BCCI
Sacked Board of Control for Cricket in India secretary Ajay Shirke on Monday said he is 'absolutely fine' with the Supreme Court order asking him to leave office but hopes that the BCCI does not lose its international standing owing to the administrative upheaval.

"I have no reaction to that (to his sacking). If that is the Supreme Court order, I cease to be secretary. It cannot get any simpler than that. My role in BCCI is over," said Shirke, shortly after Supreme Court removed him and president Anurag Thakur as the office-bearers of the BCCI.

The two faced the wrath of the Supreme Court after BCCI failed to implement the Lodha panel reforms under their leadership.

When asked whether the situation could have been avoided had the Board implemented the sweeping reforms earlier, Shirke said there is no question of handling the issue differently.

"At the end of the day, the BCCI comprises of members. It is not about me or the president. It is about the members.

"I have no reason to go into history. History can be judged by people differently. I have no personal attachment to the post. In the past also I have resigned and I have lots of other things to do. I came back to the Board as there was a vacancy and I was elected unopposed. Now it has come to this (the Supreme Court). I am completely fine with it and I have no regrets," said Shirke from London.

The apex court had also decided to initiate contempt proceedings against BCCI chief Thakur by seeking his response as to why he should not be held liable for obstructing the implementation of the court's directions aimed at reforming the Board.

A bench headed by Chief Justice T S Thakur said the working of BCCI will be looked after by a committee of administrators and requested senior advocate Fali S Nariman and senior advocate Gopal Subramanian, who was assisting in the matter as amicus curiae, to assist the court in nominating persons of impeccable integrity for the panel.

Shrike hopes the BCCI does not lose its powerful position on the global stage.

"I hope the new dispensation continues the good work done by the BCCI. Hope the Board doesn't lose more face globally. I also hope the Indian team is able to maintain its supremacy in all three formats of the game," Shirke added.

Justice Rajendra Mal Lodha, who headed the three-member panel formed by Supreme Court to make structural reforms in the BCCI, said it is only a matter of time for the reforms to be implemented.

"This is logical consequence because once the reforms were accepted by the Supreme Court, they had to be implemented. There were obstructions and obviously this had to happen and it has happened," said Lodha.

"One should understand that once the order of the Supreme Court has come, it has to be obeyed. It is law of the land. It is victory for cricket. The game will flourish. Administrators come and go but the game goes on," Lodha added.
The Supreme Court bench, also comprising Justices A M Khanwilkar and D Y Chandrachud, said that Nariman and Subramanian will complete the task in two weeks and the matter for passing the direction for nominating the persons in committee of administrators will be taken up on January 19.

Meanwhile, the cricketing fraternity led by former India spinner Bishan Bedi hailed the apex court's verdict.

"This is a landmark judgement. It is good for Indian cricket and it will be back on track. There is light now and we are thankful to the Supreme Court. I don't have to get into debate. This is full and final. This is going to be great news for Indian sports and cricket in particular. If you are watching IOA, it is in shambles. That will be clarified too," said Bedi.
The Lodha committee recommendation on one state one vote was also opposed by the BCCI, especially its affiliate Mumbai Cricket Association (MCA).
76-year-old Pawar, who resigned as MCA president last month to adhere to age cap of 70 years recommended by the Lodha, was left disappointed after the Supreme Court order on Monday.
Implementing one-state one-vote would mean Mumbai, Maharashtra and Vidarbha will have to right to vote on rotational basis.
"It is the saddest day for Mumbai cricket. Mumbai cricket has produced so many international stars and done so much for Indian cricket (including record 41 time Ranji champions). The decision to keep Mumbai away from voting is painful," said Pawar.
Veteran administrator Niranjan Shah, who is secretary of Saurashtra Cricket Association, said there was no option other than implementing the Lodha reforms.
"Whatever Supreme Court says is final. We will have to abide by that," said Shah.
Tamil Nadu Cricket Association secretary Kasi Viswanathan too concurred with his Saurashtra counterpart.
"We will have to go by what the Supreme Court has ordered. Anything else will be contempt of court. It has to be followed. We will soon call for a Special General Meeting to chart the road ahead," Viswanathan told PTI.
Brijesh Patel, secretary of the Karnataka State Cricket Association (KSCA), said they were awaiting a copy of the Supreme Court order.
"I can't say anything until I read the order. Only after going through the order we can discuss the road ahead," Patel told PTI when asked whether KSCA would implement the Lodha reforms.
Kerala Cricket office-bearers quit following SC directive
Kerala Cricket Association president T C Mathew, secretary Ananthanarayan and other office-bearers who have "cumulatively or separately completed nine years in office", quit their posts following the Supreme Court directive to BCCI to implement the Lodha Panel reforms on Monday.
A meeting of the KCA, held in Kochi, appointed B Vinod as new president and Jayesh George as secretary of the association, KCA sources said.
The changes were brought hours after the Supreme Court removed BCCI president Anurag Thakur and secretary Ajay Shirke.
Mathew, who has served the KCA as an office-bearer for nearly two decades, is also a BCCI vice-president.
Ananthanarayan vacated his post as he has completed nearly 11 years in office.
According to the directive from the Lodha panel, any individual who has cumulatively completed a period of nine years as an office bearer of a state association stands disqualified from contesting elections or holding a post in the association.
Mathew and his team members left office seven months ahead of completion of current term of office-bearers.