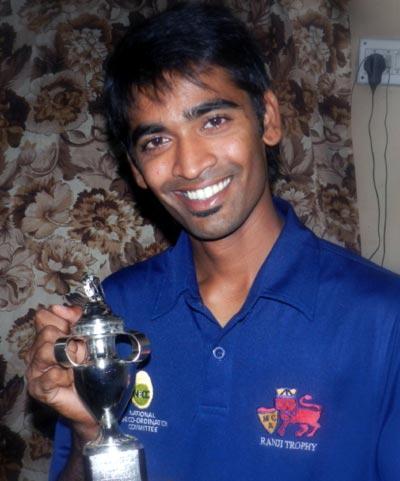 Mumbai, already assured of a quarter-final berth, will be without their most successful bowler of the season, left-arm spinner Vishal Dabholkar, for their concluding Group B game against Gujarat, commencing at the Wankhede Stadium on Tuesday.
Dabholkar, who has taken as many as 27 wickets in six games so far, and off-spinner Ankush Jaiswal -- in his Ranji debut against Madhya Pradesh in Indore -- were reported by the umpires to have flexed their elbows beyond the 15-degree permissible limit in the game and cannot play till their rectified action is cleared by the Board of Control for Cricket in India.
"It happened in the last match against MP. It was noticed in a couple of balls. They were reported to the (Mumbai) team manager. They (Dabholkar and Jaiswal) have already attended the Chennai facility (of the BCCI) for checking suspect bowling actions, just to check it again with the same action. We are awaiting the report," said Mumbai team coach Chandrakant Pandit.
Mumbai, sitting pretty atop the group table with 32 points after their come-from-behind outright win over MP, have brought in rookie under-23 bowler Dhrumil Matkar for the game against Gujarat, but the experienced Iqbal Abdullah, who is a good bat lower-down, is likely to keep that spot.
"We would like to keep the winning momentum going, which is important. We want to finish the league well," said Pandit.
While Mumbai have already sealed their last eight berth, Gujarat are on the threshold to do so, with 23 points in their kitty, and need to take the first innings lead against Mumbai to cement their quarter final berth.
"We are well-placed, but we are not looking at points. We are focused on playing good cricket and things will fall into place.
"Winning outright games is very important and that's why we have decided to play on good wickets at home and we have done well."
Gujarat captain Parthiv Patel said the pitch sported a green tinge.
"There's a bit of green tinge, there's also more grass. It will be interesting to see how it looks on match day," said the wicketkeeper-batsman.
Photograph: Vishal Dabholkar/Facebook