Convicted for the spot-fixing scandal, Pakistan's tainted pacer Mohammad Amir has been moved from a notorious young offenders detention centre to a more secure and safer rehabilitation centre in the United Kingdom.
Amir, who has been sentenced to six months jail term by the crown court last week for his role in the spot-fixing scandal, has been moved from the Feltham Young Offenders Institution to a Her Majesty's Prison Portland known as Weymouth in Dorset, England, Geo News channel reported.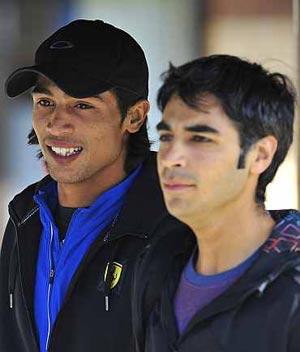 Apparently the decision may have been influenced by the fact that there is a history of violence at the Feltham institution, where in 2000 a Pakistani boy -- Zahid Mubarek -- was killed by a white racist psychopath Robert Stewart.
A report by the Commission for Racial Equality seven years ago found "widespread racism" at the jail with Black and Asian inmates subjected to bullying and unfavourable treatment by wardens.
Salman Butt and Mohammad Asif, who were also given different jail terms by the court, are presently lodged in the high security Wandsworth prison in South London.
The channel reported that the decision to send Amir to Her Majesty's Prison Portland, which is located in the village of Easton, came after it was decided by the Prison Services' Youth Justice Board that the young bowler deserved to be at a better rehabilitation centre with modern educational, recreational and teaching facilities with no stigma such as the one attached to the Feltham Young Offenders Institution.
The Weymouth Young Offenders Institution is considered a youth hostel and one of the best rehabilitation centres for the 15-21 year old offenders convicted on various charges.
The move means that Amir will have access to every kind of facility at the centre where he can play sports, attend education classes, exercise at the gym, use internet and take part in charitable events after a month or so, including collecting money for the local charities.
Every week, he will also receive up to 25 hours of education, skills and other activities, including programmes planned for improving the behaviour of the young inmates.
Meanwhile, a leading Pakistani Sports Psychologist and Clinical Hypnotherapist, Maqbool Babri who has in the past held counselling sessions for Pakistani players, has said that of the jailed trio Salman Butt needed the most psychological care.
"He is the one who has been under the most stress during the trial. He got a guilty verdict the same day from the jury that his wife gave birth to their second son in Lahore. He must have been under lot of stress and the situation must have created a lot of anxiety and stress for him," Babri said.
Babri said psychologists normally suggest their clients not to take on multiple stresses at a time as those can leave a scar on a victim's mind for a long time.
"Now that he has got a guilty verdict and been jailed, I think Butt needs specialist psychological care even in prison where he must be given counselling. Remember when a celebrity is jailed for a criminal offence it is not the same as a normal person being jailed for a crime," he said.
Babri insisted it was important for his family to maintain close contact with him and admitted the birth of his son must have caused some relief to him.
"Elite athletes have tremendous mental strength and resilience to rapidly recover from extreme stresses and anxiety. I am sure lessons have been learnt by all and they will now seek to cut their losses and focus on rehabilitating themselves and become champions of good conduct."