'Everybody was very nervous and I think that resulted in our defeat'
'It's about experience and about how composed we are in the situation'
'If you ask me, they should have (women's) IPL because now is the right time to create that base'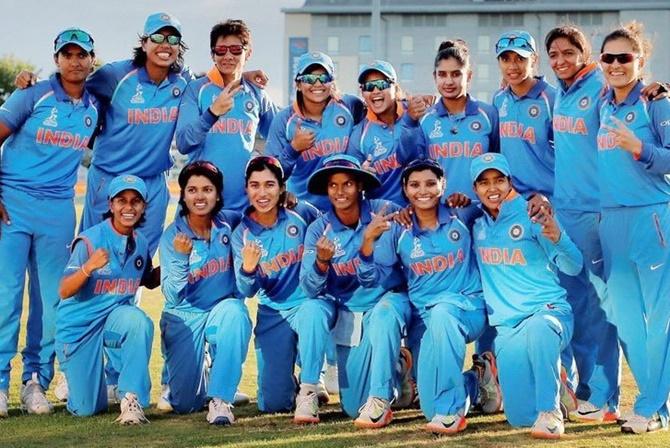 IMAGE: Indian women's cricket team. Photograph: ICC/Twitter
The champion's crown eluded her team for a second time but Indian skipper Mithali Raj believes future is bright for women's cricket in the country and a platform has been set for the coming generations.
India seemed on course for a maiden World Cup trophy but suffered a batting collapse, losing seven wickets for 28 runs to slip from 191-3 to 219 all out in 48.4 overs in a chase of 229 in the final against England at Lord's. But despite the heartbreak, the skipper said future seems good for India.
"These girls have really set the platform for the upcoming generations in India. They've opened up the channels for women's cricket and they should be really proud of themselves. I have seen the changes the girls have made," Raj said.
The 34-year-old Raj admitted her team failed to hold its nerve but said she was proud of the way it fought in the tournament.
"Everybody was very nervous and I think that resulted in our defeat. It's about experience and about how composed we are in the situation. The girls weren't experienced enough to do that, but the way they have fought through the tournament is heart-warming," said Raj.
"The India women's team has a bright future, we have very talented girls – it's just a matter of calculations, keeping your cool in the middle," she added.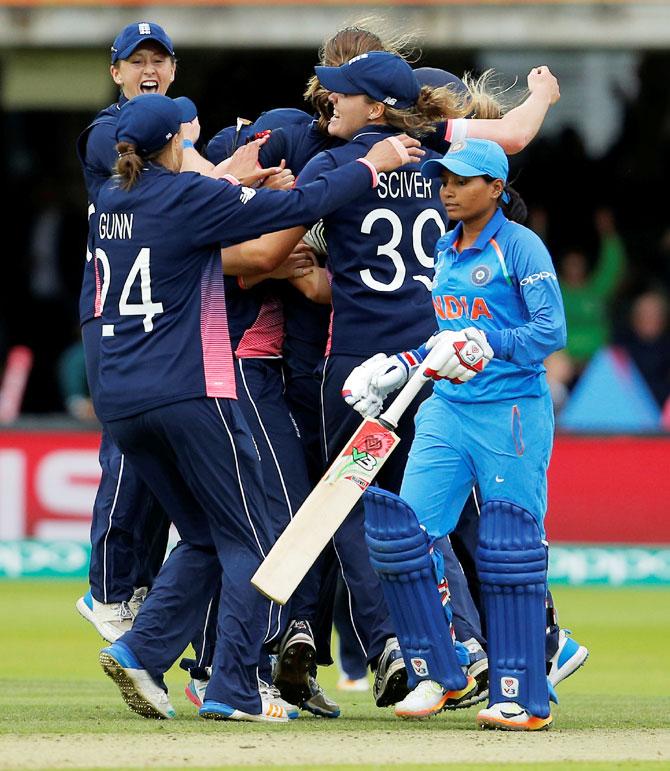 IMAGE: England players celebrate their World Cup win over India at Lord's on Sunday. Photograph: Andrew Couldridge/Action Images via Reuters
She also took solace from the fact that the final went right down to the wire unlike the lopsided loss to Australia in the 2005 edition's summit clash.
"Unlike 2005 (when Australia hammered India by 98 runs in the final at Centurion, South Africa), this went to the end," said Raj, who became the all-time leading run-scorer in ODIs in women's cricket during the tournament.
India were going strong at one stage with Punam Raut (86) and Harmanpreet Kaur (51) at the crease. The duo shared a third-wicket stand of 95 but once the opener was dismissed, it all fell apart for the visitors.
"We messed it up in the end. It was a very brave innings from Punam. The partnership was very important and the two really built the innings," said Raj.
"The lower-middle order needs to contribute, that has been a concern for a long time, batting is important and something everyone needs to do."
Tributes poured in for Indian women's cricket team despite their loss with Prime Minister Narendra Modi and former cricketers and sportspersons hailing the team for its tenacity and skills.
"The response from the public is very positive. I'm sure the BCCI is very proud of the team," said Raj.
"When we lost to South Africa and Australia (in pool play), no one thought we would get to the final. A team like that has come to the finals and given a good fight to the home team."
The India skipper said perhaps Australia's T20 Women's Big Bash League or an IPL for women can help prepare the cricketers for such pressure situations.
"The WBBL has given exposure to the two girls who have played (Smriti Mandhana and Kaur). If more girls participate in such leagues, it will give them experience and help them to improve their own game.
"If you ask me, they should have (women's) IPL because now is the right time to create that base," added the 34- year-old Raj, who also made it clear that it would be her last World Cup.
Snatching victory from the jaws to defeat to lift their fourth World Cup, England skipper Heather Knight admitted her team committed lot of errors to almost let it slip.
"Every game of cricket you're battling, in this it was for the trophy, your team-mates and your country. Cricket is a funny game, we knew that if we could keep it at five or six runs an over and held our nerve that we were in with a chance.
"It felt It was slipping away a little bit, we fought, so proud of the girls. It's been a theme, us fighting hard and holding our nerve which we did today."
Knight had dropped Veda Krishnamurthy at extra cover in the mid overs, while Jenny Gunn fumbled with a catch when India needed just 10 runs for victory.
"Nobody likes dropping a catch – but mine was not as bad as Gunny's! We knew we had the bowlers and the experience of getting over the line," Knight said.
"I felt we dropped the World Cup with Gunny's, it was a hard one to deal with. We were on top on that stage and I thought we'd won and then lost it again."