Pakistani head coach Dav Whatmore and Test and ODI captain Misbah-ul Haq were reportedly engaged in a fierce argument with team manager Moin Khan over the selection of the playing squad for the ODI series against South Africa.
The dressing room has been in tatters of late with the clash of team officials disturbing the atmosphere and harmony of the squad, and the disagreement, which had resulted in heated argument, reportedly affected the dressing room's environment ahead of the game.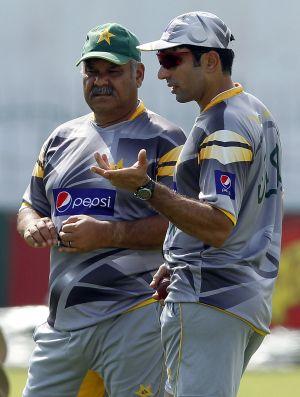 According to the Express Tribune, a Pakistani cricket team official claimed that Misbah and Whatmore were at loggerheads with Khan over the selection of the wicket-keeper for the ODI series, with Khan advocating the selection of Sarfraz Ahmed in place of explosive batsman Umar Akmal.
The official further said that Khan believed that it is more suitable to select a regular wicket-keeper in place of middle-order batsman Akmal as he has been given additional duty to keep wickets, adding that there was also debate about the inclusion of in-form Asad Shafiq and pacer Junaid Khan.
Stating that both Whatmore and Misbah voted for Akmal as they were happy with his performance in the same role on the tour of the West Indies, the official also said that Whatmore also indicated that everyone should work in their domain, adding that both Whatmore and Khan want to stamp their authority on the team.
The report mentioned that in 2007, senior Pakistani players were against bringing in Whatmore as the coach due to his strict nature and dominating personality.
Image: Misbah-ul-Haq and Dav Whatmore
Photograph: Dinuka Liyanawatte/Reuters