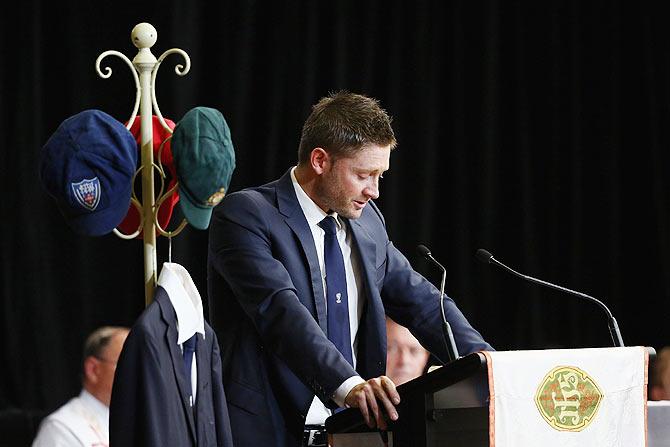 Australia captain Michael Clarke reads out his tribute during the funeral service for Phillip Hughes at Macksville High School Stadium, in Macksville, Australia, on Wednesday. Photograph: Cameron Spencer/Getty Images
Australia captain Michael Clarke urged mourners to "dig in and get through to tea" as he choked back tears in an emotional eulogy delivered to Phillip Hughes at the cricketer's funeral in Macksville, New South Wales, on Wednesday.
The 33-year-old Clarke, a near-constant presence by his team mate's bedside during his two-day fight for life at a Sydney hospital, choked back tears and paused to suck back deep breaths at the rural town's high school hall as he paid tribute to his "brother's" spirit.
"Oh, he would definitely be calling me a sook right now, that's for sure," Clarke began, gasping for air in the stifling room packed with 1,000 people.
"I don't know about you, but I keep looking for him. I know it is crazy but I expect any minute to take a call from him or to see his face pop around the corner.
"Is this what we call the spirit? If so, then his spirit is still with me. And I hope it never leaves."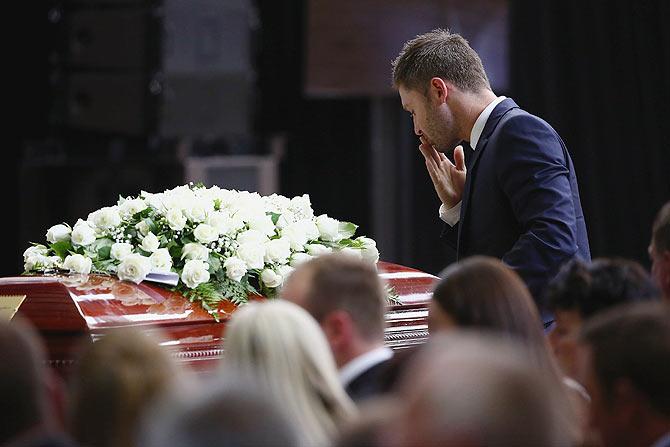 Australian cricket captain Michael Clarke pays respect to Phillip Hughes during the funeral service on Wednesday. Photograph: Cameron Spencer/Getty Images
Hughes died last Thursday at the age of 25, two days after being rushed to hospital for emergency surgery, having been struck by a rising delivery during a domestic match at the Sydney Cricket Ground.
Clarke, who helped usher Hughes into Australia's state ranks, then the national team, said he visited the SCG wicket where Hughes was felled after his death.
"I stood there at the wicket, I knelt down and touched the grass, I swear he was with me," he said.
"Picking me up off my feet to check if I was okay. Telling me we just needed to dig in and get through to tea.
"Telling me off for that loose shot I played. Chatting about what movie we might watch that night. And then passing on a useless fact about cows.
"And I could see him swagger back to the other end, grin at the bowler, and call me through for a run with such a booming voice, a bloke in the car park would hear it.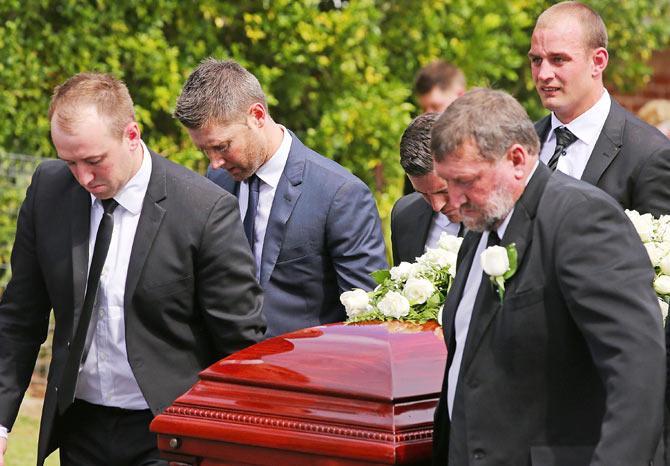 Australian cricket captain Michael Clarke helps Jason Hughes (left) and Phil's father Gregory Hughes (right) carry the coffin. Photograph: Michael Dodge/Getty Images
"Is this what indigenous Australians believe about a person's spirit being connected with the land upon which they walk? If so, I know they are right about the SCG. His spirit has touched it and it will forever be a sacred ground for me."
Clarke said Hughes's death would strengthen the bonds of cricket around the world.
"Phillip's spirit, which is now part of our game forever, will act as a custodian of the sport we all love. We must listen to it. We must cherish it. We must learn from it," he added.
"We must dig in," Clarke faltered, crying.
"We must dig in and get through to tea. And we must play on.
"So rest in peace, my little brother. I will see you out in the middle."