Harmanpreet Kaur joins Punjab police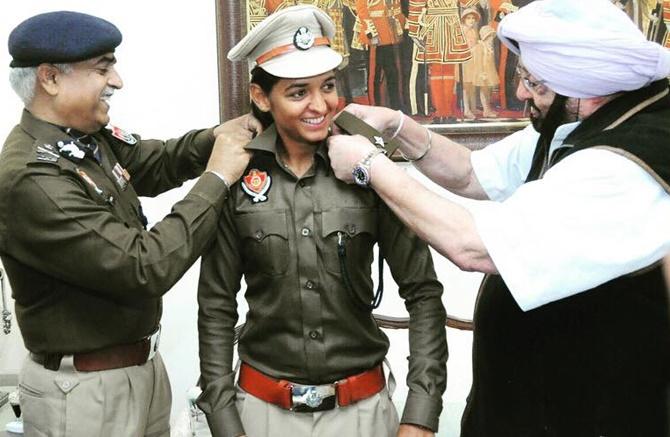 IMAGE: Harmanpreet Kaur joined the Punjab police. Photograph: Punjab Police/Twitter
Indian women's Twenty20 cricket team captain Harmanpreet Kaur joined the Punjab police as a Deputy Superintendent of Police (DSP), in Chandigarh, on Thursday.
Punjab Chief Minister Captain Amarinder Singh and Director General of Police (DGP) Suresh Arora pinned the stars on her uniform.
"Proud to join DGP Suresh Arora in pinning the stars on the uniform of this young cricketer @ImHarmanpreet as she takes over as DSP in @PunjabPolice. This lady has done us proud and I'm confident she'll continue to do so. My best wishes are with her," Amarinder tweeted.
Harmanpreet, who was serving in the Indian Railways, was relieved from her duties after she put in a request to join Punjab police. Punjab chief minister had also taken up the matter with the Railway Ministry to waive off the bond condition and allow Harmanpreet, who is a native of Moga, to join as a DSP in Punjab.
Notably, as per the bond signed with Indian Railways, the cricketer could not be relieved till the completion of a five year term or she would have to return the salary of five years.
Harmanpreet had already completed three year of service as Office Superintendent at Western Railway before she resigned from the Railways last year.
The Punjab chief minister had offered the DSP post to Harmanpreet in July last year, following her scintillating performance in the Women's World Cup 2017.