'The control over shots he has... never seen before for a young talent like him'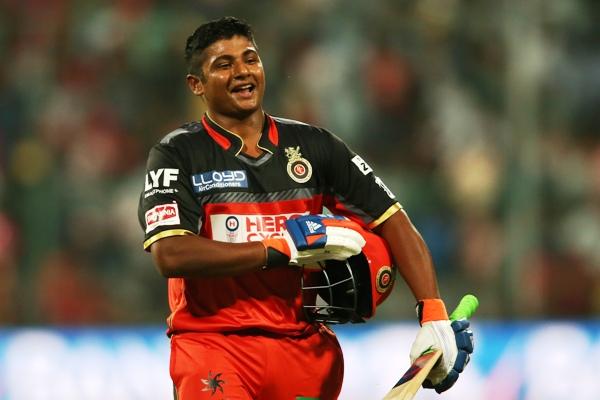 IMAGE: Sarfaraz Naushad Khan of Royal Challengers Bangalore leaves the field at the end of his splendid innings. He made a quickfire 35 (off 10 balls). Photograph: BCCI.
Australian all-rounder Shane Watson is mighty impressed with young Indian batsman Sarfaraz Khan, who he says is an incredible batsman with amazing control over his shots.
IPL PHOTOS: De Villiers, Kohli star as Bangalore thrash Hyderabad
Sarfaraz smashed 35 runs off just 10 balls, hitting five fours and two sixes, to propel Royal Challengers Bangalore to a 200-plus total against Sunrisers Hyderabad on Tuesday night.
"He is an incredible young man and there is no doubt that he has worked extremely hard to get all kinds of shots right. The control over shots he has... never seen before for a young talent like him. It shows he has practised hell of a lot, and we saw this tonight," he said.
Watson also said it is a pleasure to watch AB de Villiers bat. The South African batsman hammered Hyderabad bowlers around the park with a whirlwind knock of 82, that was laced with seven fours and six shots over the ropes.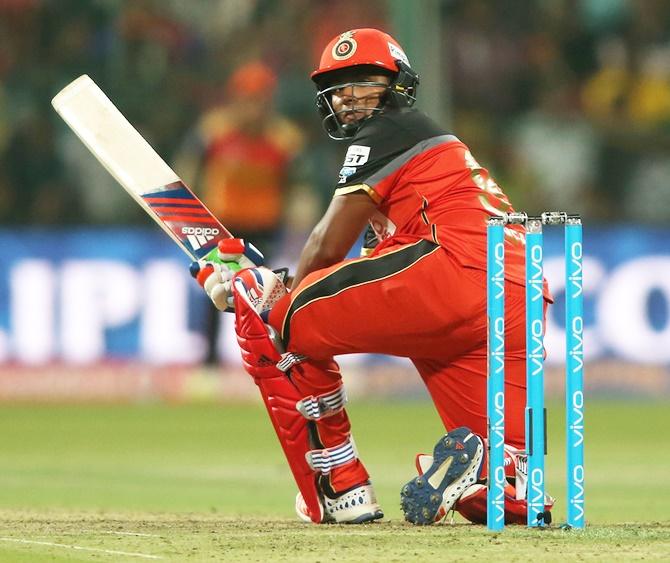 IMAGE: Royal Challengers Bangalore's Sarfaraz Khan looks back after paddling a delivery. Photograph: BCCI.
"What I saw tonight is as good as batting I have ever seen. He didn't look like taking risk at all in his entire innings. One shot he played off the backfoot for a six is an incredible shot to play, and he does it with so much of ease is really a pleasure to watch. He executes his shots incredibly well," he said.
Replying to a query, Watson said there is no need for changing batting order of Chris Gale, Virat Kohli and AB de Villiers, as it gives a momentum to the team.
"This I saw happening in the previous season when I was playing as a rival for Rajasthan Royals. So, why should one change the order when the top three are delivering. You need to take early wickets, otherwise you are in deep trouble, and that's what exactly happened tonight," he said.
Watson did not read much into Chris Gayle's failure at the top.
"It is not going to be everyone's day. Chris got out early, but we had depth in batting with likes of Kedar Jadhav, Sarfaraz, AB and Kohli in our side," he said.
Watson also said that the way Kohli and De Villiers batted together in their magnificent 157-run partnership he felt he wouldn't get to bat.
Watson eventually turned out to bat and contributed in his team's cause with a 19-run cameo that had three sixes.