Nasser Hussain's shock decision to quit as England captain was greeted with a mixture of surprise and regret but brought many tributes from the English media on Tuesday.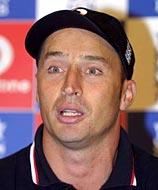 Hussain stood down after the drawn Test against South Africa on Monday, saying he felt stale and that it was time for a change.
He has been replaced by Michael Vaughan, who had already taken over the one-day team from him.
"For sheer shock value, I can't think of anything to match Nasser Hussain's departure since (prime minister) Harold Wilson walked out of Downing Street for no obvious reason 27 years ago," wrote The Guardian's Matthew Engel.
Former England opener Geoffrey Boycott, writing in the Daily Telegraph, said Hussain had resigned "in haste", blaming his decision to quit on the fact that "England have had a poor game and the seam bowling has been pathetic".
But former England fast bowler Bob Willis said Hussain's retirement from Test captaincy was the "right decision".
"His timing is brave, because captains normally leave in humiliating circumstances," Willis wrote in his Daily Mail column.
Commentators and former players agreed that Hussain's legacy was to leave an England side in better shape than the one he inherited from Alec Stewart after the World Cup in 1999.
The 35-year-old Hussain captained England 45 times with 17 wins, 15 defeats and 13 draws. Mike Brearley won 18 Tests for England while Peter May held the record with 20.
His record includes a first series victory over West Indies since 1969 as well as away series wins in Sri Lanka and Pakistan.
"It was the fate of Nasser Hussain to lead his men from the marshes of mediocrity to the borders of the promised land," wrote Oliver Holt in the Daily Mirror.
"Because of the leadership of Hussain and coach Duncan Fletcher, England are not the laughing stock of world cricket any more."
BLOODY-MINDED DETERMINATION
Christopher Martin-Jenkins, writing in The Times, noted that Hussain had "succeeded in bringing to the dressing-room a bloody-minded determination to give nothing away to any opposition".
"He has stopped the rot....missing few tricks on the field and being prepared to apply tactics that were more pragmatic than popular," said Martin-Jenkins, who opinioned that "an era of greater freedom and laissez faire will follow Hussain's somewhat austere approach".
Angus Fraser, another former England paceman, said: "During his four years in charge Hussain led his side with a passion that was absent from any of the four England captains I played under."
Some commentators pointed to England's disastrous Ashes series in Australia last year and the first-round exit from the World Cup as well as the off-pitch controversy surrounding playing in Zimbabwe as the seeds that led to Hussain's resignation on Monday.
Others traced the start of his demise back to last summer's home series against India.
"The signs of stress were evident last summer when Hussain made a hundred at Lord's and gave a two-fingered salute to the media and pointed to the number on his back," said Boycott.