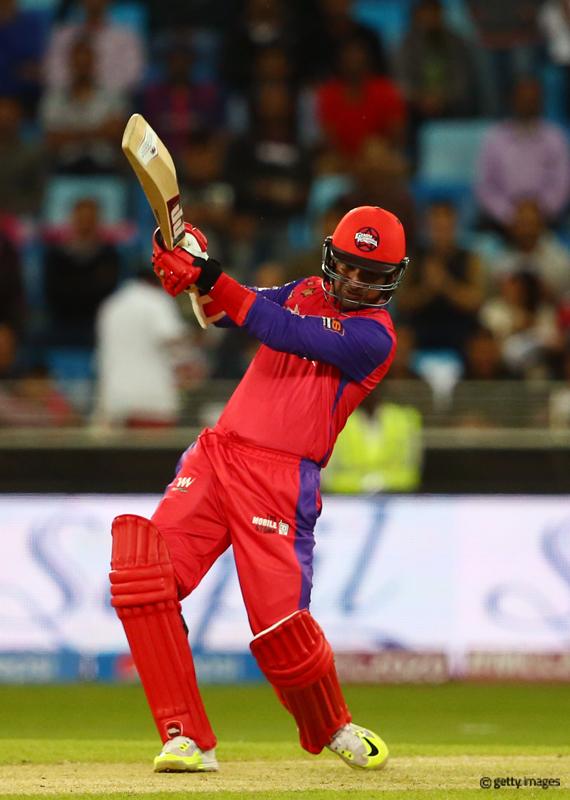 IMAGE: Kumar Sangakkara in action during his 86-run knock for the Gemini Arabians against Libra Legends in the Masters Champions League Twenty20 tournament in Dubai. Photograph: Masters Champions League.
The CEO of a fledgling Twenty20 cricket league for retired greats in the UAE on Friday promised its players will receive their final wages that were due more than two months ago and vowed the competition would return next year.
The Masters Champions League (MCL), which boasted West Indies batsmen Brian Lara and Sri Lankan spinner Muttiah Muralitharan among its ranks, staged its maiden season in Dubai and Sharjah from Jan. 28-Feb. 13.
The MCL sold six franchises for a combined $90 million, with each team named after an astrological sign. This sextet pledged about $5.5 million in player wages, but only one team – Gemini Arabians – has paid its players in full, MCL chief executive Zarah Shah told Reuters.
The other teams' players are owed their final wage packet, which was due 30 days after the tournament finished, said Shah.
Clubs receive a share of gate money, central sponsorship revenues and broadcast income, plus prize money, and are responsible for players' salaries.
"It's late and will be a bit delayed still. We're working with the team owners to get it resolved as speedily as possible," said Shah.
She said the delay was because the clubs had cash flow issues and were most likely waiting for money from sponsors.
"They're looking for more time, that's the communication we've had," said Shah, declining to predict when the wages would be paid.
The Federation of International Cricketers' Associations (FICA) criticised the MCL's failure to settle its wage bill.
"Cricket is a career, and just like other professionals, players make decisions based on the contracts they sign," FICA executive chairman Tony Irish said in a statement.
"We hope that given the potential of this event, MCL pay the outstanding amounts to players immediately."
MCL's Shah vowed the 2017 tournament would take place but organisers would try and avoid the logistical problems faced this year due to a clash in dates with the inaugural Pakistan Super League (PSL), which used the same venues as the MCL and was staged from Feb. 4-23.
With the two events overlapping for 10 days, it caused difficulties on some match days as venues had to host back-to-back contests.
"The crowds were divided … we had to go every day back-to-back and most days had double headers," said Shah, adding the two leagues' schedules will not clash next year.
Ahead of the league's launch, she predicted it would generate $500 million revenue over 10 years and would break even in year three.
She declined to reveal its turnover for this year, saying the final figures had still to be calculated, but described Sharjah attendances as good. During the final three days in Dubai, the 25,000-capacity International stadium was about half full