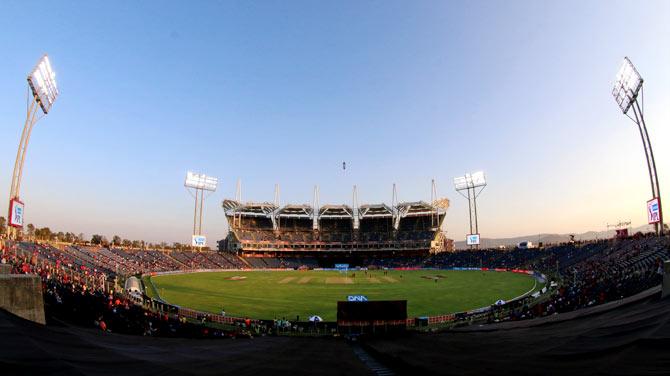 IMAGE: The Maharashtra Cricket Association's stadium in Pune, the venue for Wednesday's second ODI between India and New Zealand. Photograph: BCCI
The Board of Control for Cricket in India suspended the curator of the Maharashtra Cricket Association's stadium in Pune after he was captured on television in a sting operation, claiming that he could tamper with the pitch ahead of Wednesday's second India-New Zealand One-Day International.
In the sting operation by India Today TV, curator Pandurang Salgaoncar is seen and heard speaking to an undercover reporter, who poses as a bookie, while standing on the MCA Stadium's pitch.
The 68-year-old Salgaoncar is seen agreeing to tamper with the pitch to suit the requirements put forth by the reporter. India Today TV said the video was shot on Tuesday evening.
It is not clear how Salgaoncar, a former pacer and one-time India probable, could have tweaked the pitch with just a few hours to go before the match, which will be played on Wednesday afternoon.
"Pandurang Salgaoncar has been suspended from the Maharashtra Cricket Association's curator's post with immediate effect," BCCI acting secretary Amitabh Chaudhary told PTI.
"The MCA has also suspended Salgaoncar from all other positions in the association. An inquiry commission will also be constituted by MCA. At BCCI, we reiterate that we have zero tolerance towards any corrupt activity," he added.
The expose revealed a serious lapse in the functioning of the BCCI's anti-corruption mechanism, but Chaudhary said Wednesday's match must go ahead.
"That is a decision that only the ICC match referee can take. You need evidence that the pitch has been doctored in order to call off a match. It's match referee's call. But, in my opinion, match will go on," he asserted.
What has left senior BCCI officials baffled is that Salgaoncar allowed a self-confessed bookie to accompany him to the main match pitch.
Under BCCI rules no unaccredited persons, including journalists, are allowed near the pitch.
"The BCCI Anti-Corruption Unit (ACU) under Neeraj Kumar will have some answering to do. Here a random man comes, doesn't have an all-access area pass and is taken to the main pitch by the curator," a BCCI official said.
Asked if the ACU unit should be answerable as to how an outsider got access to the pitch, Chaudhary said, "...everyone associated with the ACU would be answerable. In any case a very select few have access to the centre of the pitch."
When contacted, BCCI acting president C K Khanna said he is writing a mail to Kumar so that his team gives an update on the incident.
"It's a pity that both former MCA president Ajay Shirke and current president Abhay Apte had helped Salgaoncar have a career after retirement. He gets Rs 65,000 salary per month from the MCA and also a BCCI pension. He is among BCCI's independent curators. We are feeling bad for both Abhay and Ajay. Salgaoncar let them down badly," Khanna said.
Salgaoncar, a former Maharashtra speedster, was considered a genuine India prospect in early and mid '70s.
He toured with the Indian team for an unofficial series against Sri Lanka back in 1974. Sunil Gavaskar's autobiography Sunny Days mentions him as being a genuine prospect who was unlucky not to don national colours.
The former pacer took 214 wickets in 63 first-class games.
The Pune pitch had been under the spotlight earlier as well. It had been rated poor by the ICC after an India- Australia Test match in February.
The Australians had hammered India by 333 runs on a turner where the home team was bowled out for 105 and 107 in two innings. The game itself had ended inside three days.
Former India captain Sourav Ganguly also expressed shock.
"I don't know how he can tweak the pitch in one day and prepare it accordingly for a bookie. I don't know in what context he was saying this," Ganguly said.