When Ross Taylor captained New Zealand for the first time in an ODI at Napier in March this year, the Black Caps beat Australia by two wickets.
Moreover, Taylor top-scored with 70 and was also adjudged the Man of the Match.
Five months later, there was an encore.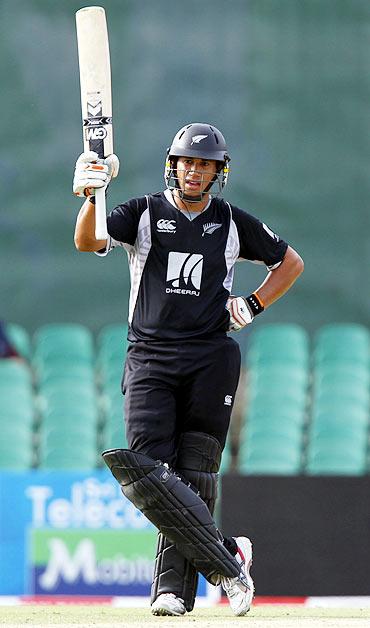 Taylor captained New Zealand a second time in the opening match of the tri-series against India at Dambulla. And the Black Caps thrashed their more fancied opponents by a whopping 200 runs.
Taylor again top-scored, contributing 95 on this occasion and also took the man of the match honours. Moreover, he also held as many as four catches, all at first slip.
Chasing a formidable target (289), India scored just 88 in 29.3 overs, their eternal problem in the corridor of uncertainty again coming to the fore with as many as six dismissals in the region.
It was India's fifth lowest total ever in an ODI and their lowest against New Zealand.
New Zealand's was a victory of substance over hype, of application over talent and of professionalism over a casual attitude.
The Black Caps thereby dislodged Team India from the second position in the ODI rankings but will need to beat Sri Lanka in their next match to cling on to their new position on the table.
Daryl Tuffey was the star with the ball for the Black Caps, with figures of three for 34, while Ravindra Jadeja top-scored for India with a painstaking 20.
India's start was something similar to New Zealand's earlier in the day. The openers got off to a good start before the team suffered a slew of blows.
Virender Sehwag made a quickfire 19 before Kyle Mills had him caught behind (by Gareth Hopkins) to give the Black Caps the breakthrough they so desperately required.
In the first ball of the next over, Tuffey trapped Dinesh Karthik (14) up front to ensure double celebration for his team.
When Rohit Sharma (4) was snapped by Taylor at first slip in Tuffey's next over, India were in a bit of a wobble.
And when Tuffey had Suresh Raina (6) caught by Scott Styris at second slip the match seemed heading New Zealand's way.
MS Dhoni (2) getting run out added to India's cup of woes. In under 15 overs, half the Indian side was back in the pavilion.
After 15 overs, India had made 54 for five. That's worse than the Black Caps' 57 for three at that stage.
Yuvraj Singh (5) scored just one off the first 23 balls he faced, smashed the 24th over the midwicket for a boundary and then hit the 26th ball straight to Taylor at slips, thereby ending his painful stay at the wicket.
Two overs later, Jacob Oram had Praveen Kumar (1) caught by Taylor (again at slips). India were in dire straits at 67 for seven inside 20 overs.
The Oram-Taylor combine plotted the dismissal of Abhimanyu Mithun (4) a few overs later. And debutant Kane Williamson, having had a forgettable day with the bat, picked a wicket when he had Jadeja caught by Styris at slips.
Mills helped himself to a second wicket when he had Ashish Nehra (4) caught by Oram at mid-off.
And it was all over for India.
Earlier, a spectacular 190-run fourth-wicket partnership by stand-in captain Taylor (95) and veteran Styris (89) helped New Zealand to a formidable 288 in 48.5 overs.
The captain (95), along with Styris (89), helped resurrect their team's innings with their partnership after a disastrous start that saw the Blacks Caps collapse to 27 for three in the seventh over.
The Taylor-Styris run-a-ball effort was New Zealand's best ever against India, eclipsing the 152-run stand between Martin Crowe and Ken Rutherford at Dunedin in 1990.
It was also the Black Caps' best ever fourth wicket stand, surpassing the 168 runs put together by former skipper Lee Germon and Chris Harris against Australia at Chennai in the 1996 World Cup.
Taylor's effort was the top score in the Black Caps' innings. His 113-ball knock was inclusive of eight hits to the fence and one over it.
Nehra and Kumar were the most successful bowlers for India, taking four and three wickets respectively.
The New Zealand innings started on a bad note.
Peter Ingram (12) hit Kumar's fourth ball to the square leg fence to ensure the first runs on the Kiwi board.
Four balls later, Martin Guptill (11) whipped an Nehra delivery through midwicket for his first boundary and hit a second off Kumar.
However, Kumar struck in his second over, having�Guptill caught behind.
A couple of overs later, Nehra induced an edge of Ingram's blade and ensured double celebration for India.
And Kumar ensured further joy by cleaning up debutant Williamson's (0) stumps in the next over.
Williamson thereby became the 15th New Zealand batsman to be dismissed for a duck on debut, an unwanted list that.
His dismissal reduced New Zealand to 28 for three in the seventh over and their innings moved at a snail's pace thereafter.
The Black Caps moved at snail's pace, making just 57 runs in the first 15 overs.
However, both Taylor and Styris helped themselves to a boundary each in the 16th over bowled by Mithun - the over cost India 12 runs.
Two overs later, Taylor hit Jadeja twice to the backward point fence.
Pragyan Ojha was unlucky when his captain missed a clear cut stumping opportunity and let Styris live another day. In the same over, Taylor survived a run out attempt.
Styris was quick to make it worse for Ojha, hitting successive boundaries, first over the mid-on and the second past to the backward point.
Meanwhile, a flick to midwicket off Sehwag ensured Taylor the single he needed to reach his 16th one-day half century.
After 25 overs, the Kiwis had moved to a comfortable 123 for three.
In the 26th over, Styris first smashed Jadeja over the midwicket for a boundary and then took a single to bring on the 100-run partnership for the fourth wicket.
He soon completed his 25th ODI half century.
In the 31st over, with NZ 150 for three, the batting Power Play was taken.
The Kiwi batsmen managed only two runs in the first over thereafter as Ojha managed to keep things tight.
But in the second over of power play, Styris struck successive boundaries off Jadeja, the first over the bowler's head and the second past point. That helped the veteran reach the 4000-run mark in one-day internationals.
Styris thereby also became only the third Black Cap to complete the 4000-run-100-wickets double.
The third over yielded a further 10 runs forcing Dhoni to re-introduce the medium pacers (Nehra).
However, there was no respite with 11 runs coming off the over, with Styris hitting a couple of boundaries.�
And with Taylor finding the fence twice in Kumar's next over, which yielded 10 runs, the Kiwi batsmen ensured their side made the msot of the batting Power Play, taking 42 runs.
Styris continued his aggressive intent, smashing Ojha for a maximum before the bowler had his revenge two balls later.
Styris played across the line and saw his stumps cleaned up. His 95-ball innings was inclusive of nine hits to the fence and the above-mentioned maximum.
It also ensured an end to a pectacular fourth-wicket stand. However, there was no respite for India.
New man Jacob Oram (15) plundered 13 runs off the first over he faced proper (off Jadeja), including a couple of boundaries.
Nehra soon trapped him leg before though to keep the damage to a minimum.
And Taylor fell five short of a deserved century a few overs later, out leg before to Nehra to ensure the Kiwis a few anxious moments towards the end of their innings.
However, a few lusty blows from Tuffey (19) and Mills (9) ensured New Zealand had a total that they could defend.
Earlier, New Zealand won the toss and elected to bat first.
"With Brendon McCullum and Daniel Vettori out we are a bit short on experience but I hope the youngsters will deliver," said captain Taylor.
His opposite number, MS Dhoni, seemed unperturbed at the�loss of the toss.
"Everything seems perfect," he said. In the end, he was proved wrong.
It was definitely not a perfect day for India in office.�
Teams:
India: MS Dhoni (Captain), Virender Sehwag, Dinesh Karthik, Rohit Sharma, Yuvraj Singh, Suresh Raina, Ravindra Jadeja, Praveen Kumar, Abhimanyu Mithun, Ashish Nehra, Pragyan Ojha.
New Zealand: Ross Taylor (c), Martin Guptill, Peter Ingram, Kane Williamson, Scott Styris, Grant Elliott, Gareth Hopkins, Jacob Oram, Kyle Mills, Daryl Tuffey, Andy McKay.