- 'There was a lot going on than just cricket and it was difficult to focus on cricket in the dressing room. It was a bad environment.'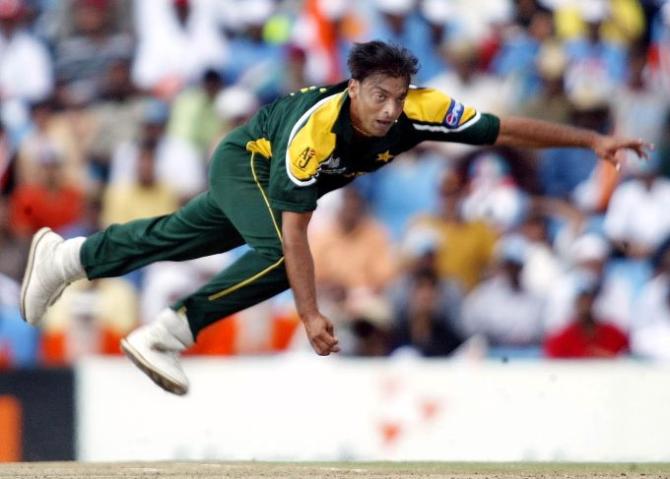 IMAGE: Pakistan's Shoaib Akhtar bowls during the 2003 World Cup match against India at Centurion. Photograph: Arko Datta/Reuters
Former Pakistan pacer Shoaib Akhtar claimed that match-fixing was at its peak in 1996 and said the environment in the dressing room was far from conducive.

"Trust me it was the worst possible dressing room environment at that time (1996)," Akhtar said on Geo News channel on Monday.

"There was a lot going on than just cricket and it was difficult to focus on cricket in the dressing room. It was a bad environment," he added.

The controversial pacer's claims have come just two days after Pakistani stalwarts -- Javed Miandad and Shahid Afridi -- settled a dispute which had the potential of once again bringing up the match-fixing allegations and scandal in Pakistan cricket.

Due to mediation from third parties, former captain Miandad took back allegations against Afridi, claiming that he had fixed matches for money. The former Pakistan captain also claimed that he himself had caught Afridi doing this.

Afridi had threatened to take legal action against Miandad unless he apologised and took back his words.

The 'Rawalpindi Express' made it clear he is glad that the Miandad and Afridi dispute has been resolved.

"I tell you if this matter had gone to court there would have been more dirty linen washed in public and lot of names would have again come up," he said.

He said Miandad had perhaps gone overboard with his allegations against Afridi but feels that the all-rounder should have also avoided making disparaging remarks about a senior player.

Akhtar also said that in 2010 he had also advised left-arm pacer Mohammad Amir to keep away from questionable characters in England.

"I told him he had a big future ahead of him and he should be careful about the company he kept. Unfortunately it all led to the spot-fixing scandal in 2010," he said.

The former fast bowler also conceded that spot-fixing and corruption remains a menace in international cricket.

"I tell you that in the nineties we had one of the greatest teams and we should have won the 1999 World Cup final against Australia. If we had done that we would have also gone on to win in Australia," he said.

Following the fixing allegations in the mid 1990s, the Pakistani Cricket Board (PCB) had set up a judicial commission headed by Justice Malik Qayyum to probe into the allegations.

After 18 months of inquiry, the commission recommended a life ban on former captain Salim Malik for fixing and pacer Ata-ur-Rehman for perjury. It also recommended fines on some other players for not cooperating with the commission's inquiry.