The Pakistan Cricket Board (PCB) plans to launch its own inquiry into the spot-fixing scandal that led to jail terms for three former internationals in Britain this week, chairman Zaka Ashraf said on Saturday.
Addressing reporters in Lahore, Ashraf said the board would first await a detailed report on the London Crown Court case before aiming to identify those whose negligence allowed the controversy to occur.
- Sentencing remarks of Justice Cooke
"We will aim to discover the circumstances and negligence that led to the spot-fixing scandal that has badly hurt the image of Pakistan cricket," he said.
"When the scandal happened, we had our anti-corruption officers present with the team and we want to know how this thing happened."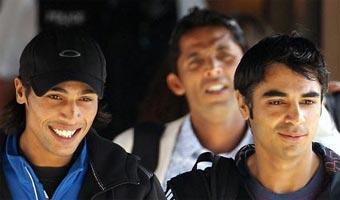 Salman Butt, Mohammad Asif and Mohammad Amir were given sentences ranging from six to 30 months on Thursday for their role in a gambling-inspired plot to bowl deliberate no-balls in the fourth Test against England at Lord's last year.
The three former internationals had already been banned by the International Cricket Council (ICC) for a minimum of five years when news of the plot was first made public last September.
Ashraf, who took over as PCB chief last month, said he would also be sending a letter to the ICC reiterating Pakistan's support for the anti-corruption drive by the world governing body.
"PCB will never support players who are found involved in corruption or fixing. We want to assure the ICC that we will cooperate in any investigation initiated by them," he added.
Media reports suggested the ICC anti-corruption and security unit could launch a more detailed investigation into fixing allegations on basis of the evidence submitted to the Southwark Crown Court during the trial of the three players.
Ashraf said the PCB would also be asking the government to legislate a parliamentary law that makes fixing or corruption in cricket a criminal offence.