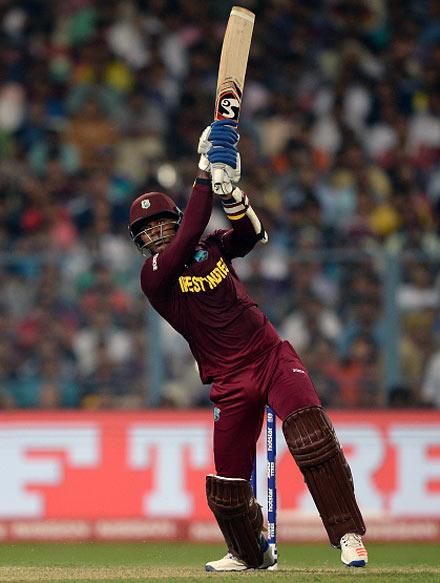 A hard-hitting 92 by Marlon Samuels, which included three consecutive sixes in the 42nd over, helped lift West Indies to a four-wicket over Australia in the fifth game of a triangular one-day international (ODI) series in St Kitts on Monday.

Samuels took advantage of the short boundaries at Warner Park on the small Caribbean island, compiling his score in just 87 balls as he smacked four sixes and eight fours to compile his first career ODI half-century against Australia.

Opener Johnson Charles also played a big part in the result with a free-scoring 48 off 38 balls, which set the tone as they chased down Australia's total with 26 balls to spare after the visitors had compiled 265 for 7 off the 50 overs.

Carlos Brathwaite hit the winning run as the hosts, who were soundly beaten by Australia earlier in the series, recorded their second victory from three matches.

Australia have won two of four matches, while South Africa, the other team in the series, have one win from three games.

After nine games -- with each team playing six matches -- the top two qualify for the June 26 final.

West Indies' performance reaffirmed the competitiveness of the Caribbean team in the sport's shorter formats, a stark contrast to their recent struggles in five-day Test cricket.

"It means a lot to us," captain Jason Holder said. "It just shows we can beat these teams. We just need to be consistent."

Australia, sent in to bat, promoted left-hander Usman Khawaja from number three to open in place of David Warner, who suffered a fractured finger on Saturday.

Khawaja made 98 before being run out, while captain Steve Smith chimed in with 74 as the pair put on a second-wicket partnership of 170 after Aaron Finch had been sent packing for a golden duck.

But it was slow going for Australia near the end of their innings, and Smith said his team's total was some 15 or 20 runs short of what he would have considered satisfactory.

"After 30 overs, we probably should have got a few more but credit to West Indies, I thought they bowled well," he said in an on-field interview.
Scoreboard:

Australia Innings
U. Khawaja run out (Taylor, Fletcher) 98
A. Finch c Benn b Holder 0
S. Smith c&b C. Brathwaite 74
G. Bailey c Ramdin b Pollard 55
M. Marsh c Holder b C. Brathwaite 16
T. Head c Ramdin b Pollard 1
M. Wade b Holder 5
J. Faulkner not out 4
N. Coulter-Nile not out 1

Extras (lb-2 w-9) 11

Total (for 7 wickets, 50 overs) 265

Fall of wickets: 1-1 A. Finch, 2-171 S. Smith, 3-196 U. Khawaja, 4-245 M. Marsh, 5-249 T. Head, 6-257 M. Wade, 7-259 G. Bailey.

Bowling: J. Holder 10-0-44-2(w-1), J. Taylor 5-0-31-0, S. Narine 10-0-44-0, C. Brathwaite 10-0-60-2, S. Benn 9-0-52-0(w-2), K. Pollard 6-0-32-2(w-2)

West Indies Innings
J. Charles lbw b Zampa 48
A. Fletcher c Bailey b Faulkner 27
Darren Bravo c Wade b Zampa 39
M. Samuels run out (Wade) 92
D. Ramdin b Coulter-Nile 29
K. Pollard not out 16
J. Holder c Wade b Coulter-Nile 0
C. Brathwaite not out 3

Extras (lb-3 w-9) 12

Total (for 6 wickets, 45.4 overs) 266

Fall of wickets: 1-74 A. Fletcher, 2-85 J. Charles, 3-167 Darren Bravo, 4-240 M. Samuels, 5-254 D. Ramdin, 6-254 J. Holder

Bowling: J. Hazlewood 9-0-46-0, N. Coulter-Nile 9.4-0-67-2(w-4), J. Faulkner 6-0-31-1, T. Head 6-0-29-0(w-1), M. Marsh 8-0-30-0, A. Zampa 7-0-60-2.
Image: Marlon Samuels
Photograph: Gareth Copley/Getty Images