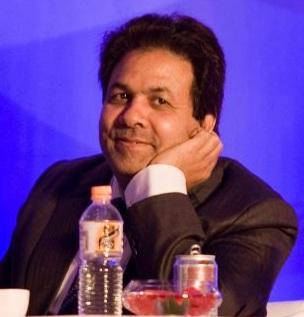 BCCI vice-president Rajiv Shukla was busy defending the government's decision to confer Bharat Ratna to Sachin Tendulkar ahead of Major Dhyanchand.
-Deepika Padukone and Ranveer Singh on Tendulkar
-Aamir Khan talks about Tendulkar
"The iconic batsman truly deserved the award and the hockey legend has been given due honour by naming many awards after him," Shukla added. Asked about the government's decision to bestow the prestigious award on Tendulkar and not to Dhyanchand, Shukla, also a union minister, said, "He (Dhyanchand) was a great hockey player. There are many awards given across the country which are named after him. The media should first check that number and then pose such type of question."
Tendulkar and eminent scientist Prof C N R Rao were on Saturday chosen for Bharat Ratna with the batting maestro, who retired from international cricket, being the first sportsperson to be bestowed with the award.
Shukla, who is also the president of Uttar Pradesh Cricket Association, was here to take stock of preparedness of the GreenPark stadium which will host the third and final ODI between India and West Indies.
Expressing his satisfaction over the state of the ground, Shukla said the deficiencies pointed out by the BCCI and West Indian Cricket Board will be corrected in time.
"The stadium is fully prepared to host an international match," he added.
Image: Rajeev Shukla