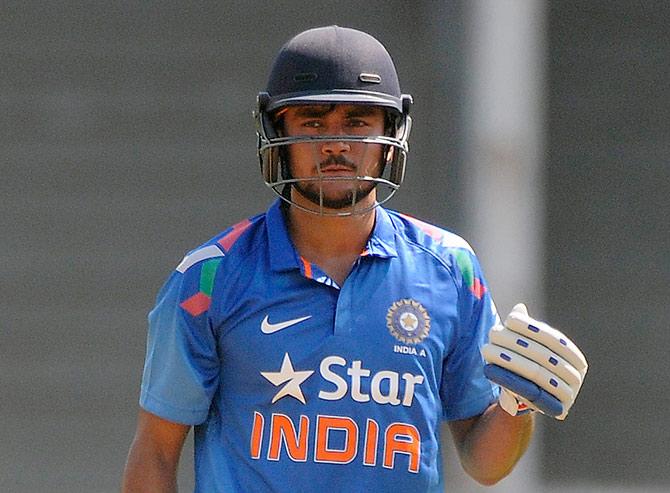 IMAGE: Indian batsman Manish Pandey. Photograph: BCCI.
It all started in Zimbabwe for Manish Pandey and the stylish batsman is back in the African nation with an aim to establish himself in India's limited-overs' set up during the ODI and T20 series, starting Saturday.
Pandey is set to play the first ODI on Saturday at the Harare Sports Club, where he made his India debut last July.
After scoring 71 in his debut innings, he went on to play three ODIs in Australia, including the one at Sydney where he scored a match-winning 104 to guide India to their sole victory of the five-match series.
Ahead of the three-match ODI series in Harare, Pandey recalled the time last year when he realised his dream.
"This is again going to be a fresh start. We were there last year around the same time and I made my debut in Zimbabwe. It is good to go back there and share those memories, score some runs for India and do my duty," he told 'bcci.tv'.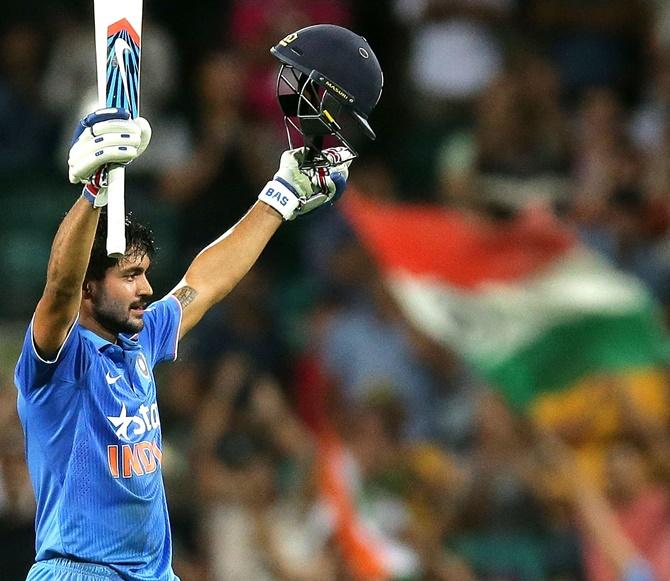 IMAGE: India's Manish Pandey celebrates his match-winning century in the fifth ODI against Australia at Sydney. Photograph: Mark Metcalfe/Getty Images.
Asked about the important knocks he has played in his fledgling career, Pandey said: "It was a crucial innings (against Zimbabwe on his debut) for me and the team. I got the opportunity and I did justice to that. It was a good start and the right booster for me.
"Some time has passed since that game in Australia (Sydney in January), but the memories and images of that game will stay with me. It is always good to have some confidence behind you."
Despite the Sydney hundred, Pandey is yet to cement his place in the team. He wants to stake a claim for a permanent slot by winning more games for India.
"My goal is to keep performing and make sure that I fit into that Indian eleven and become a permanent member of the squad. My goal for the next couple of years is to be a part of the Indian team and to win games for India. I am working hard towards that and I want to achieve that."
Pandey is also someone who is an asset on the field. He said he pays as much attention to fielding as he does to his batting.
"I spend as much time on fielding as I spend on my batting. Fielding is a very important part of the game. Some great catches and run-outs definitely change the momentum of the game. I make sure I give enough time to my fielding which helps in my resume as I am a (specialist) batsman."