Off spinner Nathan Lyon dazzled on his international debut by capturing five wickets as Australia bowled out Sri Lanka for a paltry 105 runs in their first innings of the opening Test on Thursday.
A limp batting performance by Tillakaratne Dilshan's men, with only four players scoring double figures, left the home team facing an uphill task to save the match with more than three days still to go. They trail Australia by 168 runs.
Lyon enjoyed an unforgettable start to his Test career when he removed in-form Kumar Sangakkara off the first ball of his debut over. He finished the innings with five for 34 to record his best bowling performance in any form of cricket.
He dismissed the last four Sri Lankan batsman in just 12 balls for four runs to leave the home team in tatters.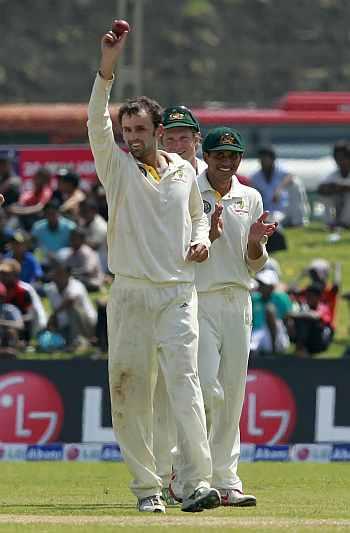 Sri Lanka were never comfortable as the disciplined Australian bowlers made it difficult for them to score runs.
Before Lyon's heroics, all rounder Shane Watson bamboozled Sri Lanka's formidable middle order by trapping Thilan Samaraweera (26), Prasanna Jayawardene (0), and opener Tharanga Paranavitana (29), lbw within 10 balls.
As Sri Lanka slumped from a relatively comfortable position of 87 for three to 88 for six, they never recovered from the shock and their innings soon folded.
The tourists beat Sri Lanka 3-2 in the one-dayers ahead of the three-match Test series.
Scorecard
Australia 1st innings: 273 all out
Sri Lanka 1st innings:
T Paranavitana lbw b Watson 29
T Dilshan c Ponting b Copeland 4
K Sangakkara c Clarke b Lyon 10
M Jayawardene run out 11
T Samaraweera lbw b Watson 26
P Jayawardene lbw b Watson 0
A Mathews b Lyon 5
S Randiv c Ponting b Lyon 9
R Herath c Johnson b Lyon 0
S Lakmal not out 2
C Welegedara c & b Lyon 1
Extras: (lb-4, w-1, nb-3) 8
Total: (all out, 50 overs) 105
Fall of wickets: 1-4, 2-24, 3-44, 4-87, 5-87, 6-88, 7-100, 8-100, 9-103
Bowling: Harris 8-5-6-0, Copeland 12-3-24-1, Johnson 9-1-26-0, Lyon 15-3-34-5, Watson 6-1-11-3.
Australia 2nd innings:
S Watson c Samaraweera b Welegedara 0
P Hughes lbw b Dilshan 28
R Ponting c Herath b Lakmal 4
M Clarke c P Jayawardene b Herath 60
M Hussey c Paranavitana b Herath 15
Usman Khawaja not out 2
B Haddin c M Jayawardene b Herath 0
M Johnson not out 3
Extras: (lb-2, nb-1) 3
Total: (for six wickets, 33.5 overs) 115
Fall of wickets: 1-0, 2-5, 3-61, 4-110, 5-110, 6-112
Bowling: Welegedara 3-3-0-1, Lakmal 5-2-18-1, Herath 12.5-0-51-3, Randiv 8-2-22-0, Dilshan 5-0-22-1.