A brilliant 13th one-day international century from opener Upul Tharanga guided Sri Lanka to a 78-run win over Australia in the third one-day international at the Mahinda Rajapaksa Stadium on Tuesday.
Invited to bat first after Australia captain Michael Clarke won his first toss of the five-match series, Sri Lanka piled up a competitive total of 286 for nine wickets, with Tharanga scoring 111 off 139 balls (12 fours).
Man-of-the-match Tharanga and captain Tillakaratne Dilshan (55) got Sri Lanka off to a flying start by posting an opening stand of 139 off 151 balls.
The momentum was continued by the middle-order batsmen although Australia managed to capture nine wickets for 66 runs.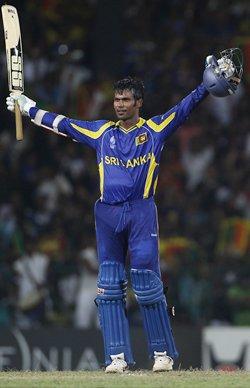 Doug Bollinger led the Australian fightback with four for 42, supported by Mitchell Johnson and Shane Watson who shared four wickets between them.
Australia was never allowed to settle down by a rampant Lasith Malinga, who tore into their batting to capture five for 28 runs as they were dismissed for 208 in the 45th over.
Mike Hussey was Australia's top scorer with 63 off 77 balls (five fours).
The rest of the batting was consumed by Malinga and debutant Shaminda Eranga, who picked a wicket with his second ball in one-day internationals, bowling Brad Haddin for five and then dismissing Ricky Ponting for 22 with a cleverly disguised slow ball.
"The first 10 overs were crucial. We did well to see them off. All the batsmen who followed did well," said Sri Lanka captain Dilshan.
"We believed 260 was a good total to defend and we proved it. Eranga bowled really well and Malinga was good as usual."
Clarke said his team had been outplayed.
"Sri Lanka played really well with bat and ball. We did well to restrict them after that start but they deserved to win," said Clarke.
"Dougie (Bollinger) did a good job with the ball, there were some plays and misses, but they outplayed us in the end. We have work to do and need to improve for the next game."
Australia lead the five-match series 2-1. The two remaining games will be played in Colombo.
Scorecard
Sri Lanka:
 U.Tharanga c Haddin b Bollinger 111 
 T.Dilshan c M.Hussey b Bollinger 55 
 K.Sangakkara lbw b Bollinger 49 
 D.Chandimal c Clarke b Bollinger 4 
 M.Jayawardene c M Hussey b Watson 36 
 C.Silva c Smith b Lee 9 
 J. Mendis lbw b Johnson 1 
 N.Kulasekara c M.Hussey b Johnson 4 
 S.Eranga b Watson 2 
 L.Malinga not out 1 
 Extras: (lb-4, w-10) 14 
 Total: (for nine wickets, 50 overs) 286
 Fall of wickets: 1-139, 2-220, 3-224, 4-230, 5-252, 6-255, 7-276, 8-284, 9-286.
 Did not bat: A Mendis.
 Bowling: Lee 10-0-47-1, Bollinger 10-0-42-4 (5w), Johnson 9-0-45-2 (1w), Watson 9-0-58-2 (2w), Doherty 5-0-41-0, D Hussey 5-0-34-0 (2w), Smith 2-0-15-0.
 Australia:
 S.Watson c Jayawardene b Malinga 5 
 B.Haddin b Eranga 5 
 R.Ponting c and b Eranga 22 
 M.Clarke c Jayawardene b Malinga 46 
 M.Hussey c sub (S.Randiv) b Malinga 63 
 D.Hussey b A.Mendis 8 
 S.Smith run out 18 
 M.Johnson c Chandimal b Kulasekara 1 
 B.Lee not out 14 
 X.Doherty b Malinga 2 
 D. Bollinger b Malinga 4 
 Extras: (b-4 lb-6 nb-1 w-9) 20 
 Total: (all out, 44.2 overs) 208
 Fall of wickets: 1-6, 2-18, 3-53, 4-123, 5-138, 6-183, 7-183, 8-189, 9-198, 10-208.
 Bowling: Malinga 8.2-2-28-5 (1b 4w), Kulasekara 10-1-50-1, Eranga 7-0-38-2 (5w), Dilshan 10-0-39-0, J Mendis 1-0-5-0, A.Mendis 8-0-38-1.
 Result: Sri Lanka won by 78 runs.