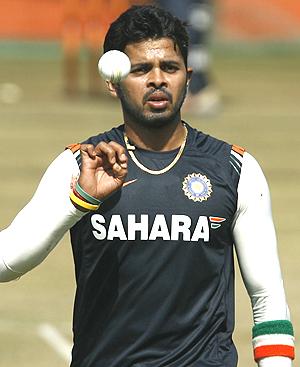 Notwithstanding the verdict of a Delhi court dropping charges against former India pacer Shantakumaran Sreesanth and two other cricketers in the 2013 spot-fixing scandal in the Indian Premier League, the Board of Control for Cricket in India has decided to stick to its ban on the three cricketers for the time being.
- IPL spot-fixing saga

All the 36 accused persons including Sreesanth and his Rajasthan Royals team-mates Ankeet Chavan and Ajit Chandila were on Saturday discharged in the IPL-6 spot fixing case by Patiala House Court but the BCCI said its disciplinary decision remains unaltered.

"Any disciplinary proceeding or decision taken by the BCCI is independent to any criminal proceeding and has no bearing. The decisions of the BCCI, based on its independent disciplinary action, shall remain unaltered," BCCI said in a statement.

All three had to spend time in jail during the course of investigation. The Board of Control for Cricket in India in September 2013 had also banned Sreesanth and Chavan for life for their alleged role in the spot-fixing scandal, while Chandila, whose hearing is still on, has not been banned yet but is suspended from all forms of cricket.

BCCI's Anti-Corruption Unit chief Ravi Sawani, who probed the spot-fixing scandal and submitted his report, found Sreesanth, Chavan and Chandila guilty on multiple counts.

All the cricketers played for the Rajasthan Royals in the IPL but their contracts were terminated by the franchise after the scandal broke out in 2013.
Image: Shantakumaran Sreesanth