Opening batsman Richard Levi took advantage of the small boundaries at Seddon Park to blast a world record 13 sixes and guide South Africa to an eight wicket win over New Zealand to level their Twenty20 series in Hamilton on Sunday.
Levi, who only made his debut on Friday in Wellington, also brought up the fastest international Twenty20 century off 45 balls as he scored 117 not out to help the visitors chase down New Zealand's 173 for four with four overs to spare.
New Zealand had won the first match of the series in Wellington.
The powerfully-built Levi was brutal to a wayward New Zealand attack who bowled into his arc allowing him to smash the ball across the ropes from mid-off around to deep backward square-leg.
"It was good fun. Every shot I played seemed to come off," Levi said in a televised interview. "The leg-side boundary on (one) side of the wicket is fairly short so I was trying to target it."
Captain AB de Villiers (39 not out) simply ticked the strike over to the 24-year-old who wasted little time in bringing up his century when he pushed the ball into the covers for a rare single.
West Indies opener Chris Gayle had held the previous record for sixes in a Twenty20 international with 10, while Gayle and Brendon McCullum had shared the record for fastest century. Both had achieved the mark in 50 balls.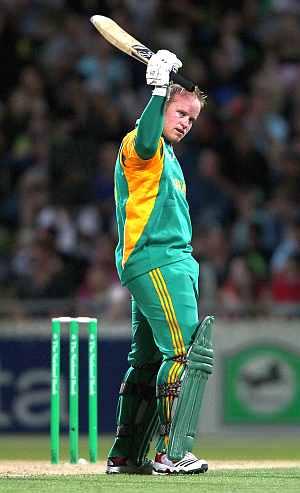 Martin Guptill top-scored for New Zealand with 47 from 35 balls and New Zealand captain McCullum said he felt they had still posted a competitive score.
"We thought we had a chance," McCullum said.
"We would have liked up around that 190-200 target but when someone comes and plays an innings like that there's not much you can do, so hats off to him.
"We weren't allowed to bowl well. I thought Richard played an unbelievable innings.
"It didn't matter what our bowlers did they couldn't pull it back. They tried but some days you're beaten to the punch and that was the case today."
The final match of the Twenty20 series is on Wednesday at Eden Park in Auckland.
Scorecard:
New Zealand
R. Nicol run out 23
M. Guptill c A. Morkel b De Lange 47
B. McCullum c Ontong b Botha 35
K. Williamson not out 28
J. Franklin c De Villiers b M. Morkel 28
C. De Grandholmme not out 3
Extras: (b-1, w-5, lb-3) 9
Total: (for four wickets, 20 overs) 173
Fall of wickets: 1-37, 2-97, 3-114, 4-159
Bowling: Botha 4-0-22-1, Tsotsobe 3-0-23-0 (w-1), M. Morkel 4-0-38-1, De Lange 4-0-43-1 (w-4), Parnell 2-0-15-0, Duminy 3-0-28-0    
South Africa
R. Levi not out 117
H. Amla c Franklin b N.McCullum 2
W. Parnell st B. McCullum b Nicol 4
AB de Villiers not out 39
Extras: (w-10, lb-2) 12
Total: (for two wickets, 16 overs) 174
Fall of wickets: 1-25, 2-41
Bowling: N. McCullum 2-0-18-1 (w-1), Bracewell 2-0-37-0, Southee 4-0-40-0(w-2), Nicol 1-0-10-1 (w-1), Hira 4-0-34-0 (w-1), Mills 2-0-26-0, Franklin 1-0-7-0.