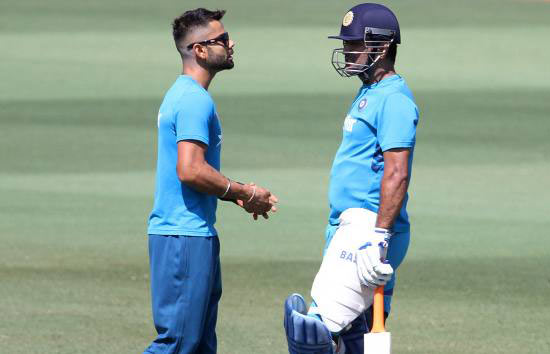 IMAGE: Virat Kohli (left) speaks to Mahendra Singh Dhoni. Photograph: Solaris Images.
Virat Kohli, who turns 28 next month, is already one of India's most accomplished Test captains.
Kohli's young Indian team thrashed New Zealand by 178 runs in the second Test on Monday, to dislodge arch-rivals Pakistan from the top spot in Tests rankings.
The victory at Eden Gardens was also special for captain Kohli as he joined former legends Sunil Gavaskar and Tiger Pataudi with the number (9) of Test victories for India.
Currently placed at 4th spot, Kohli is still some distance away from the 27 wins registered by MS Dhoni or the 21 victories achieved under Sourav Ganguly's leadership, but the 27-year old is slowly catching up with Mohammad Azharuddin (14 Tests wins) to get into the top 3 list.
Catch India's Test captain Kohli in conversation with BCCI.tv about his journey as the leader of a young side.
When you started playing cricket, did you ever imagine a day that when you are 27, you will be leading the Indian Test side that is the number one side in the world?
Not really. It is an honour to be leading the Test team for the country. It is something that I take a lot of pride in. To be a Test cricketer for starters and then to lead a Test side; for me it is paramount.
You don't think about being number one when you begin as captain but you obviously want to be on top in whatever format you play and that is all that we strive for.
To have the responsibility of making sure that we play well as a Test team is something that gives me lot of pride and I enjoy that. It is a challenge for you to test yourself and be able to take other players along and go towards one goal; which I think I have been put in to is a position of privilege rather than a position of pressure.
Obviously there will be ups and downs and you will feel the heat and take criticism and negative things along the way. But that is what it is all about, that builds character. For me it is an honour to be able to wear whites and step on to that field for India.
The way Test cricket tests you, nothing else can. In tough situations you understand the kind of emotions you go through. It takes a lot of discipline and preparation to be a Test cricketer for India.
You need to have strong discipline in terms of your routines, doing things consistently right from preparing from the moment you are in your room by yourself or three days before the game you have to do over and over again to give you that stability and consistency in your own head.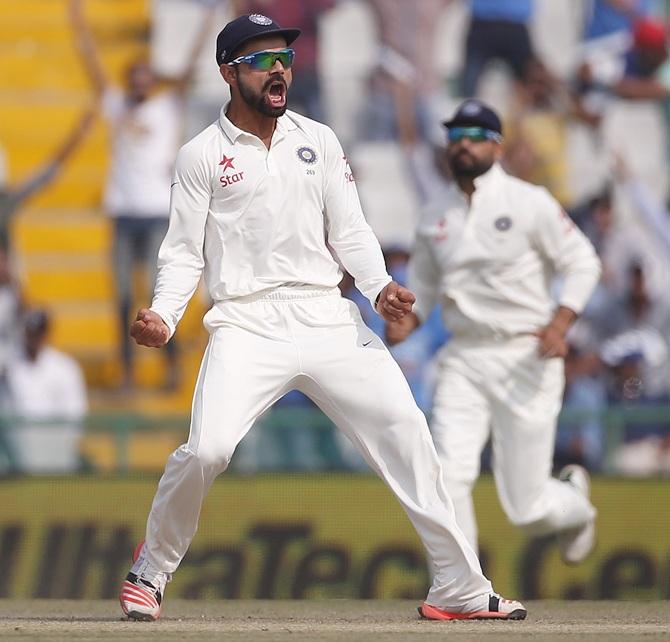 IMAGE: India's Test captain Virat Kohli celebrates. Photographs: Adnan Abidi/Reuters.
How have you gone about inculcating your beliefs and goals for the team into each member of this young side?
It is not just me, my role is very small. The management plays a massive role. Before Ravi Shastri and the current support staff took over, there was Duncan Fletcher, Joe Dawes, Trevor Penny who all contributed in me having the ability to lead the team.
Then Ravi bhai, R Sridhar, Sanjay Bangar and others showed tremendous support in spreading the belief among the team. It had to be a collective effort of everyone. The captain has a contribution to make but it is not solely run by him. I owe a lot to them and they have helped tremendously in getting this young team to believe in themselves as a young Test team and grow as cricketers; not worrying about averages or criticisms or praise but to keep getting stronger as a team.
It was about changing beliefs or doubts that people had. To be able to change those doubts is what we targeted and we planned for. We told ourselves that we are good enough to do well and good enough to win but we will never get too far ahead of ourselves. We will always have the courage to fight and stand up and if we lose we will accept the loss without any excuses.
Unless we accept our mistakes we won't improve. This is what the whole team bought into and it is an honour to lead my friends. The kind of friendships we have in this team are very special and it helps when there is mutual trust and there is no hesitations or upsets in the change room.
Yes, people who don't do well or don't get a chance will be sad but at that time there are always nine or ten people ready to pick them up which is always a special thing. It has been a team journey to be honest. It has been a combined effort of all the players working hard day in and day out, committing to the plans that the team has.
Yes, people will stand out every now and then but it has not been individual preparation. That is why we have been able to win more number of games in the last one and a half years although we have a side that is not that experienced.
You took over the Test reigns from MS Dhoni in 2014. Close to two years into your stint what are the things that you have learnt and how has the transition from player to captain been?
When I was playing under MS Dhoni it was all about preparing for my own batting plans and I didn't have so much responsibility in terms of leading the team. I would talk to Dhoni, fellow players and to batsmen and bowlers about plans but the decision wasn't left on me.
Decision making is very hard at times and it takes a lot of courage to do that. I learnt a lot from Dhoni seeing the way he made decisions. They might have been right or wrong but to convince yourself to make one decision and go forward with it; I think that is the essence of being a captain.
After I became captain, things changed in the sense that I understood that I had to take decisions now. That extra responsibility helped me play even better than I probably would have been. It takes your mind off from a lot of other things that might cloud your head. For me it is an honour to take up that responsibility for the team, soak up that pressure for the others in the team.
It has to be looked at as a privilege rather than thinking that there is too much burden. I have been put in a position that I can help the other members of the team and that to me is the most special thing about being a captain.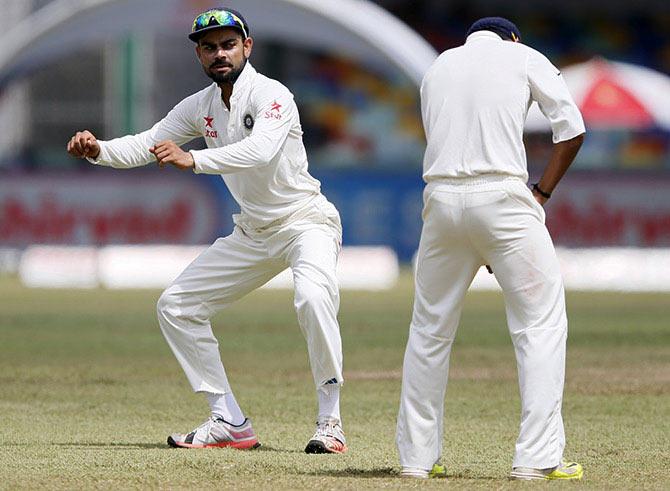 IMAGE: India's captain Virat Kohli (left) stretches as his teammate Ajinkya Rahane shines the ball . Photographs: Dinuka Liyanawatte/Reuters.
From your first Test as captain to thus far, how do you think you have grown as a leader?
I can't measure growth but as a cricketer you do get better with time. It is very important to make mistakes and have a cluttered mind and not having a clarity of thought just to be able to understand how important those things are.
First few Test matches I was at sea and I didn't know plan B of something else that we could have done. I made a lot of mistakes as captain but that only made me learn more. It was important to go for victories and risking a loss because for me it was all about finding myself as a captain and for the rest finding themselves as players.
We had to take a few risks to be able to understand how good we are, where we stand and what are the things we needed to improve on. At the same time it gave us a lot of courage; given an opportunity we would always go for a win. That belief changed a lot of things for everyone in the team. People have started becoming captains individually in the team which is very important. They are able to understand their own game and motivate others which makes my job easier.
I have learnt a lot as captain and it is an ongoing process. The day it stalls and you feel you have learnt everything is the day you start going down. Maybe at the end of my career, wherever I stand I can reflect back on it but till that time you keep learning.
Do you still remember the first talk you had with the team as captain?
Yes, I still remember it was in Adelaide 2014 when we spoke about good positive cricket, playing aggressive cricket. The thing that gave me belief that I can lead this young team was on the fourth day of the Adelaide Test when Australia was still batting. We had a brief chat in the change room in terms of me addressing the players that whatever target they give us, we are going for it no matter what.
I asked, 'Do all the eleven players buy into it and agree?' And all eleven players said yes and we agreed to going into the rest of the Test with that mindset. Although we lost the game, that particular moment showed to me trust and courage from the whole bunch. To be able to do one thing together and following it till the end was something very important to understand who we are.
That is one instance when I realised that this team is willing to take risks and do things that might not be in their comfort zone but they will do it for the team. It was a standout evening in terms of knowing that we can go places as a Test team but will take sustained effort over a long period of time.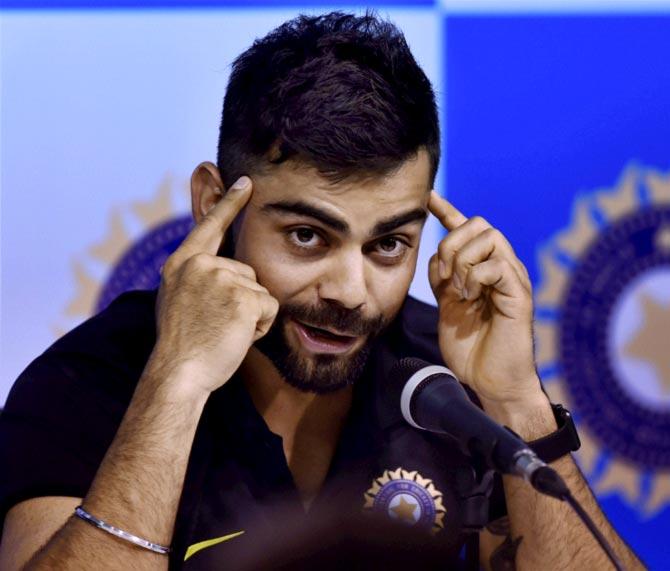 IMAGE: Virat Kohli during a media interaction. Photograph: PTI.
How has the team dealt with losses and how does a loss benefit a side?
What failures do is that they give you a reality check and keep you humble. They teach you a lot in terms of understanding the important things which need to be a part of the process. Losses either bring a team really close or they separate a team far away.
It is the attitude that you take into the next game. If you run away from a loss and are willing to admit your mistakes and confront your faults, they will keep stacking up and eventually you understand that you are not learning and getting better as a player and person. When you have people in the change room who are willing to speak about a loss and mistakes then it makes a lot of difference.
We lost in Galle and I remember we sat in the change room for close to two hours. We spoke our minds and spoke our hearts out in terms of what we need to do ahead and how we can help and motivate each other, get rid of personal preparation and focus on what the team wants and that helped immensely.
People were willing to commit to plans that we made as a team because they understood that there is honesty and absolute trust and transparency in the dressing room. Losses are the most important things in life and help you to keep learning and keep getting better.
There is a lot of stress on winning Test overseas. How are you going to ensure that India win Test series overseas?
You want to win games everywhere. If we don't win at home, we will be called a bad team. Once upon a time this young team was told that it is not good enough to play Test away from home but we started playing well away from home. Then we didn't tackle spinners well and we were tagged as people who cannot play spin well.
For us as cricketers we understand our mindset the best. No one else can get into a cricketer's head and tell what they need to do. You win, it is a great achievement but if you don't then it is not the end of the world as simple as that. If we had to win all the games we would be invincible and no one is invincible.
We all have our faults and areas of improvement and we will want to improve as a team. We believe we can play well anywhere in the world and we have the ability to beat any side in the world. It is something that we do believe and has set into the team now. I can vouch for it.
'Only 20 wickets will win you a Test match' - you have said that time and again. With respect to that, how satisfied are you with your current bowling attack?
It has been outstanding. Right from Sri Lanka the fast bowling has been outstanding and given us spells that have won us games. There have been bursts of spells that have gotten us two or three wickets and changed the whole Test match.
The spinners have always done well but for the quicks to come out and do well especially in conditions that might not suit them is something I am very pleased to see. The willingness to work hard and train those extra hours for the benefit for the team are certain facets that speak volumes of their character. It has always been within them and they are starting to realise it.
When you do these things right and execute them right, it builds character. You get sure of yourselves and you will start seeing them dictate their fields and how and where they want to get a batsman out. They are totally on the right path and making giant strides. I have no doubt in my mind that they will become the stalwarts of Indian fast bowling in the coming years.
Earlier you spoke about decision making being difficult. How have you been coming to terms with it?
Captaincy, a lot of it is on instinct. You might be feeling positive about a certain thing and ten other people might be against it but I think if your instinct and will is strong enough to understand it will work at some stage, you must back it. You at the end of the day have to make decisions and cannot be in doubt or succumb because of ten other views.
You can have discussions but at the end of the day you need to go in with your gut feeling and instinct about a player, situation or a bowler bowling two more overs in his spell. I feel that you are answerable if things go wrong. I would never be answerable for following someone else's views at the expense of mine and then having to execute things according to that.
It has to be a complete balance. It goes wrong a lot of times I understand that. The biggest factor is to follow your instinct and sticking to it.
To what extent will you go to back a player?
You will have to stick to 18-20 players for Test cricket. If things are clarified at a very early stage, it becomes much easier to plan those things. That is what we have followed and we have got the results that we have wanted. People in this team understand they might not get a chance to play all the time but they are not going anywhere from the squad.
That for them is an assurance and a commitment from the team's point of view that we will back you as players and want to have you in our squad but there will be changes according to conditions quite a few times. The guys appreciate honesty in the changing room.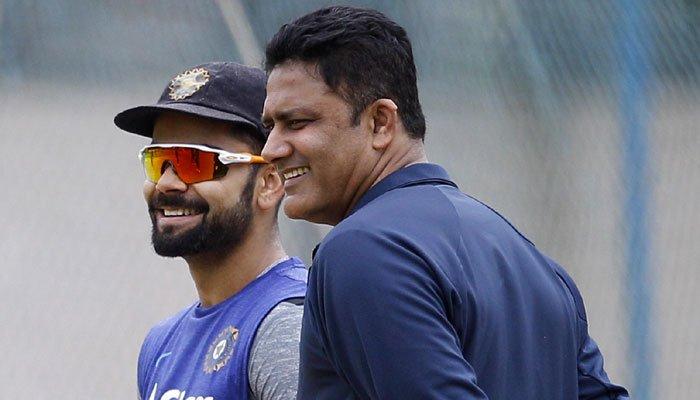 IMAGE: India's Test captain Virat Kohli with newly-appointed coach Anil Kumble. Photograph: BCCI.
How has it been working with coach Anil Kumble till now?
Anyone who is motivated to play for the country or has played for the country the way that Anil Kumble has, there is not much that needs to be said. Cricketers understand each others' mindset and if the mindset is to win at any cost, there is not much that needs to be discussed.
Our views matched immediately because we both wanted the same thing for Indian cricket and for this team to go forward. Even before he became coach, funnily enough I had a long conversation with him when we happened to be on the same flight once sitting next to each other.
The views that he had were the same things that I shared with him. He was pleased to know that both were on the same page and our views matched.
When he came in he exactly understood what I wanted from this team going forward. So, there wasn't much debate. The one big factor is the mindset that he brings in as a bowler. He gives that belief to our bowlers that things do happen if you persist for long enough. His experience is priceless. To be in those situations and having done them in the past himself makes a massive difference.
There is an extra belief in the change room having a player who has already done those things himself. Sometimes your brain is not able to process things that you want to; you can follow advice from someone who knows how it is done. Then you see results and you can trust him to get you a way out in the future as well. That has been a big revelation.
What do you make of your current team and how do you see it going forward?
We want to be a world class team and there is no doubt about it in anyone's head. Through that process people will have special performances. At the end of their careers most of the players in this team will be counted as the best of Indian cricketers along with the legends that we had.
The ability that this team has, they will surely be an inspiration for a lot of players in the future. They will set that benchmark for sure. To point out 5 or 6 individuals and say they will be greats is something that no one can analyse or calculate. To become a great player, you need to play great as a team and then your performances count. That is our aim.
If our friendships can last, if the memories can last forever; that for me is achievement. For me achievement is not numbers stacked up at the end of the career. For me achievement is what we were able to do as a team.
To be able to call each other at the end of our careers and still have a cup of coffee or have a meal at each others' house - for me that is achievement. We are well on the path to do that. The bond I see in this team is the most wonderful thing to see as a captain.
What would Virat Kohli the captain want to be remembered as?
I can only do my job in the best way possible and I will continue to do that. If there is a time when I need to take the heat for the whole team, I will be the first one doing that upfront that is for sure. To be able to become a captain, you need to take strong decisions and that is something that I have committed to the players that I will do that.
The moment I see any negativity or unnecessary criticism coming towards the team, you need to have the courage to counter that and take it on the chin for the team. That is my job as captain. I will do whatever best I can for the team and hopefully the journey is successful. I have total faith in the abilities of this team and their will to excel. It is a wonderful position to be in and I feel grateful for it.
Courtesy: BCCI