'I am an off-spinner. Wicket-taking balls are leg-spin and the googly. I bowl a lot of off spin. Work with Piyal Wijetunga (Sri Lankan spin coach) and if I need to bowl variations, Piyal tells me to do so as well'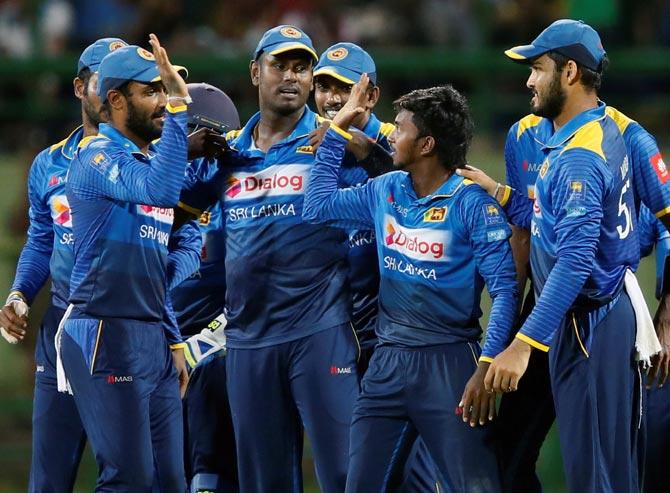 IMAGE: Akila Dananjaya, centre, celebrates with team-mates after picking up the wicket of Axar Patel. Photograph: Dinuka Liyanawatte/Reuters
Sri Lankan mystery spinner Akila Dananjaya has expressed satisfaction at his rampant six-wicket haul against India in the second ODI but said he would have been happier had his effort steered his team to victory.
"We would have been happy had we won the game. I am very sad at the moment. I would have returned a happy man had we won," said Dananjaya after taking 6/54, his maiden five-wicket haul in ODIs, in the second One-dayer against India that Sri Lanka lost by three wickets.
The spinner took six wickets for 11 runs in just 21 balls as he saw off India's middle order. He claimed three wickets in the 18th over. Four of his dismissals came off the wrong ones, which Indian batsmen simply couldn't pick.
"I am an off-spinner. Wicket-taking balls are leg-spin and the googly. I bowl a lot of off spin. Work with Piyal Wijetunga (Sri Lankan spin coach) and if I need to bowl variations, Piyal tells me to do so as well," said Dananjaya.
"I realised that the off-spin was not helping much. So I decided to get back to my variations. The target we had to defend wasn't too much either. So we had to take wickets. I bowled a lot of variations and it went really well," he added.
Sri Lanka eventually lost the game, thanks to a 100-run unbeaten eighth-wicket partnership between Mahendra Singh Dhoni and Bhuvneshwar Kumar. The duo rescued India from a precarious 131/7.
Dananjaya was taken off bowling after eight overs and that allowed the Indian pair to settle down.
"They were set and I thought better to get back later on if someone breaks the partnership. We wanted to win the game. Once wickets come along we also gained confidence. But Bhuvi and Dhoni were superb. They batted really well against our bowlers. Nothing much of a change on the wicket," he said.
Sri Lanka's interim coach Nic Pothas said, "Captain on the field has a gut feeling. How he is going to use his bowlers. Upul (Tharanga) would have kept him back hoping for a wicket. Once we speak to Upul at the end of the day we will get to know better."
Dananjaya joined the team just ahead of the second ODI after his wedding.
"Wedding was in the afternoon. When I got back to the team hotel it was around 11:30 in the night. I wanted to reach earlier than that but it took a little longer. The wedding was at Moratuwa. Finished around 4pm and we were bit late when we came," he said.