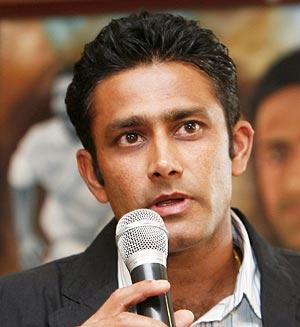 The International Cricket Council on Friday constituted an International Registered Testing Pool (IRTP) working group to resolve concerns the Board of Control for Cricket in India has raised about implementation of the 'whereabouts' requirements of those elite international players selected in the IRTP.
The group, formed by ICC Chief Executive Haroon Lorgat, will report back to the ICC Board at the earliest possible opportunity.
The World Anti-Doping Agency (WADA) will be invited to send a representative to give independent guidance and advice, but this person will not be on the IRTP working group.
The IRTP working group will be chaired by Tim Kerr QC, the chairman of the ICC's Anti-Doping Panel, and also include Lorgat, N Srinivasan, BCCI honorary secretary, ICC Principal Advisor Inderjit Singh Bindra and former India captain Anil Kumble, the cricketer representative on WADA's Athlete Committee.
Commenting on the formation of the IRTP working group, Lorgat said: "I am pleased we have constituted this group as I believe it will help to resolve the practical concerns of India players.
"All of us -- the ICC and its members including India -- are committed to a zero-tolerance approach in the area of anti-doping but what we have to do is to satisfy the India players on the practical implementation of the new WADA rules on 'whereabouts'.
"We will all work together and engage with WADA to resolve the concerns so that the India players can fully comply with their obligations under the ICC Anti-Doping Code."
BCCI president Shashank Manohar said: "The BCCI is a willing partner in this process because the objectives of ICC and BCCI are identical regarding cricket as a clean and drug-free sport, and we will resolve the issues amicably."
Ex-India captain Anil Kumble, one of the members of the group and also on the WADA Athletes Committee, said: "It's good to be part of the working group and to try and understand what the issues are and resolve them and move forward."
The constitution of the IRTP working group follows the BCCI's decision that it would not require its players to file 'whereabouts' information necessary under the terms of the ICC Anti-Doping Code.