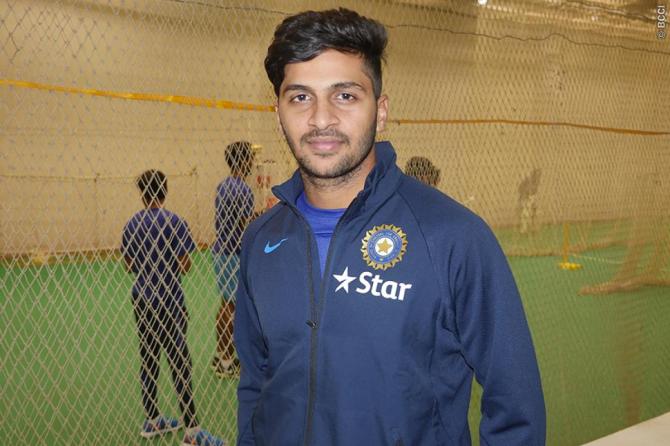 IMAGE: Young pacer Shardul Thakur at the Indian cricket team's nets session in Bengaluru. Photograph: BCCI.
Wednesday marked a special day for two members of the Indian cricket team who could play a crucial role in the upcoming series in the West Indies.
While it was the first day in office for legendary spinner Anil Kumble, who took charge as the head coach, it was also a moment to savour for young pacer Shardul Thakur.
The Mumbai pacer had his first outing with the Indian cricket team at the National Cricket Academy in Bengaluru.
The youngster's day began with Kumble addressing the team. It set the tone for the rest of the day.
"I must say he created an impact right in his first interaction itself. I am keen to work with him and learn a lot of things. He is a legend. He has loads of experience and it is going to be very useful to the team and me. I am looking forward to spending time with him on this tour," Thakur told bcci.tv.
The 24-year old pacer made it to the Indian team on the back of impressive Ranji Trophy performances in the past two seasons (41 wickets in 2015-16 and 48 wickets in 2014-15).
Accepting that he is a bit nervous ahead of his maiden international series, Thakur also said he is delighted to be part of the senior team.
"There is always a bit of nervousness when you are new to the setup. I was nervous before landing here (Bengaluru), but once I talked to the guys, I settled down. When we fly to St. Kitts, I might be a bit nervous, but at the same time it gets the best out of me," he said.
Thakur is looking forward to bowling to India's run-machine and Test captain Virat Kohli.
"Bowling to good batsmen in the nets is always an advantage, as it shows you where you stand, what you need to work on and how you can improve. So I am looking forward to bowling to Virat Kohli in the nets and test myself," he said.