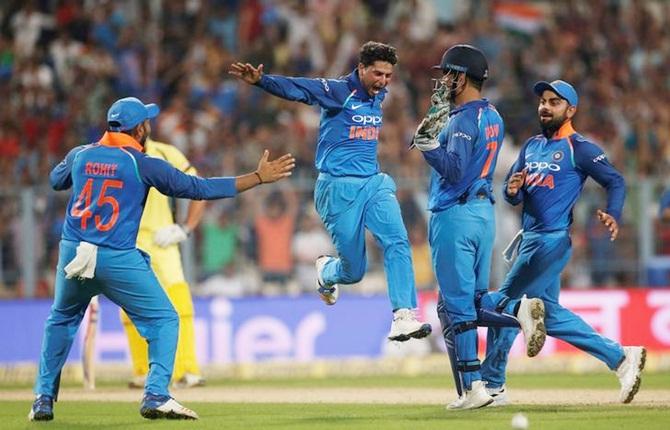 IMAGE: Kuldeep Yadav (centre) and spin-twin Yuzvendra Chahal, compliment each other well, reckons Rohit Sharma. Photograph: Adnan Abidi/Reuters
India vice-captain Rohit Sharma heaped praise on the spin duo of Kuldeep Yadav and Yuzvendra Chahal for not being afraid of making tactical changes and adapting to match situations.
Chinaman Kuldeep and orthodox leggie Chahal had performed well in the recently concluded ODI series against Australia, which the hosts won 4-1, and now will be confronted by the New Zealand batsmen in the three-match ODI series commencing in Mumbai on October 22.
The 22-year-old Kuldeep, from Kanpur, grabbed nine wickets in the ODI series against Australia while Haryana-born Chahal picked up seven wickets in the same series.
"They've definitely grown from the last time they made their way into the team till now. I think there has been immense improvement in their confidence. They just go out there and do their thing and they are not afraid of making tactical changes," said Rohit.
He said both Chahal and Kuldeep have adapted according to the conditions and match situations.
"They are not afraid to flight the ball and go for wickets, which is important in this format, especially because they bowl in middle overs. The grounds are not so big here, and sometimes you will be in two minds whether you want to flight the ball or restrict the opposition. But they understand the game," Rohit said.
"And if they feel that they should not go for wickets, just try and restrict, bowl a few dot balls and create pressure, they are ready to do that as well."
Kuldeep entered the record books by becoming the third Indian to take a hat-trick in ODIs, when he achieved the feat against Australia in Kolkata to follow the footsteps of Kapil Dev and Chetan Sharma.
"For us as a team, we really rely on those two guys to do the job in the middle overs. And they have done exceedingly well in the last series. We saw that it was pretty evident that whenever the ball was given to them, they came up with some or the other tactical plan and got rid of their set batsman, which is very important," said Rohit.
"To get crucial breakthroughs in the middle overs is very important. They have done that and from here now, they will keep growing as individuals and as players also. The more matches they play their confidence will only grow. And that's been pretty evident as we saw," he said.
Rohit also pointed out how well Kuldeep and Chahal complemented each other.
"The best is, like I said, they complement each other. They share their tactics and what one feels about his bowling. And they have spoken about that I think. And they do that while they bowl. So it gives them confidence," he said.
The star Mumbai batsman said that from now on the spin duo would only grow as they play more matches.
"So, in their bowling they are quite versatile. That's something that I have noticed. And it will come only with confidence. And like I said, the more matches they play, they will keep growing as players," he said.