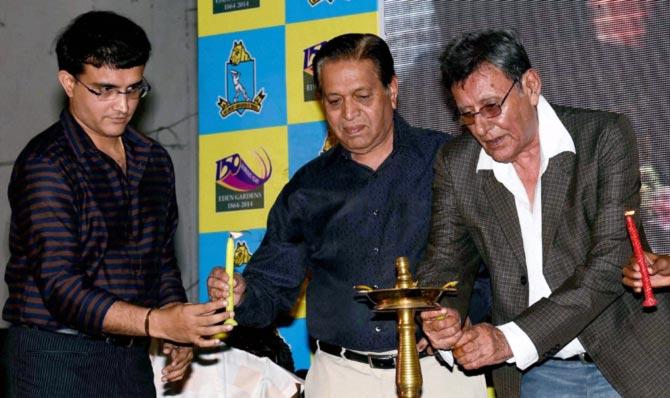 (From left to right): Sourav Ganguly, Chandu Borde and Salim Durani light a lamp at an event to celebrate 150 years of Eden Gardens in Kolkata. Photograph: PTI
From Chandu Borde and Salim Durani -- the architects of India's first Test victory at Eden Gardens -- to Sourav Ganguly, the stadium's rich history was hailed as the Cricket Association of Bengal began its 150 years' celebrations of the stadium with a book and documentary launch on Thursday.
While Ganguly singled out VVS Laxman's (281) and Rahul Dravid's 180 as best-ever performances, former all-rounders Borde and Durani reminisced their victory over the Englishmen in 1961-62 and said it was a dream for yesteryear cricketers' to play at the Eden.
"During a Test, then English skipper Naseer Hussain once told me it's tough to play here; the batsmen don't get out and at the same time it's difficult to stop the roar. I told them you come here to participate," said Ganguly in his address.
Remembering his first match at the venue versus Odisha, "It was an Under-14 match and I scored a century; then onwards the Eden has always been special for me."
Ganguly, who is also the CAB joint-secretary, stressed on the importance to keep producing cricketers.
"I understand it's a great ground and one of the best stadia. But our honour and glory would remain if we keep producing Test cricketers. We want a regular flow of players from the city so that the glory remains intact."
Borde, who scored 68 and 61 and claimed four wickets for 65 runs in India's first Test victory at the Eden said, ""Eden will always remain special for players of yesteryear for us; it was like a dream come true to play here."
Durani, another former India all-rounder, who claimed eight wickets with his left-arm spin in the same Test, said his life changed after playing at the venue.
"I was included in an inter-school Mumbai team at the last minute and played here in 1949. Eden has continued to bless and promote me since then and I've not looked back."
Titled Eden Gardens -- Legends and Romance, the 204-page book, authored by former Bengal captain Raju Mukherjee, chronicles Eden's journey from Calcutta Cricket Club and how it got its name from Emily and Fanny Eden, the sisters of Lord Auckland, Governor General of India from 1836-1842.
"I was going through a pavement in Dalhousie and came across this book of history of CCC by Arnab Ganguly and that was how the idea came to write a book on the Eden," Mukherjee said.
A 12-minute audio visual documentary, conceptualised by former Bengal captain Gopal Bose, was also released.