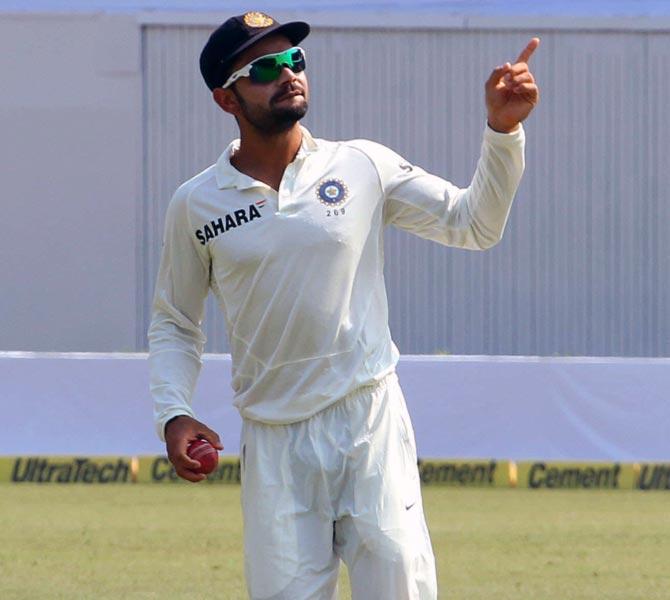 IMAGE: India Test captain Virat Kohli. Photograph: BCCI.
Sri Lanka legend Sanath Jayasuriya said that Virat Kohli's spirited leadership has enabled Indian team to find the perfect rhythm against England.
"Team India is in rhythm. Defeating even a strong team like England comfortably," Jayasuriya told reporters.
The Sri Lankan cricketer known for his explosive batting attributed Team India's stupendous performance against England to "spirited" captainship of Virat Kohli.
"He is a good captain and marshalling bowlers well. He himself is delivering good performances," Jayasuriya said.
Jayasuriya, however, turned nostalgic when asked as to who will win the next world cup and added with a smile "of course Sri Lanka."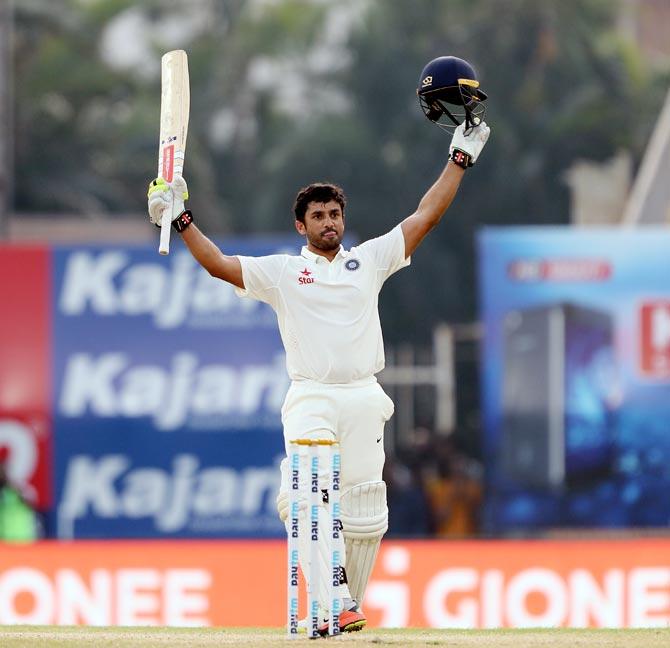 IMAGE: Karun Nair celebrates after completing his triple century against England in Chennai. Photograph: BCCI
The Sri Lankan cricket legend had special praise for Karun Nair who scored a big 303 not out in the fourth Test against England at Chennai.
"It's not an easy job. One has to have tremendous patience to reach such a milestone," Jayasuriya said appreciating the extraordinary performance from Nair.
Jayasuriya was here in as a part of the function organised by Dayal Foundation.
The Lankan cricketer praised Anil Kumble for shaping the Indian team well as a coach.
"He (Kumble) has just begun his new career as a coach. Just like he was a great bowler, Anil will be a great success in his new role as coach too," Jayasuriya, who had numerous interesting duels with Kumble during their playing days, said.
Former Indian team selector Saba Karim, who was also present on the occasion also hailed the performance of Karun Nair.
"This young boy (Karun) has a bright future. He was selected in the team on the basis of his stupendous performance in domestic cricket and now he was created sensation by scoring 303 not out against a strong team like England," Karim, a former International keeper, told reporters.
Asked if Virat Kohli should take captainship in all three forms of game, Karim said "Kohli is capable. But, MS Dhoni has already been named as captain till Champions trophy in 2017."
When Dhoni leaves then Virat naturally will take over as captain in one day as well T20 too."