'Virat Kohli's statement is a reflection of the bubble that most famous people either slip into or are forced into'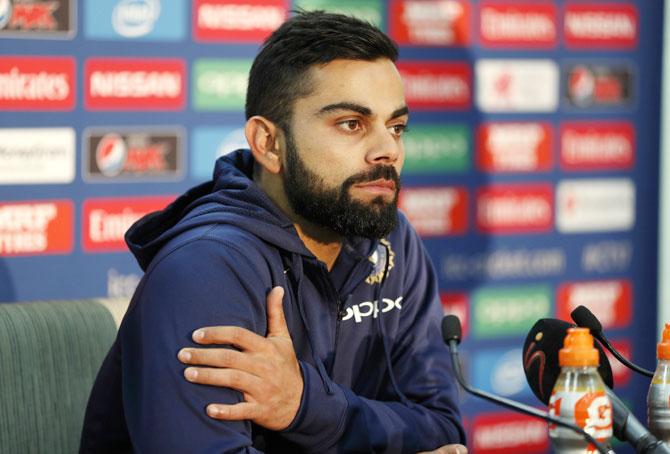 Facing severe backlash for his controversial response to a fan, India captain Virat Kohli Thursday said that he is all for "freedom of choice" urging fans to "take it light".
Kohli's comments, suggesting a local cricket fan relocate to another country for preferring to watch English or Australian batsmen, have met with criticism.
His remarks did not go down well with the Twitterati, who trolled him for his unsavoury comments.
"I guess trolling isn't for me guys, I'll stick to getting trolled! I spoke about how "these Indians" was mentioned in the comment and that's all. I'm all for freedom of choice. Keep it light guys and enjoy the festive season. Love and peace to all," said Kohli, who was in a damage control mode.
Kohli's remarks evoked sharp reactions as people on social media pulled out a 2008 video, in which Kohli, then captain of the India under-19 team, described South African Herschelle Gibbs as his favourite batsman.
Also resurfaced his 2016 tweet in which he had congratulated Angelique Kerber on her Australian Open victory, declaring the German as his favourite women's tennis player.
"Virat Kohli's statement is a reflection of the bubble that most famous people either slip into or are forced into," cricket commentator Harsha Bhogle tweeted.
"The voices within it are frequently those that they wish to hear. It is a comfortable bubble and that is why famous people must try hard to prevent it from forming."
Married to Bollywood actress Anushka Sharma, 30-year-old Kohli is the biggest name in Indian cricket and his face is plastered on billboards across the cricket-obsessed country of 1.3 billion.
A highly successful cricketer with a penchant to get under an opponent's skin, Kohli is the sole Indian in the Forbes magazine's 2018 list of the world's 100 highest-paid athletes.
He endorses foreign brands including Puma, Audi, Tissot and Uber. One critic posted a picture of Kohli posing with an Audi and suggesting he move to Germany since he loved foreign cars.
Criticism came from India's movie industry as well.
"If you want to remain #KingKohli it may be time to teach yourself to think 'What would Dravid say?' before speaking in future," actor Siddharth tweeted, referring to former captain Rahul Dravid who was famous for his batting technique and his economy of words.
"What an idiotic set of words to come from an #India #captain!" the actor added.
One fan, however, said Kohli may have had a brain fade moment and shouldn't be attacked.