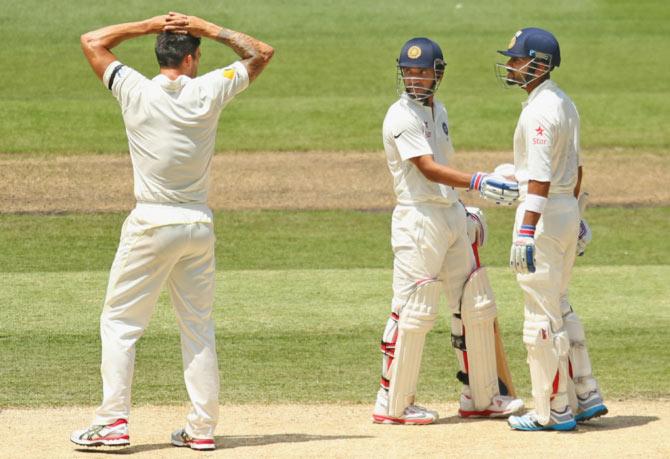 Virat Kohli (right) and Mitchell Johnson exchange words during the third Test match in Melbourne. Photograph: Ryan Pierse/Getty Images
Having featured regularly in war of words with new India captain Virat Kohli in the ongoing Test series, Australia fast bowler Mitchell Johnson believes the volatile batsman will probably be more aggressive than previous skipper Mahendra Singh Dhoni.
- Is Dhoni thinking of holidaying at home?

Kohli replaced Dhoni after the wicketkeeper's sudden retirement from Test cricket after the drawn third match in Melbourne.

"Ever since I've seen him play cricket, I've always seen him pretty fiery," Johnson told reporters in Sydney ahead of the fourth and final Test match, which starts on January 6.

"So he'll definitely be an aggressive type of captain I think in the way he sets fields, and I think you'll see a lot different to what MS [Dhoni] did.

"He's an interesting character. He is a fierce competitor and he really does like to get involved in it all."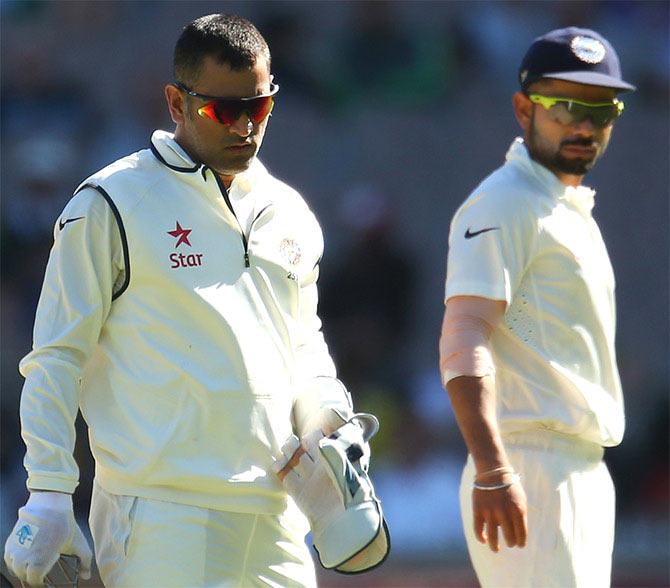 Virat Kohli (right) and Mahendra Singh Dhoni. Photograph: Getty Images
Kohli, who led India in Dhoni's absence in the first Test in Adelaide, has been involved in a battle with virtually the entire Australian team this series, exchanging heated words on the field particularly with Johnson and wicketkeeper Brad Haddin.

The 26-year-old fuelled that further during the third test in Melbourne when he said he deliberately set out to provoke the Australians because they could give it, but not take it, on the field.

"I like playing against Australia because it's really hard for them to stay calm," he told reporters after he scored a brilliant 169 that included carting Johnson all around the MCG.

"I don't mind an argument on the field. It really excites me and brings the best out of me, so they don't seem to be learning the lesson."

Johnson, however, said the banter between the two sides has not been particularly venomous.

"It's just harmless stuff, that's out there," Johnson said.

"There's a lot of talk out in the media at the moment as bad sledging and pretty full on stuff but it's all pretty harmless.

"Virat's just been telling us how many runs he's scored and we've just been saying we're two nil up in the series so that's pretty much it.

"It's always been part of the game and always will be."