'We tried to do our best, but they were aggressive.'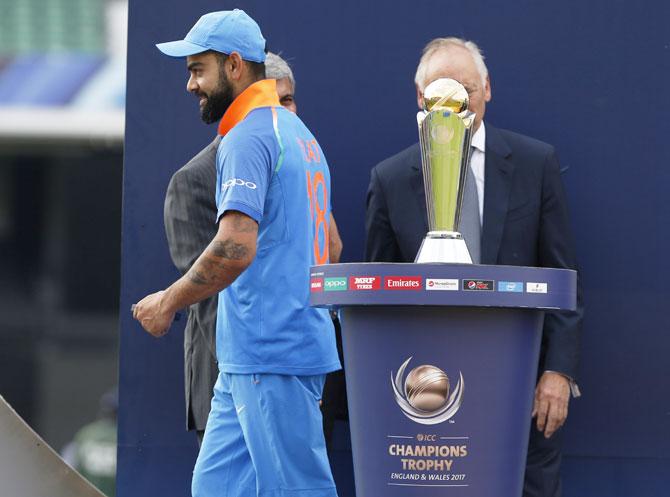 IMAGE: Virat Kohli after the game. Photograph: Paul Childs Livepic/Action Images via Reuters
India Captain Virat Kohli on Sunday defended his decision to bowl on a flat track and said a lucky reprieve for centurion Fakhar Zaman proved to be a costly one in the Champions Trophy final against Pakistan at the Oval on Sunday.
"Small margins can be massive, but we've only lost a game of cricket, we need to move forward and learn from our mistakes. The pitch was consistent throughout, we backed our strengths (to chase)," said Kohli after Pakistan outplayed India by 180 runs to win their maiden Champions Trophy.
Zaman was batting on four when he edged one to M S Dhoni before the umpires checked that bowler Jasprit Bumhrah had overstepped.
Kohli also said he backed his boys to chase in the title clash.
"We can't take anyone lightly but they were more intense and passionate on the day. With the ball we could have had a few more wicket-taking opportunities."
"We tried to do our best, but even with the ball, they were aggressive, we didn't show any resistance apart from Hardik, whose knock was outstanding," he said.
Despite the heavy loss, Kohli had a smile on his face.
"I want to congratulate Pakistan, they had an amazing tournament, the way they turned things around, speak volumes for the talent they have."
"They proved it again, they can upset anyone on their day, disappointing for us but I have a smile on my face because we played well to reach the final."