'During the 2015 IPL, Kohli Sir greeted me with folded hands after I scored a 21-ball 45.'
'Everybody knows he has played many such innings, but what he was doing was motivating a 17 year old.'
'It speaks volumes of him as a captain and human being,' Sarfaraz Khan tells Aruneel Sadadekar/Rediff.com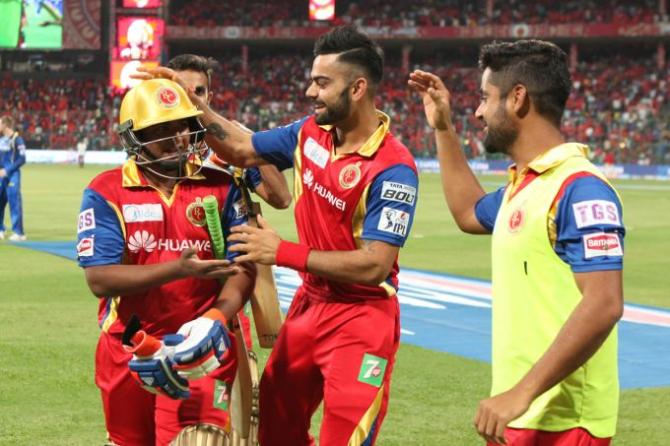 IMAGE: RCB Skipper Virat Kohli congratulates Sarfaraz Khan after his whirlwind knock against the Rajasthan Royals in IPL 8. Photograph: BCCI
At the 2016 Under-19 World Cup in Bangladesh, Sarfaraz Khan was undoubtedly the star of the tournament.
The 18-year-old batsman finished with 355 runs, at an average of 71, time and again bailing the Indian team out after a top order collapse.
Sarfaraz then dazzled crowds while playing for the Royal Challengers Bangalore in the Indian Premier League.
A talented prodigy emerging from the maidans of Mumbai, he represents Uttar Pradesh in the Ranji Trophy, a shift he made at his father-coach Naushad Khan's request.
Aruneel Sadadekar/Rediff.com spoke with Sarfaraz and his dad.
After the IPL, what are you doing at present?
My main focus is on fitness. I know that my fitness cost me a place in the RCB team, now I want to regain my spot.
I have been given a workout schedule and diet plan by RCB's fitness coach (Shankar Basu). I have to give him a weekly update.
Tell us about this fitness plan? Has it been effective?
I have lost 4, 5 kgs this one month. It involves intense cardio exercises -- running, swimming and cycling, coupled with weight training.
Basu Sir changes the schedule every week so that I don't get bored doing the same things.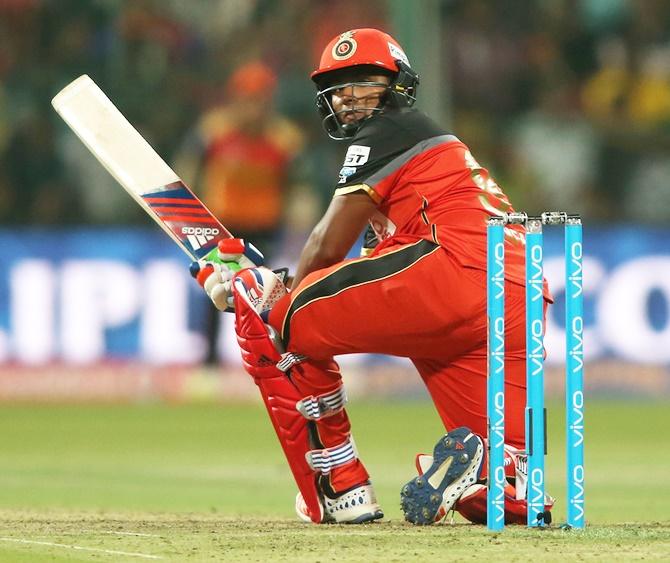 IMAGE: Sarfaraz plays an unconventional stroke against the Sunrisers Hyderabad in IPL 9. Photograph: BCCI
You played a blinder (an unbeaten 35 off 10 balls) against Sunrisers Hyderabad, then got dropped after 5, 6 games.
I was told that this change was important for the team balance. I took it positively because I knew that the management must have done it for the team's benefit.
Such things happen in the game. I think the time on the bench has helped me grow as a player.
You were labeled as a 360 degree batsman after playing those unconventional strokes against Sunrisers.
Unconventional strokes are very important to succeed in T20 cricket. I played for RCB as a finisher and in my role it was vital to hit the ball at all angles.
I practised those shots which went behind the wicket, on both sides, under the guidance of my father who is also my coach.
Very few people know that my father has also coached RCB spinner Iqbal Abdullah and former Rajasthan Royals pacer Kamran Khan.
My father made Kamran bowl to me for hours and that is how I have perfected these unconventional shots.
Naushad... Sarfaraz is an explosive batsman. Have you ever felt that he should curb his aggressive instincts?
Naushad Khan: I remember taking him (Sarfaraz) to former India bowling coach Bharat Arun two years ago. This is what Arun had said: 'Have you seen the circus? First comes the lion, everyone claps. Then the elephant comes and plays a few cricket shots. Everyone claps. Then why do you need the joker? Sarfaraz is the one you need when everyone else is shivering and intimidated by the opposition. Don't restrict him, that'll kill him!'
Sarfaraz is naturally aggressive, that is his biggest strength. His game will lose its sheen if I tell him to curb his aggression.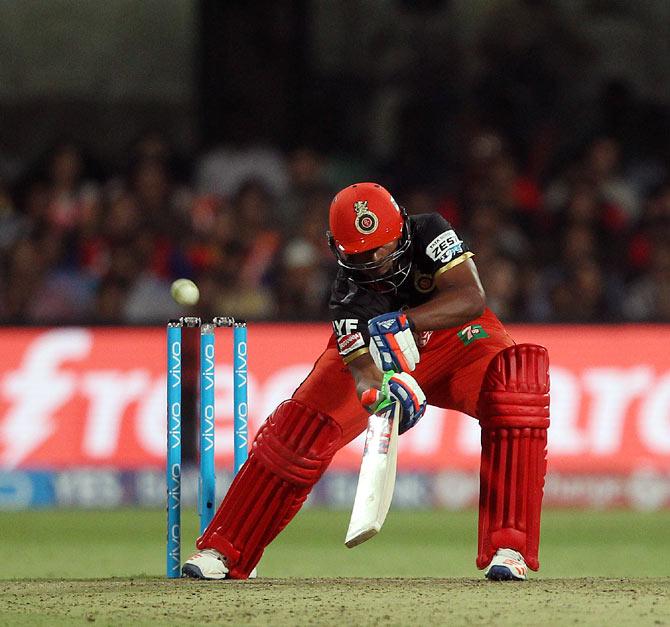 IMAGE: 'Unconventional strokes are very important to succeed in T20 cricket,' says Sarfaraz. Photograph: BCCI
Sarfaraz... people know you as a T20 batsman, but very few have seen you play in the longer formats.
(Laughs) That doesn't mean I can't play in the longer formats. My average with Mumbai in the Ranji Trophy was above the 90s.
At present I represent Uttar Pradesh and after the T20 season I concentrate only on the Ranji season.
Currently I am working on my conventional strokes. T20s and ODIs are important, but one day I want to fulfill my father's dream of playing Test cricket for India.
You are from Mumbai and represented it initially, but moved to Uttar Pradesh. Why?
Naushad interrupts: It was my decision. Even I was a cricketer, but never got a chance to play for Mumbai because of the intense competition. I was offered contracts by other state boards, but never took it.
When I saw that same thing happening to Sarfaraz after he was dropped early on in his career, I immediately moved him to UP at the request of Rajeev Shukla, president of UP's cricket association.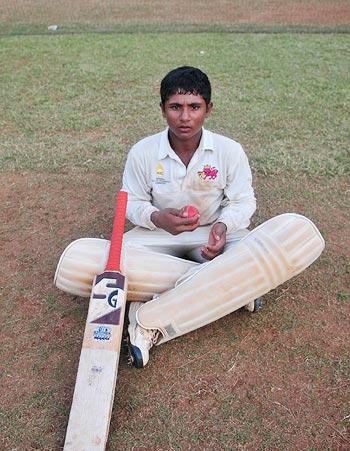 IMAGE: Sarfaraz on a Mumbai maidan during his initial playing years.
Sarfaraz, do you miss playing for Mumbai?
Being a local boy I have respect for Mumbai and I do miss staying here when I have to train in UP.
I appreciate the confidence bestowed on me by UP cricket.
Suresh Raina gifted me his bat when I was playing a Ranji game against Mumbai.
We have a good side and I have developed a bond now with my UP teammates.
Speaking of gifts, your RCB skipper Virat Kohli also gave you a gift.
After the IPL season was over Kohli Sir called me and gave me his bat and gloves.
It was extremely special to get it from someone whom I idolise. He told me to work harder and come back fitter during the next season.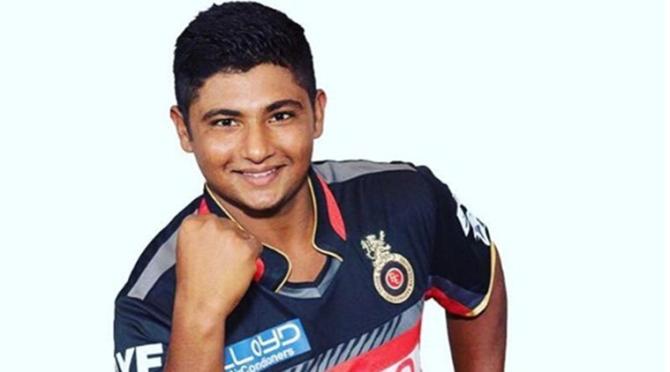 IMAGE: Sarfaraz is just 18. Photograph: Instagram
Some memories about the RCB dressing room....
To share a dressing room with Virat Kohli, Chris Gayle and A B de Villiers in itself would be a dream come true for many players.
Kohli Sir is India's champion. Gayle Sir is the biggest star of the West Indies. AB Sir, as we all know, the face of South Africa.
All three superstars motivate me to develop as a cricketer. I am fortunate to get such guidance at such a young age.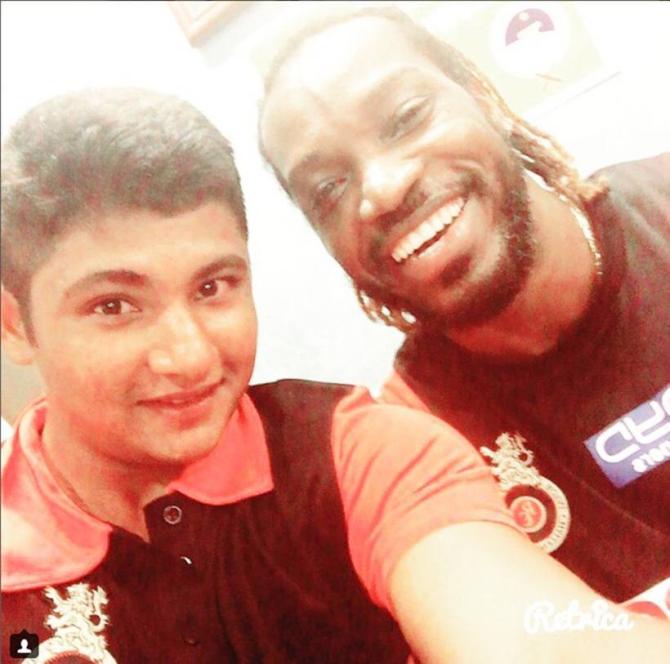 IMAGE: Sarfaraz and RCB teammate Chris Gayle. Photograph: Instagram
One moment each with Kohli, Gayle and AB?
If you remember, during the 2015 IPL season Kohli Sir greeted me with folded hands after I scored a 21-ball 45 against the Rajasthan Royals at Bangalore. That was my first substantial knock in the IPL and a player of his stature doing that was huge motivation.
Everybody knows that he has played many such innings, but what he was doing was motivating a 17-year-old youngster. It speaks volumes of him as a captain and human being.
With Gayle Sir, I share a friendly rapport. He recently gifted me a new 333 number cap, the one he often wears.
About AB Sir, he always tells me to be a better human being in life, more than the cricketer I am.