Upset by Jimmy Anderson's comments about Virat Kohli, the usually calm Ravi Ashwin gave the English bowler a piece of his mind.
And guess who cooled tempers?
Rediff.com's Harish Kotian reports from the Wankhede Stadium.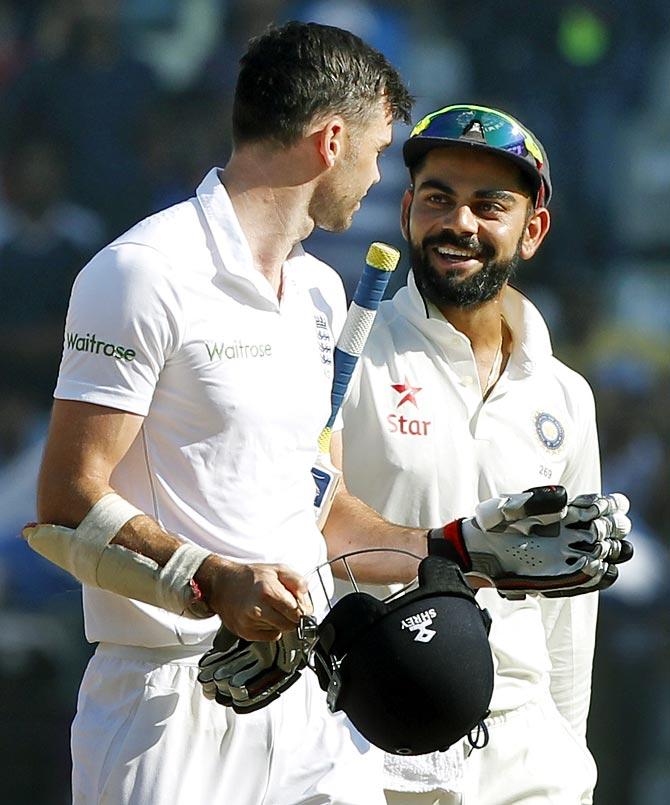 IMAGE: Virat Kohli speaks to James Anderson after the game. Photographs: BCCI
For a change, India Captain Virat Kohli said he played the role of mediator as he tried to defuse the tension between Ravichandran Ashwin and James Anderson on Day 5 of the fourth Test at the Wankhede Stadium on Monday.
"For the first time, I was trying to calm things down, especially at a time where he (Anderson) is involved," Kohli said after the match which India won by an innings and 36 runs to clinch the five Test series 3-0.
"Ashwin wasn't pleased (by) whatever he had said in the press. Ashwin told me (about the comments) on the ground, I had no clue about it. I didn't know what to make of it."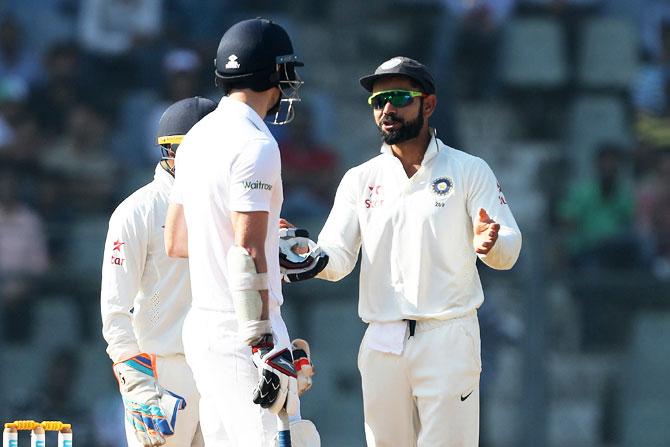 IMAGE: Virat speaks to Anderson and calms things down on the field. Day 5 of the 4th Test.
Ashwin was unhappy with Anderson's comments about Kohli's splendid 235 on Day 4 .
'We had success against Kohli in England, but the pace of these pitches takes any (batting) flaws out of the equation. He stays patient and waits. He plays spin very well. I'm not sure he's changed. I just think any technical deficiencies he's got aren't in play out here. The wickets just take that out of the equation,' Anderson had said on Sunday.
Ashwin, Kohli said, was disappointed that the English fast bowler didn't take the defeat in the right spirit by making those comments.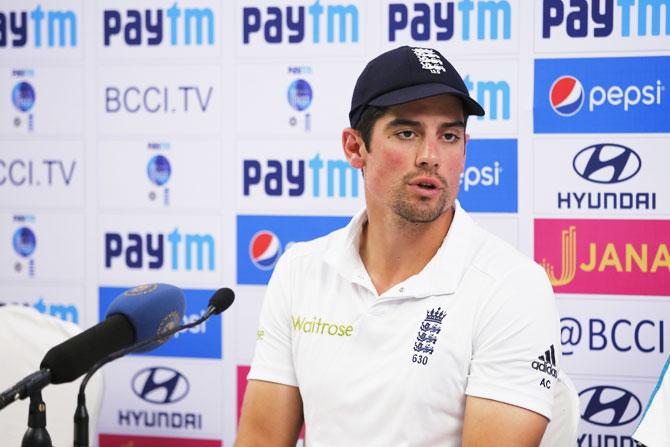 IMAGE: At the post-match press conference, England Captain Alastair Cook stood by Anderson for his comments about Kohli's batting.
"I was laughing on the ground, but Ashwin wasn't impressed and he let him know, not using any bad language, honestly. I think he told him he was pretty disappointed with what he said and it is important to accept defeat the way it is, and things like that," the India captain said in Ashwin's defence.
"You know how Ashwin is, to the point he is, he can strike you really well and he doesn't need to say bad words and that is what exactly happened. Later on, I told James that it is fine and that these things do happens, so let's move on with it," he added.
England Captain Alastair Cook claimed Anderson was only stating facts when it came to Kohli's record in England.
"It was a bit of a sour end really. A disappointing end in terms of how well the spirit between both sides has been played. It was clearly reference to what Jimmy said yesterday, which has kind of been blown out of all proportions, which it can do here," Cook told the media.
"He was just stating a fact," Cook added, "which if you asked Virat is probably quite true. But yes, it was obviously just ticking up for their captain, which I thought was slightly unnecessary."