'I used to watch these players play on TV and then I used to go and copy shots. So my friends insisted that why don't you join an academy and try to learn it because we feel that you have (potential); I told my father and then he agreed.'
'…I called my coach in the morning, I told him this had happened and he was in shock as well. So he asked me what I wanted to do. I said I want to go play, because, for me, not completing in a cricket game was a sin.'
'It's absolutely normal. If you see the India and Pakistan players talk to each other, you can just keep laughing. Someway you feel that, yes, they understand what we are saying.'
India's Test captain Virat Kohli talks to CNN's 'Talk Asia' about his introduction to cricket, his bond with cricket legend Sachin Tendulkar and his relationship with the Pakistan cricket team.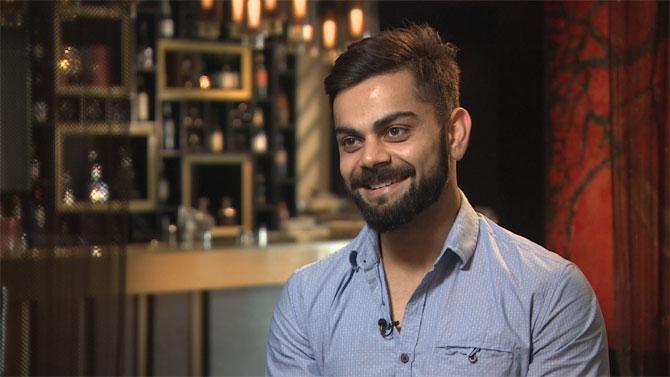 IMAGE: Virat Kohli. 'There's mutual admiration between India and Pakistan teams.'
Cricket is religion in India and Sachin Tendulkar the unifying God, but, clearly, the current obsession of the nation is Virat Kohli.
Kohli's passion for the sport is unmatched, and India's Test captain puts it down to his father's influence on him and the professionalism he imbibed after his passing away.
His father passed away suddenly in 2006, when he was in the middle of a match, but he continued to play.
"It was a very hard time in my life. That happened in 2006. And that was my first season for the Delhi Ranji Trophy team, which is a first class team. And I remember I was playing a game, I was batting overnight, and it used to be four days game back then. And he passed away around I think 2:30 or 3 in the morning. He had a heart attack. He was going through a time where you know he had a clot in his brain and the left side of his body got paralyzed and it was a very tough time for the whole family. And you know he couldn't take that stress after a while.
"I called my coach in the morning... I told him this had happened and he was in shock as well. So he asked me what I wanted to do. I said I want to go and play because, you know, for me not completing in a cricket game was a sin. I was batting overnight and then I felt like 'how can I be batting and not go and play'?
"So that was something that I just could not digest... that I can't go into a cricket match. It came instinctively to me that I should go, I should continue, but that was a moment where I felt changed me as a person; that really gave me that strength and motivation to actually live my dream and fulfill my dreams and my father's dream as well of playing for the country and playing for a long time and playing with a lot of pride because that's where I, maybe, get the confidence that people speak about.
"So the importance that the sport holds in my life is very, very high. And it's above anything else you know."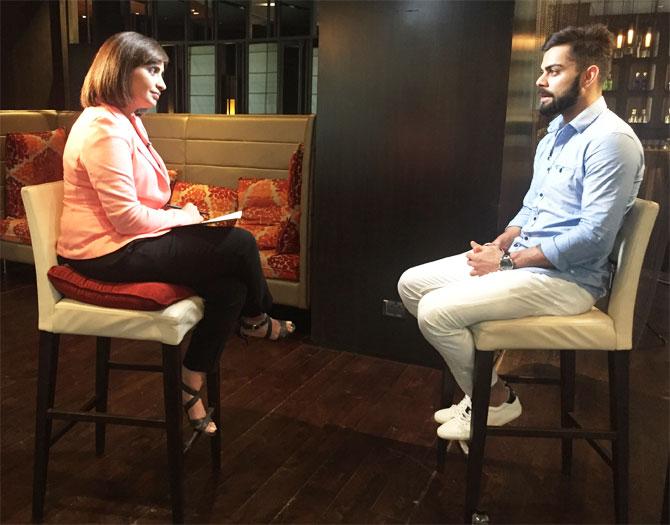 IMAGE: CNN's 'Talk Asia' host Mallika Kapur interviews Virat Kohli.
Kohli also stressed how unreal it feels when he thinks of the rapport and closeness he shares with batting legend Sachin Tendulkar.
"It feels really funny at times to me now when I think of it, because my earliest memories of watching (him) play on TV were those Sharjah games and how he won games single-handedly for the country. To look up to a person in that way and then getting to meet him at early stages in my under-19 career once, and then from there on to playing in the Indian team with him, I just could not believe what's happening with me. I just could not believe and now I'm in touch with him.
"It feels funny to me at times, because, as a kid, I understand that feeling of when I wanted to just see him in person. I feel very grateful that today I can message him at any point I want and I know he can speak to me about anything or help me out with anything that I want in life," revealed Kohli, about his relationship with Tendulkar.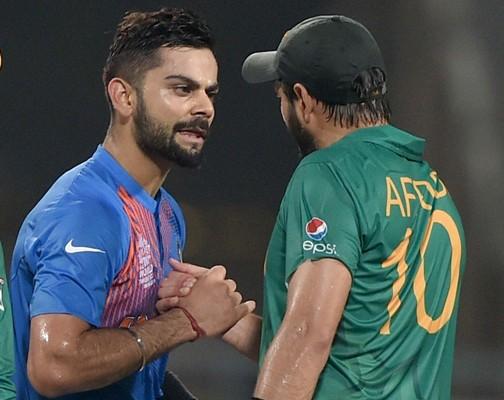 IMAGE: India batsman Virat Kohli and Pakistan captain Shahid Afridi greet each other after their ICC World T20 match at the Eden Gardens. Photograph: PTI
Kohli also spoke of his relationship with players of arch-rivals Pakistan.
Insisting that playing Pakistan makes no difference, vis-à-vis other teams, the 29-year-old said: "Now, no. But, initially, that used to be a massive change in my mind-set.
"When I came to play for the Indian team, in my head, those games were like I was watching as a fan with everyone else. I didn't know what goes on in the changing room, how those players interact with each other, whether they talk, whether they don't want to talk, whether they are aggressive on the field; I didn't know anything."
Talking about the dressing room atmosphere, he said: "It's absolutely normal. If you see the India and Pakistan players talk to each other, you can just keep laughing. Someway you feel that, yes, they understand what we are saying, we understand what they are saying. So there's that mutual respect. And there's mutual admiration between the two teams."