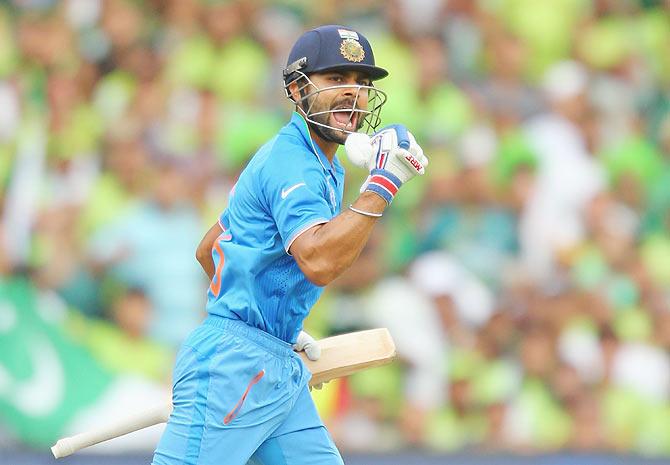 Virat Kohli of India celebrates on reaching his century against Pakistan. Photograph: Scott Barbour/Getty Images
Virat Kohli is expected to captain India in all formats at some point but before that happens, the star batsmen must start taking more responsibility towards his team, former India spin great Erapalli Prasanna said.
"In all probability, Kohli will captain the Indian team in the next World Cup. For that, he needs to start taking more responsibility towards his team and ensure he holds the unit together," Prasanna told PTI on Monday.
Prasanna's comments come in the wake of Kohli's performance in a big-ticket tournament like the World Cup.
"It is okay to play with an aggressive approach but you always can't fight fire with fire. Kohli is a good player but at times he needs to respect the opposition. You can't always take on the bowlers," said the former off-spinner, referring to his mistimed pull shot off Mitchell Johnson in the World Cup semi-final.
Kohli had a quite World Cup by his high standards though he ended up scoring 305 runs from eight games at an average of 50.83. What disappointed many of his fans was that he could not fire in big games after hitting a hundred against Pakistan in the tournament opener.
"It is good to play with confidence but the fact of the matter is you have to respect other players. He needed to play the sheet anchor role in the tournament and especially in the semi-final, he should have taken more time before attempting a pull shot against high quality pace," said Prasanna, talking about the stroke that led to Kohli's downfall in the semi-final that India lost by 95 runs.
"He did so well in Test matches in Australia and should have shown similar temperament in World Cup," he added.
Kohli smashed four hundreds in the four-match Test series that preceded the tri-series and World Cup.