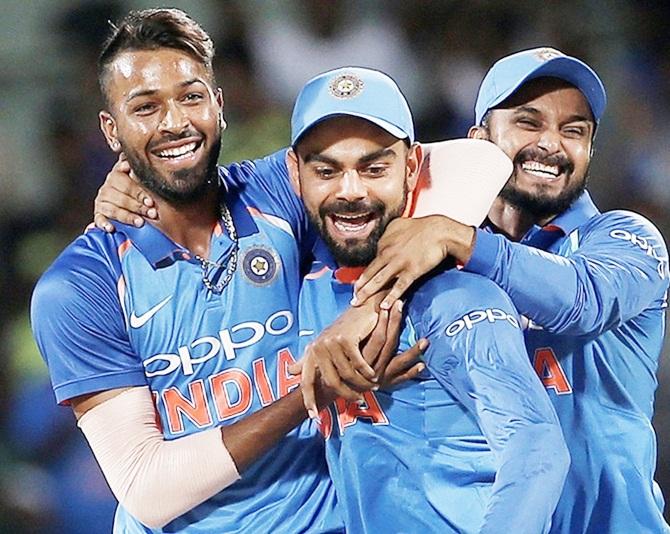 IMAGE: Hardik Pandya, left, has become India captain Virat Kohli's go-to man in tight situations. Photograph: ICC/Twitter
Former South Africa captain Shaun Pollock feels Virat Kohli sees a bit of himself in Hardik Pandya and predicted a long run for the all-rounder in the Indian team.
"I clearly get the impression that Virat Kohli loves Hardik Pandya's attitude. It's very similar to the way Kohli plays his cricket. And because he loves that attitude there is a good chance that Pandya will get a long run in the side, to settle himself and cement his spot in the team," Pollock said.
South Africa's leading wicket-taker in Tests added, "That's the nature of cricket.
"If the captain likes the way a player goes about his business then that player will get an extra run (of opportunities)."
Pandya was the fulcrum of India's attack in the 73-run victory over South Africa in the fifth ODI at Port Elizabeth. His performance paved the way for their maiden series victory in the country.
"I liked Pandya's attitude and approach in the Cape Town Test; the way he played that knock, and he is learning. He will be ultra positive in Indian conditions where he can take on the spinners. Lot of people have got potential, but to take that to the next level is always the key.
"He will learn the art of what he needs to do in England and Australia. He still needs to find how he wants to play, mix his aggression with sound technique and if he can get himself in for a period of time then I am sure he can learn."
Pollock said India needs to identify if two wrist spinners are enough to carry the team alone through a long tournament, like the World Cup.
"If you look at their ODI statistics, Kuldeep (Yadav) averages under 20 and has 38 wickets. (Yuzvendra) Chahal is pretty similar, averaging 22 and their economy rate is fantastic. But can they win the World Cup for India in England?
"It's fantastic that you have a tour there to be able to judge what performance they give. You don't always get surfaces that hold up and turn in England.
"I think that's the challenge for India. They need to work out whether those two can be relied upon to go all the way through in a big tournament."
Yadav and Chahal shared six wickets again, coming back from the beating in Johannesburg, and took their tally to 30 in five matches.
"When we went to the World Cup in England last time in 1999, we were expecting surfaces to be nipping around. But because it was a World Cup, it was almost like the surfaces were over-prepared.
"India were good in the 2017 Champions Trophy but that was a different time of the year. And they played with same pitches over and over again, which meant that they started to hold up and grip.
"So that's why I think India's tour to England is important. The World Cup is only a year away and you will be able to gauge whether those two wrist spinners (together) will work or not."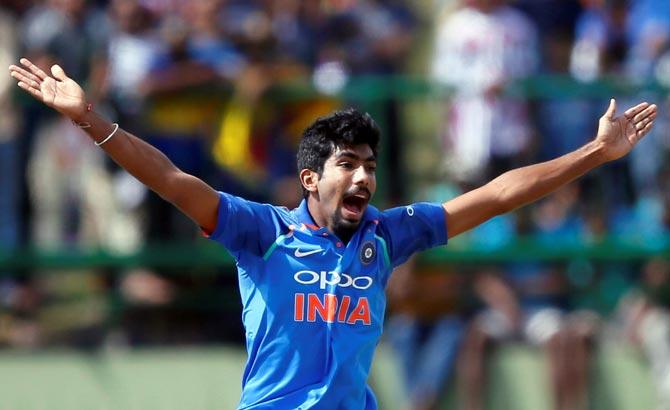 IMAGE: 'Jasprit Bumrah has something different; his action is different, he bowls wide from the crease, is skidder and rushes batsmen a little bit.' Photograph: Dinuka Liyanawatte/Reuters
And not for the first time on this tour, Jasprit Bumrah was singled out for some praise.
"He has something different, doesn't he? His action is different; he bowls wide from the crease, is skidder and rushes batsmen a little bit. So if you are different, you can always be effective and you can channel it that way.
"I think he learned as he went through the Test series about the lines that he could bowl. He learned what he could do and couldn't do. He was exposed to some nice surfaces.
"I asked him, 'wouldn't you like it if the rest of your Test career was played on surfaces like this?' And he said, 'definitely'.
Playing his maiden Test series, Bumrah turned out to be a revelation and picked his maiden five-wicket haul in the third Test at Johannesburg.
"So it's going to be more of a challenge when he gets to India. He is going to learn to reverse it, bowl on different surfaces and at different stages of the game. It's a learning curve. But in the old days you almost learnt your trade before you got the opportunity.
"Nowadays kids, like Lungi Ngidi as well, they are all learning on the job. He has played only nine First Class games before he got his Test cap and picked six wickets, so he is learning on the go."