After playing one of the greatest Twenty20 knocks against Australia on Sunday, taking India into the World T20 semi-finals, it is no surprise that Virat Kohli (MVPI 206) has jumped to the second place in the MVP rankings.
Kohli is second to South African Quinton de Kock, and now that the Proteas are out of the competition, his only rivals for that spot can now be Joe Root (203) and Chris Gayle (185), with Mitchell Santner (183) and Martin Guptill (178) outsiders in the race.
It is still hard to find other Indians on the table: Captain Mahendra Singh Dhoni (119) is the next best after Kohli, placed 32nd (not enough batting opportunities, and because the index has no points for captaincy).
Suresh Raina (106) and Ravindra Jadeja (103) find themselves in the low 30s.
The list has been dragged down to the top 100 to allow Shikhar Dhawan (37) to sneak in at the 98th place, but there's still no place in the top 100 for Rohit Sharma!
Kohli's batting, Dhoni's captaincy, and some decent bowling by Ashish Nehra, R Ashwin and Ravindra Jadeja all mask the fact that only 5 or 6 Indians are truly performing (no wonder Dhoni talks of only 60% capability utilization!) and the openers are hugely under-performing.
Srinivas Bhogle and Purnendu Maji present Rediff.com's Most Valuable Players ratings.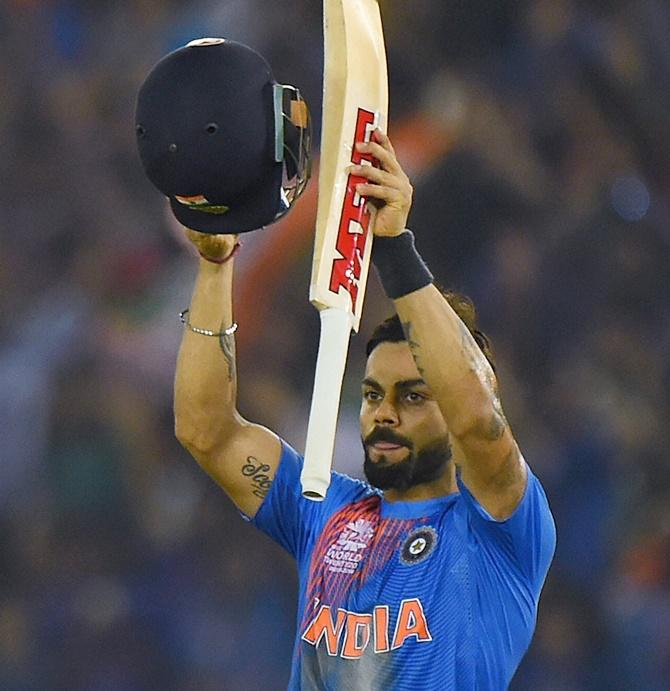 IMAGE: Virat Kohli celebrates after the game against Australia in Mohali, march 27, 2016. Photograph: PTI
| Rank | Player | Team | Runs | 4s | 6s | Strike Rate | W | Economy | M | MVPI |
| --- | --- | --- | --- | --- | --- | --- | --- | --- | --- | --- |
| 1 | Quinton de Kock | South Africa | 153 | 18 | 6 | 143 | 0 | - | 4 | 212 |
| 2 | Virat Kohli | India | 184 | 18 | 4 | 132.4 | 0 | - | 4 | 206 |
| 3 | Joe Root | England | 168 | 14 | 7 | 150 | 0 | 13 | 4 | 203 |
| 4 | Shane Watson | Australia | 96 | 9 | 4 | 150 | 5 | 7.4 | 4 | 197 |
| 5 | Chris Gayle | West Indies | 104 | 6 | 11 | 208 | 2 | 5.7 | 3 | 185 |
| 6 | Shahid Afridi | Pakistan | 90 | 7 | 7 | 183.7 | 4 | 7.4 | 4 | 184 |
| 7 | Mitchell Santner | New Zealand | 22 | 2 | 0 | 104.8 | 9 | 5.7 | 4 | 183 |
| 8 | Martin Guptill | New Zealand | 125 | 12 | 8 | 162.3 | 0 | - | 3 | 178 |
| 9 | Shakib Al Hasan | Bangladesh | 107 | 8 | 4 | 124.4 | 4 | 7.6 | 4 | 177 |
| 10 | Mohammad Nabi | Afghanistan | 35 | 4 | 1 | 97.2 | 6 | 6.4 | 4 | 174 |
| 11 | Ish Sodhi | New Zealand | 0 | 0 | 0 | - | 8 | 5 | 4 | 164 |
| 12 | Usman Khawaja | Australia | 143 | 22 | 2 | 137.5 | 0 | - | 4 | 164 |
| 13 | Glenn Maxwell | Australia | 109 | 8 | 4 | 129.8 | 2 | 7.6 | 4 | 162 |
| 14 | Andre Russell | West Indies | 47 | 5 | 1 | 114.6 | 7 | 7.6 | 4 | 162 |
| 15 | A B de Villiers | South Africa | 110 | 5 | 9 | 180.3 | 0 | - | 4 | 155 |
| 16 | Dwayne Bravo | West Indies | 38 | 2 | 1 | 97.4 | 6 | 6.8 | 4 | 151 |
| 17 | Jos Buttler | England | 123 | 10 | 6 | 151.9 | 0 | - | 4 | 149 |
| 18 | Mustafizur Rahman | Bangladesh | 6 | 0 | 1 | 200 | 9 | 7.2 | 3 | 147 |
| 19 | Tillakaratne Dilshan | Sri Lanka | 133 | 13 | 5 | 123.1 | 0 | - | 4 | 146 |
| 20 | James Faulkner | Australia | 17 | 2 | 0 | 100 | 8 | 8.1 | 4 | 134 |
| 21 | Thisara Perera | Sri Lanka | 80 | 6 | 4 | 145.5 | 3 | 10.3 | 4 | 132 |
| 22 | Sharjeel Khan | Pakistan | 112 | 18 | 3 | 143.6 | 0 | - | 4 | 131 |
| 23 | Samiullah Shenwari | Afghanistan | 79 | 7 | 2 | 136.2 | 1 | 5.8 | 4 | 130 |
| 24 | Hashim Amla | South Africa | 120 | 13 | 4 | 134.8 | 0 | - | 4 | 129 |
| 25 | Angelo Mathews | Sri Lanka | 114 | 6 | 6 | 118.8 | 1 | 6.9 | 3 | 128 |
| 26 | Imran Tahir | South Africa | 0 | 0 | 0 | - | 6 | 5.2 | 4 | 127 |
| 27 | Samuel Badree | West Indies | 2 | 0 | 0 | 100 | 6 | 5.5 | 4 | 126 |
| 28 | Shoaib Malik | Pakistan | 96 | 7 | 3 | 165.5 | 0 | 9 | 4 | 126 |
| 29 | Rashid Khan | Afghanistan | 32 | 3 | 2 | 114.3 | 5 | 7.6 | 4 | 126 |
| 30 | Mohammad Shahzad | Afghanistan | 80 | 7 | 6 | 142.9 | 0 | - | 4 | 124 |
| 31 | Grant Elliott | New Zealand | 46 | 4 | 0 | 115 | 3 | 5.4 | 4 | 120 |
| 32 | M S Dhoni | India | 74 | 5 | 2 | 121.3 | 0 | - | 4 | 119 |
| 33 | Jason Roy | England | 105 | 11 | 5 | 136.4 | 0 | - | 4 | 118 |
| 34 | Jean-Paul Duminy | South Africa | 83 | 5 | 4 | 172.9 | 1 | 10.3 | 2 | 117 |
| 35 | Andre Fletcher | West Indies | 106 | 8 | 6 | 120.5 | 0 | - | 3 | 110 |
| 36 | David Willey | England | 20 | 0 | 2 | 117.6 | 6 | 8.1 | 4 | 107 |
| 37 | Suresh Raina | India | 41 | 2 | 2 | 124.2 | 3 | 4.8 | 4 | 106 |
| 38 | Ravindra Jadeja | India | 12 | 2 | 0 | 109.1 | 4 | 5.9 | 4 | 103 |
| 39 | Faf du Plessis | South Africa | 98 | 11 | 2 | 112.6 | 0 | - | 4 | 103 |
| 40 | Chris Jordan | England | 20 | 3 | 0 | 95.2 | 5 | 8.5 | 4 | 100 |
| 41 | Najibullah Zadran | Afghanistan | 86 | 7 | 4 | 141 | 0 | - | 4 | 100 |
| 42 | Sabbir Rahman | Bangladesh | 75 | 11 | 1 | 108.7 | 1 | 5.5 | 4 | 98 |
| 43 | Kyle Abbott | South Africa | 0 | 0 | 0 | - | 7 | 8.1 | 3 | 98 |
| 44 | Moeen Ali | England | 56 | 5 | 2 | 124.4 | 4 | 10.1 | 4 | 96 |
| 45 | Adam Zampa | Australia | 2 | 0 | 0 | 200 | 5 | 6.3 | 4 | 91 |
| 46 | Ahmed Shehzad | Pakistan | 108 | 14 | 0 | 102.9 | 0 | - | 4 | 89 |
| 47 | Mahmudullah | Bangladesh | 76 | 8 | 1 | 118.8 | 1 | 9.4 | 4 | 86 |
| 48 | Ashish Nehra | India | 0 | 0 | 0 | 0 | 4 | 5.9 | 4 | 86 |
| 49 | Ross Taylor | New Zealand | 85 | 5 | 3 | 118.1 | 0 | - | 4 | 84 |
| 50 | Kane Williamson | New Zealand | 91 | 11 | 1 | 102.2 | 0 | 3 | 4 | 83 |
| 51 | Corey Anderson | New Zealand | 58 | 6 | 0 | 89.2 | 2 | 6.2 | 4 | 83 |
| 52 | David Miller | South Africa | 48 | 4 | 3 | 200 | 0 | - | 4 | 82 |
| 53 | Luke Ronchi | New Zealand | 47 | 3 | 2 | 156.7 | 0 | - | 4 | 81 |
| 54 | Steven Smith | Australia | 83 | 8 | 1 | 120.3 | 0 | - | 4 | 80 |
| 55 | Mohammad Hafeez | Pakistan | 69 | 7 | 2 | 146.8 | 0 | - | 2 | 79 |
| 56 | Hardik Pandya | India | 16 | 2 | 1 | 114.3 | 5 | 10 | 4 | 77 |
| 57 | Eoin Morgan | England | 61 | 2 | 3 | 132.6 | 0 | - | 4 | 77 |
| 58 | Sulieman Benn | West Indies | 0 | 0 | 0 | - | 2 | 4.9 | 4 | 77 |
| 59 | Asghar Stanikzai | Afghanistan | 86 | 3 | 6 | 108.9 | 0 | - | 4 | 77 |
| 60 | Umar Akmal | Pakistan | 78 | 4 | 2 | 121.9 | 0 | - | 4 | 76 |
| 61 | Chris Morris | South Africa | 16 | 2 | 0 | 94.1 | 5 | 8.9 | 3 | 74 |
| 62 | Nathan McCullum | New Zealand | 0 | 0 | 0 | 0 | 3 | 4.2 | 2 | 72 |
| 63 | Ben Stokes | England | 43 | 4 | 3 | 172 | 1 | 9.3 | 4 | 71 |
| 64 | Colin Munro | New Zealand | 72 | 4 | 3 | 101.4 | 0 | - | 4 | 70 |
| 65 | Marlon Samuels | West Indies | 88 | 15 | 0 | 100 | 0 | - | 4 | 70 |
| 66 | Ravichandran Ashwin | India | 15 | 1 | 0 | 68.2 | 4 | 7.3 | 4 | 69 |
| 67 | Jeffrey Vandersay | Sri Lanka | 3 | 0 | 0 | 37.5 | 3 | 5.2 | 3 | 69 |
| 68 | Mitchell McClenaghan | New Zealand | 6 | 0 | 1 | 600 | 4 | 7.9 | 3 | 68 |
| 69 | Rangana Herath | Sri Lanka | 6 | 0 | 0 | 60 | 3 | 6.2 | 4 | 66 |
| 70 | Adam Milne | New Zealand | 2 | 0 | 0 | 100 | 3 | 6.9 | 3 | 63 |
| 71 | Aaron Phangiso | South Africa | 4 | 0 | 0 | 80 | 3 | 5.6 | 2 | 62 |
| 72 | Peter Nevill | Australia | 18 | 1 | 2 | 360 | 0 | - | 4 | 60 |
| 73 | Yuvraj Singh | India | 52 | 2 | 2 | 100 | 1 | 6.3 | 4 | 58 |
| 74 | Alex Hales | England | 45 | 8 | 0 | 121.6 | 0 | - | 3 | 56 |
| 75 | David Wiese | South Africa | 28 | 2 | 0 | 107.7 | 1 | 8.2 | 3 | 55 |
| 76 | Aaron Finch | Australia | 58 | 4 | 2 | 116 | 0 | - | 2 | 54 |
| 77 | Johnson Charles | West Indies | 64 | 4 | 3 | 98.5 | 0 | - | 4 | 54 |
| 78 | Al-Amin Hossain | Bangladesh | 0 | 0 | 0 | 0 | 5 | 9.3 | 4 | 53 |
| 79 | Denesh Ramdin | West Indies | 36 | 1 | 0 | 69.2 | 0 | - | 4 | 53 |
| 80 | Imad Wasim | Pakistan | 0 | 0 | 0 | 0 | 3 | 7 | 3 | 53 |
| 81 | Jasprit Bumrah | India | 0 | 0 | 0 | 0 | 3 | 6.9 | 4 | 52 |
| 82 | Mohammad Sami | Pakistan | 4 | 1 | 0 | 200 | 4 | 9.3 | 3 | 52 |
| 83 | Dinesh Chandimal | Sri Lanka | 56 | 5 | 3 | 96.6 | 0 | - | 4 | 52 |
| 84 | Mushfiqur Rahim | Bangladesh | 44 | 7 | 0 | 110 | 0 | - | 4 | 50 |
| 85 | Tamim Iqbal | Bangladesh | 62 | 5 | 2 | 103.3 | 0 | - | 3 | 49 |
| 86 | Shuvagata Hom | Bangladesh | 29 | 3 | 1 | 103.6 | 1 | 6.6 | 3 | 49 |
| 87 | Shafiqullah | Afghanistan | 44 | 4 | 2 | 141.9 | 0 | - | 3 | 49 |
| 88 | Adil Rashid | England | 0 | 0 | 0 | - | 4 | 9.5 | 4 | 47 |
| 89 | Amir Hamza | Afghanistan | 4 | 0 | 0 | 50 | 3 | 7.2 | 3 | 47 |
| 90 | Noor Ali Zadran | Afghanistan | 62 | 4 | 1 | 93.9 | 0 | - | 3 | 46 |
| 91 | Mohammad Amir | Pakistan | 0 | 0 | 0 | - | 3 | 7.9 | 4 | 44 |
| 92 | Mitchell Marsh | Australia | 30 | 1 | 2 | 103.4 | 1 | 7.6 | 2 | 42 |
| 93 | Farhaan Behardien | South Africa | 0 | 0 | 0 | - | 2 | 5 | 1 | 42 |
| 94 | Khalid Latif | Pakistan | 49 | 4 | 1 | 102.1 | 0 | - | 2 | 42 |
| 95 | Liam Plunkett | England | 0 | 0 | 0 | - | 1 | 4.4 | 2 | 40 |
| 96 | Milinda Siriwardana | Sri Lanka | 22 | 2 | 1 | 110 | 2 | 9 | 4 | 39 |
| 97 | Kagiso Rabada | South Africa | 0 | 0 | 0 | - | 5 | 10.7 | 3 | 38 |
| 98 | Shikhar Dhawan | India | 43 | 4 | 2 | 82.7 | 0 | - | 4 | 37 |
| 99 | Wahab Riaz | Pakistan | 0 | 0 | 0 | 0 | 3 | 8.2 | 3 | 37 |
| 100 | Gulbadin Naib | Afghanistan | 34 | 3 | 1 | 91.9 | 1 | 10.5 | 3 | 37 |